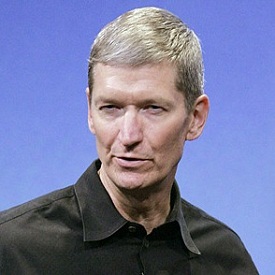 It took long enough, but the key players in the US Department of Justice lawsuit involving Apple and five of the original Big Six publishers have dwindled down to one. While Penguin, Simon&Schuster, HarperCollins, Hachette, and Macmillan have all settled out of court in the original anti-trust lawsuit that alleged the publishers and Apple conspired to fix prices on ebooks in order to exert influence over Amazon, Apple is the lone holdout in the DOJ case.
According to a report in Bloomberg, Apple CEO Tim Cook might testify in the case in accordance with an order put forth by the judge presiding over the suit, Denise Cote, for a March 13th conference call that will help her make a determination on the matter. This order came after the US requested assistance in a discovery issue involving the CEO's testimony outside of court.
The allegations in the case stemmed from the creation of the "agency model," as opposed to the previous wholesale model that Amazon had originally instituted with the publishers. Amazon's original terms allowed the online retailer to sell ebooks at undetermined prices, even taking a loss on some major bestselling titles, in order to encourage sales of its Kindle e-readers. Under the agency model, Amazon was forced to sell ebooks at a price set by the publishers; this outcome was seen as collusion on the parts of the publishers named in the lawsuit and Apple. With the settlements in the case agreed to by the publishers, Amazon has been allowed to return to some level of discounting on upcoming and recently released titles.
According to a report on the issue by Reuters, the DOJ is not seeking monetary damages against Apple, but is looking for a ruling that the corporation violated anti-trust laws and that measures will be enacted to prevent further collusion.
Mercy Pilkington is a Senior Editor for Good e-Reader. She is also the CEO and founder of a hybrid publishing and consulting company.