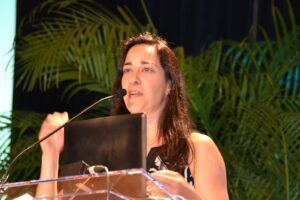 As the lines between the traditional and digital publishing industries continue to blur, more and more authors are finding ways to take full advantage of the best that both sections of the industry have to offer. The end result is often an even broader fan base and a better reading experience for the fans.
New York Times and USA Today bestselling author Bella Andre spoke to GoodeReader about her recent seven-figure advance book deal with contemporary romance publisher Harlequin MIRA, who will handle the print editions of the eight books in Andre's award-winning Sullivans series.
"I am continuing to self-publish all my ebooks, as I always have and will continue to do. What has changed now is I have sold Harlequin the print rights in English to my first eight Sullivans books," explained Andre in the interview. "They are taking over the print side and they will begin publishing and distributing the paperbacks in a global launch starting summer 2013. I'll publish the seventh (and eighth) book in the series digitally myself, and they will print those books on a schedule."
This is somewhat of a departure from other authors who have simultaneously worked in traditional and self-publishing. More often, authors who work in both worlds have characters or story lines that are devoted to the publisher, while their other works are self-published. This deal between Andre and Harlequin marks one of the first times the author has retained the digital rights and the publisher handled the print rights; one other well-known author who managed to publish in both formats with different rights' holders is JK Rowling, who had the foresight to retain her digital rights when she signed the contracts to the Harry Potter series nearly twenty years ago and later self-published the series in digital format. Unlike Rowling's publications, however, Andre will retain the digital rights and foreign rights to the books that are as of yet unwritten in the series while Harlequin publishes the print editions.
So what would prompt a publisher to simply buy the rights to print editions of books that are already written and already have a proven sales record? Andre explained that Harlequin is committed to providing the bestselling series to a variety of readers, which even now includes longtime fans of printed books.
"Their commitment is shown by the seven figure advance and the enthusiasm they've shown. They're very confident about the series, and I think they've seen the massive sales record for the first six books and everyone can see the response from readers. It helps to be able to feel that the books have already been vetted. This deal has come about because the fans responded and the readers are amazing. They've done so much to spread the word that new readers are jumping on board every day."