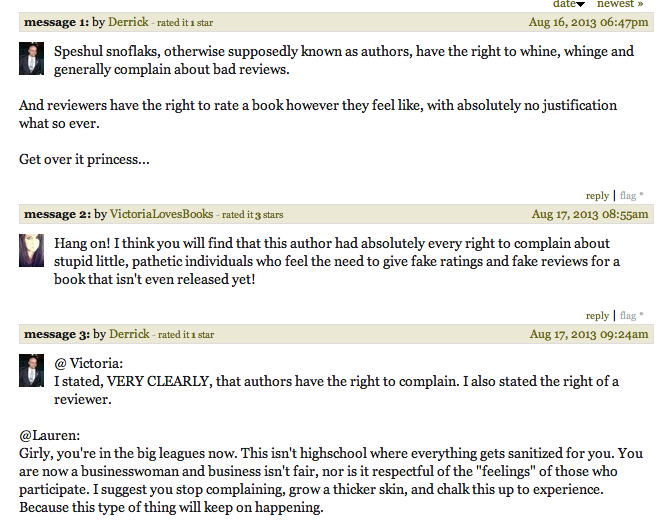 Who knew the book industry was filled with such venom, such mayhem, such…death threats?
Book discovery and discussion site Goodreads has been the battlefield recently for a game that is causing concern among both authors and readers alike. According to some reports from actual users, there are roving bands of "bullies" on the site, some of them actual moderators approved by Goodreads, who seek out titles to destroy with artificially low rankings and ratings. How is it artificial? Because some of the books haven't even been published yet, and ARCs were not sent out. (Goodreads terms of service allows this pre-release ranking to demonstrate a reader's interest level based on a blurb about the book.)
After author Lauren Howard made the decision recently to pull her debut novel from publication after a firestorm of hatred–including what she claims to have been rape and death threats–more information on this level of behavior surfaced from other sources.
Now, a group has formed a website and a call to action to demand that Goodreads finally step in on this type of behavior, something that the site has long refused to do as it would be a form of censorship on readers' opinions about books. The website StopTheGRBullies.com lists updates with Goodreads users by name as well as screen shots of some of the comments that have been made about authors personally, and not just about their books. In many cases, they also link back to other accounts a user has on Goodreads, demonstrating that a number of these reviewers are using more than one account to continue in the same vein.
One of the site's moderators, who goes by the screen name Athena, sent comments to Good e-Reader about the behavior and about their efforts to stop it.
"GoodReads's laissez-faire policy toward its users is really what has led to the bullying on their site and to be honest, we've seen much worse than online, written threats of rape and murder. We've seen the GR bullies actually cyber-stalk authors by digging up their PII online and then calling them on the phone to threaten them in their own home. We have police reports to prove this as well as screenshots. And it's not just GR's 'open-use' policy, either, that has led to this behavior. We've seen the Goodreads managers and moderators actually foster this kind of environment. We have a screenshot of Patrick Brown telling a user that she should feel free to say what she wants about an author. This kind of do-what-you-want message from the GR community manager himself has led to cases of libel and career-destroying. For example, one author we know was wrongfully accused of intentions of rape because of something one of the characters in his book said about another character. This is the kind of behavior that needs to be discouraged and stopped. And until it is, we will continue to blog about it on our site."
While Goodreads, with a membership of 20 million users, may feel that censoring what it feels to be genuine responses to books would be wrong, Athena and the other moderators do propose solutions to at least keep the site civil and supportive of readers.
"What we'd like to see Goodreads do is eradicate from its website anything that has to do with this culture of personally attacking and abusing authors. In other words, we want them to get rid of the 'BBA culture' on their site. This hatred toward authors needs to stop. We'd like to see GR remove author-bashing shelves, as well as comments and reviews that are also author-bashing. Not only that, any member who personally attacks an author in a comment, a shelf, or a review should be immediately removed from the website. GR should follow in the footsteps of professional blog tour companies who remove abusive book bloggers from their recipient lists. They should protect their authors. As it is now, if an author is attacked, the only recourse the author has a right to is to flag the abuse and contact the GR managers for help. And in most cases, the GR moderators really do nothing to help. They let the abuse continue until the author's reputation is shattered and their will to write gone. Until GR (i.e. Amazon) decides to clean house, we recommend that all authors (and publishers) steer clear of Goodreads altogether. If not in protest, then for the simple reason that just being on the site will more than likely hurt their career."
It will be interesting to see if Amazon, now that they own Goodreads, will put a stop to a behavior that has apparently been occurring for quite some time, especially considering Amazon's support of–and reliance on–self-published authors.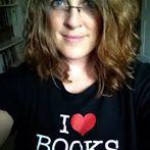 Mercy Pilkington is a Senior Editor for Good e-Reader. She is also the CEO and founder of a hybrid publishing and consulting company.