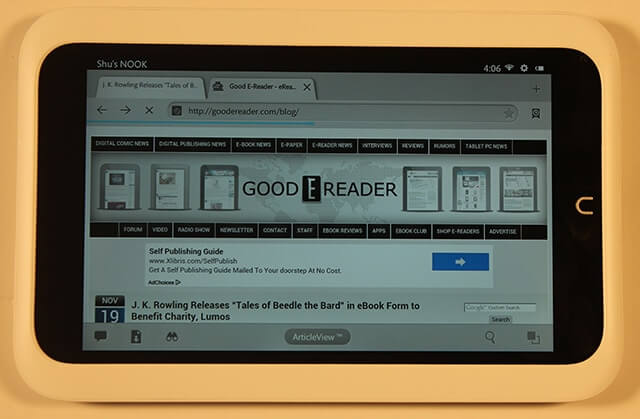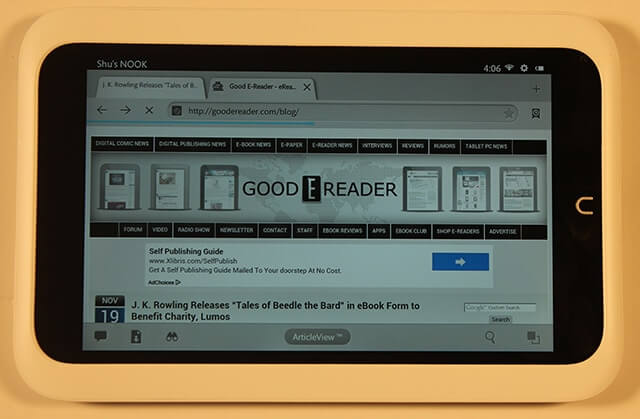 The Barnes and Noble Nook HD is the company's latest product offering in its extensive seven inch portfolio. In the past B&N has released the Nook Color and Nook Tablet, and this unit is sure to follow in those impressive footsteps. It features a totally revised store experience and now offers video and television rentals. How does it stack up against the prior models and can it give the Kobo Arc and Kindle Fire HD a run for its money?
Hardware
The Barnes and Noble HD lives up to its name with a seven inch IPS capactive touchscreen display and a resolution of 1440 x 900 pixels. This is the highest resolution tablet the company has ever released. The Nook Tablet had 1024 x 600 and the Nook Color had the exact same. Newspapers, magazines, and videos look way better on this unit than the prior models.
Underneath the hood sits a TI OMAP 4470 1.3GHz dual-core CPU processor and 1GB of RAM. Memory wise, there is a 8 GB and 16 GB models, depending on your needs. Barnes and Noble is fairly consistent with giving customers expandable memory via the Micro SD. You can get it going to almost 64 GB of added storage, which would be perfect for your media.
The sound quality in the Nook HD is the best it has ever been! You have stereo speakers on the back of the unit, which certainly gives you a tremendous boost in audio. We have heard rumors that SRS True Media will be introduced in a future firmware update, which should enhance the sound even further.
One of the main drawbacks is that there is no camera built into the device, so you won't be able to take pictures or take advantage of video conferencing. It does have a built in mic on the top of it though, which is used for some of the Nook Kids books that allow parents to narrate the content.
In the current Nook HD lineup, B&N has changed up the traditional Micro USB port that it had in all of their prior models. This is very much akin to the old 30 pin adapter that Apple used in the iPhone and iPad tablets. The main benefit of the new adapter is that there is going to be optional HDMI accessory, which will allow you to port over video streaming to your TV. The drawback is that this adapter is proprietary, so you will have to purchase it directly from Barnes and Noble.
The Nook HD will give you around 10 hours of consistent battery life, which puts it on par with the Kobo Arc and iPad Mini. The weight of it is fairly balanced with it being very easy to hold in one hand during long reading sessions.
If you have ever played with a Nook tablet in the past, you will be familiar with the ubiquitous N button. This traditionally would call up the main menu options that would allow you to easily access the store, library, apps, and other stuff. In this model, it acts as your home button and the main navigational elements are persistent at the bottom of the screen in portrait mode, or the sides in landscape.
Software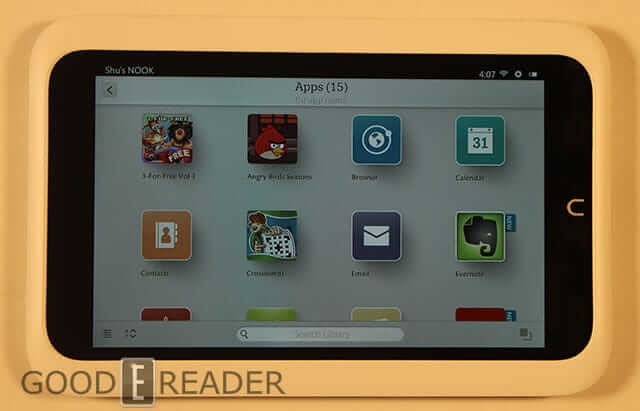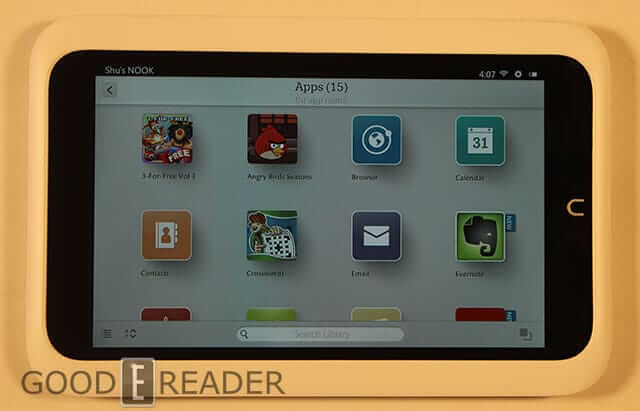 The Nook HD is running a fairly modern version of Android with ICS. This greatly updates the quality of apps and is destined to run a myriad of games and programs that are optimized for the seven inch screen.
If you have had prior Android experience, you wouldn't recognize it with Barnes and Noble's custom user interface. It is VERY different from the Nook Color or Tablet in the 3D carousel that is on the top of the homescreen. It comprises of all the ebooks, magazines, newspapers, apps, and other content you have recently added. Long-pressing on any of the icons will greet you with the ability to remove it from the main screen. You can also drag and drop the icons onto your main screen.
You may think a very skinned version of Android might be a hindrance. It actually allows you to switch any screen on the tablet from landscape to portrait mode. Normally vanilla android devices do not switch to landscape mode on the homescreen. Certain apps may let you open them up in landscape, but the Nook HD lets you do it with every screen and function they offer.
We have spoken with many top executives at Barnes and Noble over the years and they all promote the tablets' family friendly build. This is more evident in the Nook HD, with parents being able to create their own profiles for kids. There are options to establish their name, age, gender, and a profile picture. Next, you can select what type of content your kids have access to. Disabling options include the store, apps, library, internet browser, and movies! Depending on the age of your kid, you can make sure they cannot watch movies or television shows that are above PG-13, or even G.
Speaking of movies and television shows, this is the one of the core features found in the totally revised Nook Store. The UI is brilliantly designed and maximizes the screen real estate. All of the content in the store has scrolling panoramic icons that you can swipe through. The movies section is quite expansive and should increase as time goes on. HBO, STARZ, Walt Disney Studios, and Warner Bros. Entertainment are but a few companies whose content is available. Every video can be purchased or rented. For new releases, there are options to do both SD and HD. The main drawback is that there are no samples or trailers that you can watch.
The main library shelf is where all your downloads and purchased content is stored. Everything from books, magazines, apps, newspapers, video, or user loaded content is all available. It makes finding everything on one uniform screen easier than ever and there are options to display the main genres of content.
One of the most impressive elements to the Nook HD is the wide selection of apps. Barnes and Noble curates its own app store and is very selective in the developers selected. This creates an environment of very high quality apps and is a philosophy that we bear in mind with our own Good e-Reader App Store. The entire store experience is vibrant and app icons seem larger on the Nook HD. The main app store link has a combination of both free and paid apps. Popular Apps, Staff Picks, Must Have Games, and a ton of others. You will find popular stuff like Instapaper, Rdio, Pulse, News 360, and many more! One of the drawbacks is that you won't find competing services like Zinio, Press Reader, Kobo, Amazon, or Sony Readers. Probably the most negative drawback is that you cannot install your own apps. Barnes and Noble has totally disabled the ability to load third party apps, so make sure you are happy with exclusively dealing with them.
Reading Experience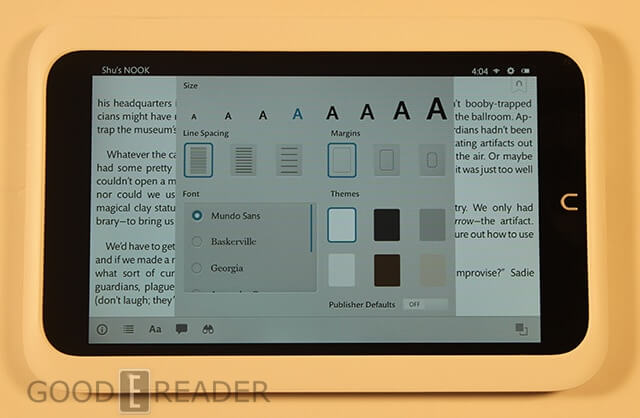 There are some compelling aspects to Barnes and Noble selling its own magazines, newspapers, and ebooks. B&N offers features not found in any other competing device on the market and is worth it to invest for these features alone.
The first benefit is the comic and magazine engine. Magazines on the high-resolution screen are riveting and the animated page-turns are quite interesting. Not only can you drag the page and peek at what is on the next page, but the entire process makes the page you are turning completely transparent. Not obfuscating the current page as you are turning pages is a nice change.
There is simply no other device on the market that gives you the same magazine experience as the Nook HD. I really dig the ArticleView feature that takes a fully graphic heavy page and converts it to a more ebook friendly view. In essence it strips away all of the style sheets and page elements to make it way more text heavy. Another core feature is Scrapbook! This allows you to select any given page on a magazine and save the page as an independent file. If you have many pages from different magazines it will actually create a new magazine for you, with all the different pages you lifted. I see this feature being utilized by fashion designers, interior designers, event planners, exercise enthusiasts, and even students earmarking academic magazine articles.
Comic books do not give you the expansive options that the magazine engine does. It is still fairly solid and comics look great in portrait mode. If you double-tap on a comic, you can get a icon heavy display that shows you every page, which is good if you want to go back to a particular page without having to manually swipe. Barnes and Noble offers its own graphic novels in the store, but currently does not have single issues. DC Comics is talking about bringing single issues into the store, but there is no firm date for this. In essence, as it stands right now, you only have access to graphic novels. If you are a comic book fiend, you will find most of these outdated by at least four months for the singles.
One of the most compelling elements of buying a tablet is to consume more media than a dedicated ebook reader. You won't find the same kind of core reading experience as you would find in an e-ink based device. Over time, many users claim the LCD screen really is not indicative to long reading sessions. Being able to play Angry Birds, read blogs, and use Pulse has tradeoffs.
The reading experience is fairly solid with the Nook HD! You can select up to 8 different font sizes and types. You can easily adjust the linespacing, margins, and background color. If you press on a specific word you can get an instant definition with the dictionary and also corresponding definitions via Google and Wikipedia. If you are reading e-textbooks or are part of a bookclub, you might want to take advantage of the five different highlight colors you can utilize. You can also takes notes and save them, after which a little note icon appears on the right margin. You can then browse for all of your notes on a given book and easily reference the most notable passages. If a particular passage is compelling enough, you can share it via Facebook, Twitter, and various other programs.
Wrap Up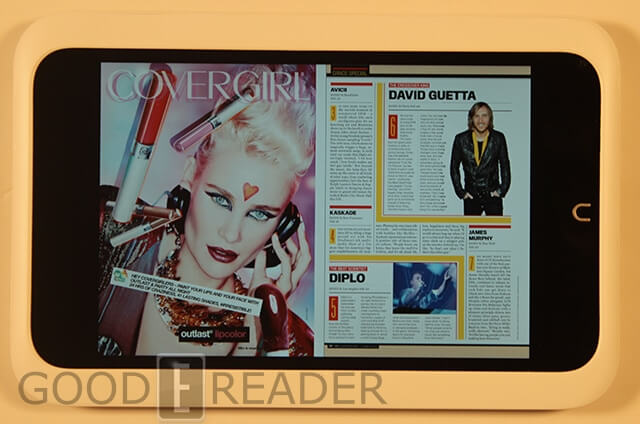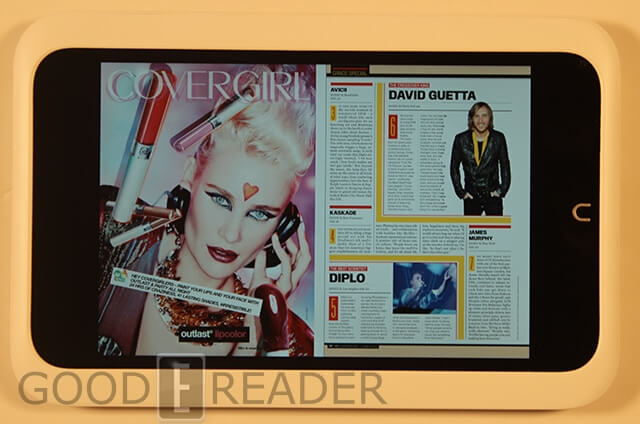 To be honest, I was not sold on the Nook HD+. I found the overall device to be bulky and cumbersome and not indicitive to Barnes and Noble's history of tablets. Many people buying this device would have purchased the prior models, and this HD is an upgrade in every sense of the word.
When we compared the Nook HD and Nook Tablet side by side, the differences were striking. Resolution, ArticleView, Store, Scrapbook, and Movies are the main additions that should appeal to anyone looking to upgrade or even purchase it for the first time.
I really do recommend this device to anyone living in the UK or the US. You will have access to all of the content you want and a great ecosystem with all the bestselling books and even magazines, newspapers, and comics.
I would also recommend this to an international user, but you need a USA billing address and credit card. These are not easy to attain, but Shop e-Readers offers USA Visa Giftcards with a billing address, so you can buy anything you want except videos.
Honestly, when it comes to dedicated e-readers in the seven inch tablet segment, this tablet is the one to beat. The Kindle Fire HD 7 and Kobo Arc are the only other ones that are a bit better.

Pros
New Store
ArticleView and Scrapbook
Movies and TV
Resolution
Stereo Speakers
Magazine Engine
Parental Controls
Cons
Comic Book Selection Is Lacking
Inability to Load in Your Own Apps
No Previews on Movies
Competitor Apps Not in B&N Store
Rating: 9/10
[cincopa AsMAnCbLlJCs]

Michael Kozlowski is the Editor in Chief of Good e-Reader. He has been writing about audiobooks and e-readers for the past ten years. His articles have been picked up by major and local news sources and websites such as the CBC, CNET, Engadget, Huffington Post and the New York Times.