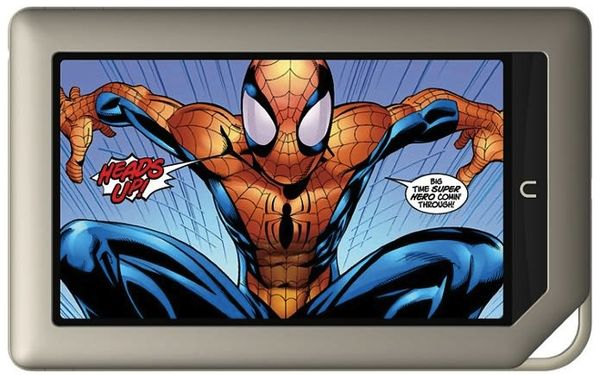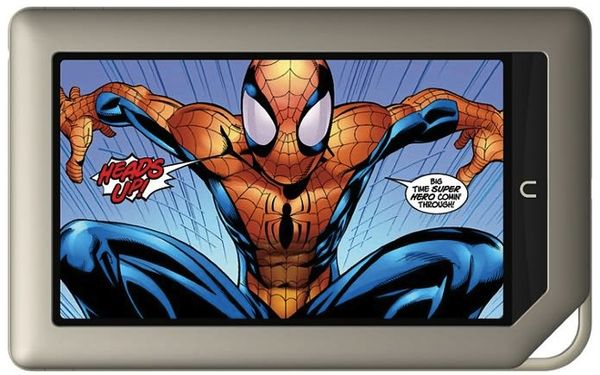 At a press conference in New York, Barnes and Noble officially unveiled the follow up the wildly successful Nook Color! The new device will be known as the Nook Tablet and features a 7-inch LG "Vivid View" display and Android 2.3. It will have 16 GB of internal storage, 1 GB of RAM, and a dual-core 1 GHZ CPU Processor. Battery life has been upgraded to last almost 11 hours of constant use and is both thinner and lighter than the original. It should be easier to hold on to and read, because it seriously weighs less then 1 pound.
Barnes and Noble told us that the Nook Tablet will have the deepest Netflix integration out of any tablet currently on the market and will be bundled with HULU Plus as well. The inclusion of those third-party apps and media capabilities are doubly important for B&N, since (unlike Amazon) it currently doesn't offer video and audio content over the Web. All video will be in complete 1080P, which will contribute to a high end video experience. Other software partners for the launch include Rhapsody, Grooveshark, and MOG. You can read PDF documents with a new program called Page Perfect, which allows for a better way to view documents.
You will be able to browse the internet with the fully featured web browser, and the tablet comes bundled with Adobe Flash for a full experience. When the original Nook Color launched last year it did not have any way to get 3rd party applications until it launched its app store. Now you can choose from thousands of paid and free apps and get popular games like Angry Birds. Speaking of all things birds, B&N told us that a enhanced version of the game will be available soon.
Customers can also access their personal NOOK Library through the free, stable, and secure NOOK Cloud service, which also powers the seamless integration and synchronization between devices, as well as NOOK's best-in-class shopping experience and social features.
The Nook Tablet relies on a WIFI connection and does not have 3G, a camera, or Bluetooth. The lack of all of these core features keeps the cost at $249 instead of entrenching in iPad 2 territory.
We did not attend the launch of the Nook Tablet, air travel to New York was abyasmally expensive and hotels were sold out due to the New York Marathon. We managed to talk to some of the leading tech websites to get their 1st hand impressions.
The Verge mentioned that "In terms of the OS, not much has really changed on the interface front. You still have the bookshelf layout (yes, similar to the Kindle Fire) with apps and a carousel of books on the bottom. Double-tapping on the Nook hardware button on the front takes you to another list of core-apps, including the Browser and Settings. We went back to try and get some time with Netflix only to be unfortunately blocked in our efforts — the rep we spoke with wouldn't even open the app for us, citing bad wi-fi connection that would give a subpar impression. She repeatedly assured us that the Netflix UI was optimal (though wouldn't say if it was the same as the general Android app) and that both companies worked together to integrate into the device strongly."
Engadget reported that "The new Nook Tablet certainly isn't all that new from an aesthetic standpoint, compared with the Nook Color. Walking into a store blind, it would be awfully tough to distinguish the devices — though the Tablet is bit lighter, color wise. What separates Barnes & Noble's two higher end readers is largely internal. Unfortunately, the products being show off at today's event weren't quite ready for prime time. … Unfortunately, we're going to have to spend a bit more time with a final version of the product before we feel comfortable recommending the Tablet, given its $50 premium over both the Nook Color and the Kindle Fire."
Finally the Business Insider Reported that "Barnes & Noble partnered with Marvel Comics to bring graphic novels to the new Nook Tablet. You can swipe through each comic panel or zoom in on each one individually. … The Nook also integrates with Netflix. This notification center lets you know which movies are in your queue and recommends new ones to watch. … Here's the new home screen. It looks a lot better than the old OS, giving you access to your favorite apps and publications."
I am excited about the new upgrade to the Barnes and Noble Tablet and it should be a perennial favorite on many people's shopping lists for the holiday season. You can pre-order it right now via Barnes and Noble and will be available in stores next week.
[cincopa AAIA2zaLTMus]

Michael Kozlowski is the Editor in Chief of Good e-Reader. He has been writing about audiobooks and e-readers for the past ten years. His articles have been picked up by major and local news sources and websites such as the CBC, CNET, Engadget, Huffington Post and the New York Times.