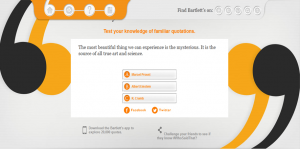 Little, Brown & Co. announced the news last week that its flagship title dedicated to preserving the words of notable people, Bartlett's Familiar Quotations, was not only in its eighteen edition, but that the publication of this edition also focused on the creation of a digital app version of the beloved book.
The app, available from iTunes, includes fun features such as a quote-a-day setting, easy search capabilities, and Quoto, which allows users to select a quote and superimpose it over a photograph then share that image via social media platforms. Emphasis was placed this time for both the digital and the print editions to include over 2,500 quotes from more modern names such as Kurt Cobain and Jon Stewart.
"The e-book is a great alternative to the traditional book," according to one of the publisher's mobile analysts, "as it mimics a linear reading experience really well with additional functionalities like search, annotations, and more. With Bartlett's being such a rich resource—one that typically isn't read cover to cover but rather browsed and searched—we knew that we needed to provide an experience that goes beyond porting the physical book as-is to a screen. Anyone familiar with previous editions of Bartlett's Familiar Quotations is well aware that a substantial portion of the book is an index to help you navigate to the quote you're looking for. To simply port Bartlett's Familiar Quotations to an e-book format would ignore the opportunity at hand—one to re-imagine how a user would interact with and experience Bartlett's."
Now, Bartlett's is sponsoring a giveaway of the app to five readers who share the Bartlett's quiz via Twitter. Between now and Thursday, users who go to the Bartlett's site and take this highly addictive quiz then tweet a single question under the hashtag #WhoSaidThat (automatically attached to the tweet, no extra typing required), will be entered into the drawing to win a copy of the app.
While the iOS version, which supports access to over 20,000 quotes from names like Sophocles, William Shakespeare, and Kermit the Frog, is available now, the Android version should be available within the week, so entrants will be able to specify which version of the app they need for their compatible devices.
Mercy Pilkington is a Senior Editor for Good e-Reader. She is also the CEO and founder of a hybrid publishing and consulting company.