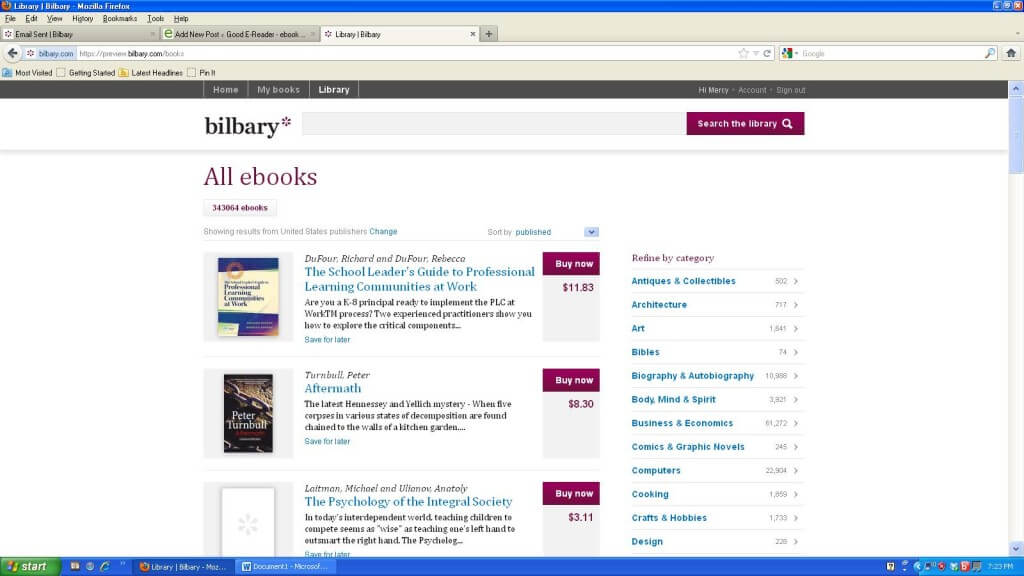 Last month, GoodeReader profiled a new ebook company that aims to offer many things to its reading customers. Bilbary, founded by former Waterstones CEO Tim Coates, was developed to bridge the divide that currently exists between publishers and libraries, as well as to offer an alternative to the current ebook lending model.
Bilbary opened its beta period yesterday with content from over 2,300 publishers, bringing their opening day catalog to about 340,000 titles. When Coates spoke to GoodeReader in February about this lending model, those titles were reported to be coming from all of the Big Six publishers, something that public libraries have not been able to achieve for ebook lending.
"In all the years that I've been involved with books, I've never seen a year like last year. Four or five major battles, almost wars, were going on in the industry," said Coates. "I have spent the last ten years working in the public library system, trying to save them because they are at the brink of destruction and closure. It's a shame, but not entirely unpredictable. They are very different than bookstores because they provide enormous low cost access to reading. Two-thirds of reading is books that come from public libraries, while one-third of reading material comes from bookstores. Therefore, libraries are not just a player in the game, they are the player. People who don't see that are not conscious of how important libraries are. There's a gulf between the libraries and publishers and it's coming from 150 years of tradition."
So what makes Bilbary different enough that the publishers are more apt to work with this model of lending? Primarily, the option is left up to the publisher to determine if a book is loaned at all; if it is loaned, that check out process can be set up directly from the publisher instead of going through an intermediary company or catalog. Furthermore, publishers can set the price on ebook sales, as well as charge a "lending fee" and determine the number of days that the book is in the user's hands. Essentially, Bilbary transferred all of the power—and the responsibility to prevent piracy, publishers' chief concern over ebook lending—back to the publishers.
While the current list of titles available from Bilbary is impressive in number, especially for a beta launch period, the site plans to add an additional 250,000 titles by the late spring to early summer. By the end of the launch, Bilbary will open up the catalog to out-of-print titles and has plans to allowed vetted self-published ebooks in its listing.
Mercy Pilkington is a Senior Editor for Good e-Reader. She is also the CEO and founder of a hybrid publishing and consulting company.