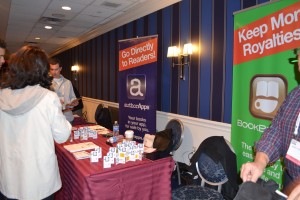 BookBrewer, a well-known name in ebook distribution, showed off its new AuthorApps at the SelfPub BookExpo this past weekend in New York. GoodEReader was at the event and spoke with Dan Pacheco, the founder of BookBrewer and CEO of FeedBrewer, Inc.
While BookBrewer is known for its ebook distribution, its print-on-demand hard copy editions, and some of the highest author royalties among any of the indie publishing platforms, the site focused on its AuthorApps feature at the Expo. The purpose of AuthorApps is to create a unique, customizable space for authors with several titles or series works in which readers can find all of an author's titles in one easy-to-download free app. Within the app, fans can not only read sample chapters of the authors' works, but they can also opt to buy a title by tapping the BUY button on the top of any page in a given sample, which gives the authors even greater royalties since the purchase is made within the app. Moreover, readers can receive updates via push notification whenever a new title is available within the author app.
"Our AuthorApps are like an extension of the author's Web site into the mobile space," said Pacheco at SelfPub BookExpo, "but with one key differentiator from other apps: they include the actual books and the entire e-reading experience. This allows authors to have a more direct connection with readers as they're reading, to promote new titles directly to their biggest fans, and to keep more of the revenue."
AuthorApps already has a few high-profile clients, or Red Carpet authors as the site refers to them, such as Marie Force, Lucy Kevin, and Tina Folsom. More ebook publications deals are in the work with BookBrewer's other partners; they began distributing ebooks for The Huffington Post in September, so it's conceivable that a HuffPost eBook app is not far behind.
"Our target market for AuthorApps is authors who have a lot of eBooks that are selling well elsewhere and who have more on the way. It's a little tighter than the broader 'democratized publishing' focus of BookBrewer. Through BookBrewer we've learned that such authors are successful largely due to their own brand-building. They use blogs and social media to get their books into the top 500 lists.
"While this may not be the case for everybody, in our experience the promotions done by authors who have a following have always been more effective than the promotions retailers do for cont
ent in their stores. The best authors are using retailers primarily as a distribution pipe to the author, not as a marketing vehicle. The history of self-publishing basically boils down to this: the more control you put in the hands of the authors, the more they sell. This is why we think apps are a logical next step for successful self-published authors and small press publishers."