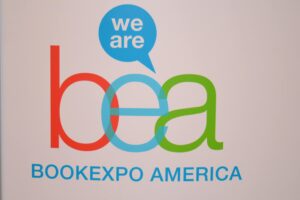 This year's week-long BookExpo America publishing expo, the largest North American book event, kicks off on June 5th, but several new offerings were incorporated as a pre-game warm-up.
As with last year, the IDPF will take place on June 4th and June 5th and once again feature some of the major names in digital publishing and ebooks. Seth Godin from the Domino Project, Otis Chandler from GoodReads, and Kobo's Michael Tamblyn will be presenters for a few of the thirty-plus separate sessions during the two days.
This year, however, BEA is actually jumping the gun with a new event, uPublishU. This one day event, hosted on Sunday, June 3rd, had a mini expo section where twenty-three different self-publishing platforms exhibited their offerings and fifteen different breakout sessions addressed topics of importance to indie authors and the industry as a whole.
Indie Reader founder and president Amy Edelman and New York Times bestselling indie author Darcie Chan presented the first annual Indie Reader Discovery Awards during the networking luncheon, an announcement that GoodEReader has made mention of in the past. Indie books are receiving not only the respect they deserve in the industry, but are also now being awarded the accolades that traditionally published books have enjoyed for years.
The first IRDA winners included self-published books in twenty-seven different categories, including children's, literary fiction, short story, inspirational, and more. The complete list of winners in included in the press release below.
As the week progresses, GoodEReader staffers will be on hand to attend different aspects of BookExpo, the IDPF events, this year's Thought Leaders' Breakfast, and the Digital Show and Tell event. Follow the @goodereader Twitter feed for live coverage from the entire week, as well as the website for up-to-date articles and interviews from New York's Javits Center.
[showhide type='pressrelease']
Contact: Amy Edelman FOR IMMEDIATE RELEASE:
amy@indiereader.com
973-783-3052
IndieReader Announces the Winners of
First "IndieReader Discovery Awards" at BEA
6/3/12, Montclair, New Jersey—Darcie Chan, New York Times bestselling indie author of "The Mill River Recluse" and Amy Edelman, founder of IndieReader (www.indiereader.com), today announced the winners of the first annual "IndieReader Discovery Awards" (IRDA) at BEA in New York City.
IndieReader, the essential consumer guide to self-published books and the people who write them, created the IRDAs to give indie authors access to people who can make a difference in their book's success. While writing a great book is the first step, getting it in front of the right people—be they readers or agents or traditional publishers—is also a critical part of making an indie book a success. To that end, judges on the IRDA panel included publishers, agents, PR professionals, top reviewers and more. Judging was based on the quality of writing and the originality of the story.
There is a first, second and third place winner in each of the fiction and non-fiction categories (there was actually a tie for third in the non-fiction category), in addition to 28 titles in 24 sub-categories, indicating that each book has received at least a 4-5 star review (out of 5 stars).
The winners, the genre and the authors contact information follows below.
– more –
IRDA 2012 Winners
Page Two
Fiction
First Place
Whole Latte Life by Joanne DeMaio
Popular Fiction
Contact: Joannedemaio@aol.com
A satisfying exploration of mid-life crisis, female friendship, grief, possibility and renewal. Demaio has penned a heartfelt portrait of two friends at the crossroads of their lives.
Second Place
One Blood by Qwantu Amaru
Horror
Contact: oharris33@hotmail.com
This is one horror tale that is the result of meticulous drafting and editing, as well as an awesome debut novel from a master of the craft.
Third Place
The Golden Ball by Katelyn Sinclair
Children's
Contact: ericg@slashmail.org
A delightful retelling of a well-known fairy tale that relays a moral point without being dramatically preachy for children who are still young enough to want a fairy tale picture book—one with charming illustrations such as this—but are just on the brink of being ready to tackle a chapter book.
– more –
IRDA 2012 Winners
Page Three
Non-Fiction
First Place
The Intentional Networker by Patti DeNucci
Business
Contact: Denucci@adminismith.com
Contains step-by-step exercises and activities suitable for those new to networking practices, or for experienced networkers who need a refresher course. Perfect for assessing goals and chock-full of strategies and tips for self-improvement.
Second Place
Comfortably Unaware by Richard A Oppenlander
Environment
Contact: ja@jeneearthuragency.com
Maintains our food choices are depleting our planet's resources and calls for the consumer to be aware of the brainwashing by the media and become more educated on how to make choices that will save our planet.
Third Place/Tie
Grieving a Soulmate by Robert Orfali
Self-Help
Contact: Orfali@hawaii.rr.com
Candid and often heart-wrenching, part diary and part self-help book, designed to inform, guide and prepare the reader through the dying process, death of and grieving of a loved one, based on author Robert Orfali's own experience of losing his soulmate Jeri after a ten-year battle with cancer.
– more –
IRDA 2012 Winners
Page Four
Third Place/Tie
Death with Dignity by Robert Orfali
Aging, Death & Dying
Contact: Orfali@hawaii.rr.com
Robert Orfali's passionate and persuasive argument for legalized physician-assisted dying, based on personal opinion and experience and extensive research into the debates and issues revolving around this controversial issue.
CATGEORY WINNERS/Fiction
Chick-Lit
Blow Me by Lennie Ross Sales
Contact: lennierosssales@gmail.com
Gay/Lesbian/Bi/Trans Fiction
Father Tierney Stumbles by John Shekleton
Contact: jfshekleton@yahoo.com
Historical Fiction
The Woman at the Well by Ann Chamberlin
Contact: setzers@msn.com
– more –
IRDA 2012 Winners
Page Five
Humor
The Girl Who Fished with a Worm by Harry Groome
Contact: harrygroome@comcast.net
Kids/Tie
Red, Right, Return by June Sherwin
Contact: jksherwin@gmail.com
Kids/Tie
Fun in the Yellow Pages by Bobbi Groover
Contact: SymphonyandPJ@gmail.com
Literary Fiction
In Leah's Wake by Terri Giuliano Long
Contact: tglong1@gmail.com
Mystery/Suspense/Thriller – Tie
Sleeper's Run by Henry Mosquera
Contact: hmosquera@roadrunner.com
– more –
IRDA 2012 Winners
Page Six
Mystery/Suspense/Thriller – Tie
The Scorpion's Nest by Nate Granzow
Contact: nategranzow@yahoo.com
Paranormal
The Seventh Soul by MariLou Harveland
Contact: mharvela@yahoo.com
Popular Fiction
The Tourist Trail by John Yunker
Contact: john@thetouristtrail.com
Romance
Jennifer's Garden by Dianne Venetta
Contact: dianne@diannevenetta.com
Science Fiction
Spire by Aaron Safronoff
Contact: aaron.safronoff@gmail.com
– more –
IRDA 2012 Winners
Page Seven
Short Stories
Sometimes the Sun Does Shine There by Herb Schultz
Contact: herbschultz@verizon.net
Young Adult/Tie
Pandora's Key by Nancy Fischer
Contact: nancyr@gorge.net
Young Adult/Tie
Untraceable by S. R. Johannes
Contact: shelli_johannes@yahoo.com
Non-Fiction
American Studies
Oh, Beautiful by John Paul Godges
Contact: ohbeautiful@johnpaulgodges.com
Biography
Life in a Jar by Jack Meyer
Contact: jack@longtrailpress.com
– more –
IRDA 2012 Winners
Page Eight
Business
They Cooked the Books by Patrick Edwards
Contact: bigislandpublishers@gmail.com
Environment
Maria's Duck Tales by Maria Daddino
Contact: maria@mariasducktales.com
Health/Medicine/Nutrition
Successfully Surviving a Brain Injury by Garry Prowe
Contact: Garry@BrainInjurySuccess.org
History
Unvanquished by Pete Hetherington
Contact: pahetherington@att.net
Inspirational
EcoChi: Designing the Human Experience by Debra Duneier
Contact: dduneier@gmail.com
– more –
IRDA 2012 Winners
Page Nine
Memoir
Mirror Talk by Barbara Alfaro
Contact: barbara.alfaro905@gmail.com
Psychology/Mental Health
The Digitally Divided Self by Ivo Quartiroli
Contact: ivotoshan@yahoo.it
Self-Help
The Way Things Work in Life by Basimah Khulusi
Contact: basimah@aol.com
Travel
Fast Times in Palestine by Pamela Olson
Contact: pamolson02@yahoo.com
Travel/Honorable Mention
Pines Picks: A Kid's Guide to the Best Things to Eat and Drink in New York City by David. D. Pines
Contact: janica@adminismith.com
IRDA 2012 Winners
Page Ten
PRIZES
The first place winner in the Fiction and Non-Fiction categories will get the following:
* A Kirkus review
The top winners in the fiction and non-fiction categories receive the following:
* A NOOK Simple Touch
The winners from each sub-category (in addition to the top winners), will also receive the following:
* A professional IndieReader review
* Inclusion in IR's "first- look" deal with Book Ends Entertainment, an LA-based boutique literary
management and production company
* An IndieReader "All About the Book" feature
* Stickers pronouncing the book an "IndieReader Discovery Awards" winner
JUDGES
Retailer
Liz Scheier, Barnes & Noble's Editorial Director of Digital Content,
Publishers
Jennifer Bergstron, Gallery Books (a division of Simon & Schuster)
Kate Bradley, HarperCollins
Tanya Hall, Greenleaf Publishing
Agents
Clay Ezell, ICM
Kristyn Keene, ICM
Kari Stewart, ICM
Joëlle Delbourgo, Joëlle Delbourgo Associates
Publicists
Jocelyn Kelley, Kelley & Hall Publicity
Jessica Glenn, MindBuck Media
Reviewers
Perry Crowe, Kirkus Reviews
Marilyn Dahl, Shelf Awareness
Nina Sankovitch, www.readallday.org and The Huffington Post
Marketing/Bloggers
MJ Rose, Buzz, Balls & Hype, and AuthorBuzz.com.
Literary Management/Production Company
Bethany Stirdivant, Book Ends Entertainment
Journalists/Writers/Authors/Bloggers
Paul Biba, Editor in Chief, Teleread
Jeff Rivera, Mediabistro, GalleyCat and the Huffington Post
Pamela Satran, Glamour magazine, The New York Times, The Daily Beast, and More magazine.
Andrew Stout, contributor to Vanity Fair, The Village Voice, and The Atlantic.com.
[/showhide]
Mercy Pilkington is a Senior Editor for Good e-Reader. She is also the CEO and founder of a hybrid publishing and consulting company.