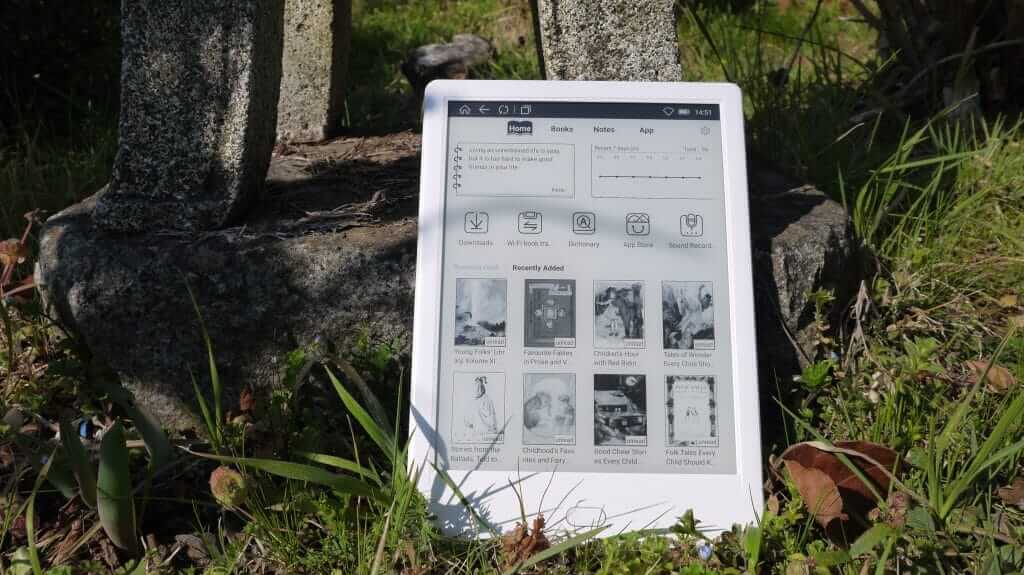 The Boyue Likebook Muses has many things in common with the Likebook Mars, that was released last year. The big selling point is that this device has a WACOM active digitizer layer and comes with a stylus, so you can take notes, highlights and make annotations in ebooks. This e-reader is way better than the Mars because you can do so much more with it.
Hardware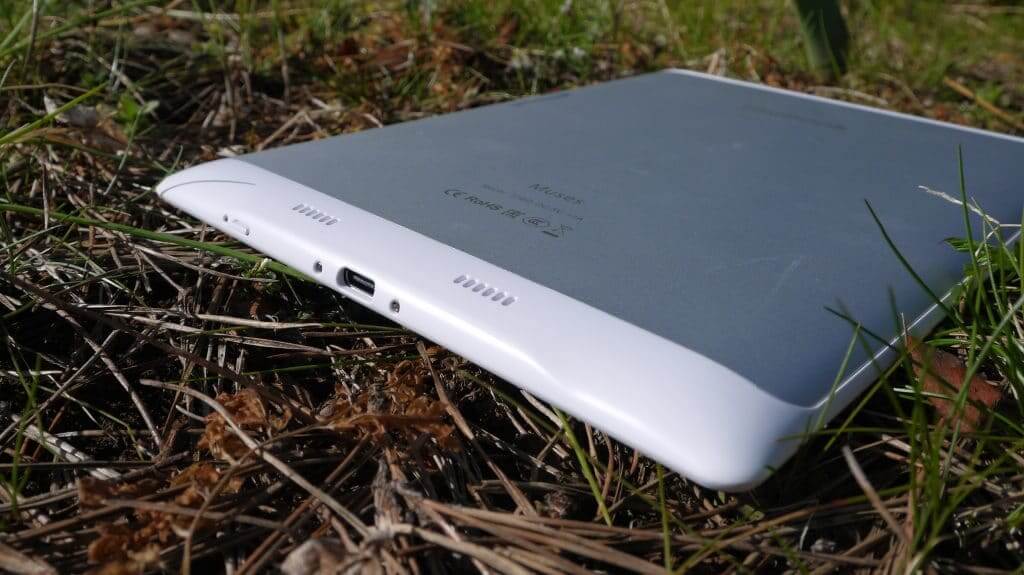 The Likebook Muses features a s a 7.8 inch E Ink Carta touchscreen display with a resolution of 1782×1448 and 300 PPI. It also has a WACOM layer and comes with a stylus. In order to take notes effectively Boyue has incorporated the same note taking software that the Likebook Mimas employs.
The Muses has a front-lit display with 17 LED lights, the vast majority of them are white and the rest are orange to give a candlelight effect. Many e-readers that have a color temperature system have two different sliders, one for each. The Boyue has one slider that controls the luminosity of the white LED lights and if you hit the moon button you can control the brightness of the candlelight effect. I like this condensed approach. It provides maximum control over the illmonsity levels and is easy to figure out for new users.
Underneath the hood is a Rockchip RK3368 8 core 1.5 GHZ processor with 2GB of RAM and 32GB of internal storage. This model does not have expandable storage and does not have an SD card. Many e-reader brands have abandoned expandable storage. This is also the 3rd e-reader ever made with an octa-core processor. It also has support for Bluetooth and WIFi. It is powered by a respectable 3100mAh battery.
Audiobooks are the fastest growing segment in digital publishing and the Muses can read all popular formats. You can plugin a pair of analog headphones into the 3.5mm headphone jack or attach a wireless pair or even a portable speaker. There are two speakers on the back of the device, positioned on the lower edge.
One of the big differences between the Muses and the Likebook Mars, is that the Muses has a white body and the Mars is black.
The dimensions are 193mm by 136mm by 8.5mm and the weight is 286g.
Software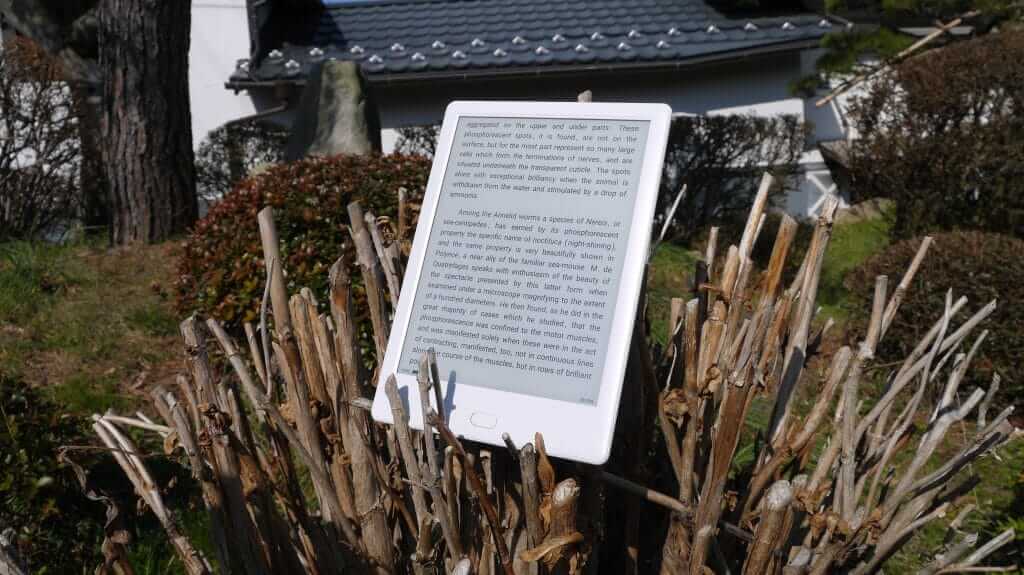 The Likebook Muses is running Google Android 6.0.1 with a custom UI. You might be thinking to yourself why is this device running an outdated OS with unpatched security issues and vulnerabilities? I have been told by many vendors that 6.0 is the last version of Android that is compatible with E Ink based devices. Some OEMS have tried loading in later versions and they can't get it to work properly.
The Muses does not have Google Play, but Boyue keeps promising they will update all of their e-readers with a firmware update that will install the Play Store and Play Services. There is only a basic level app store with a dozen apps or so. I would recommend to download and install the Good e-Reader App Store for E-Ink, which has thousands.
The main home screen is comprised of the books you have recently read and there is a toggle for books that have been recently added. There is also a dedicated area that your commonly accessed apps and there is room for five of them. Above that are quotes from books and you can change the quotes from 12 options. Next to this widget are reading statistics in the form of a graph.
There are four main menu buttons. One is for Home, the other is for Books and then Apps and the final one is reserved for digital notes. The top UI has a software based home button, back button and a A2 mode option. If you are unfamiliar with the term A2 Mode, it basically is a system that degrades the quality of any images to increase performance. Boyue heavily customized A2 mode so images are hardly degraded at all. This makes a world of difference if you are using an app that is heavily image based, like Instagram or surfing the web.
There is a black space between the home/back/A2 mode and where the indicators are that have Bluetooth/WIFI/Battery symbols. If you click in this blank area it pulls down the lighting control center and gives you a series of key functions, such as accessing the settings menu or putting it into airplane mode.
The Books menu has a number of options to display your digital content. You can list them by grid view and you can make all of the cover art large or small. List view also shows the content in bold text, making it easier to read. There is also a smaller version of listview which condenses the listings. This is useful if you have a huge library.
There are also numerous filters for the books that are being displayed. You can have the books you are currently reading at the top or sort by reading time, author, book name, format or size. If you long press on a book you can add it to a collection, delete it or associate it with a specific ebook reading app. This is useful if you want certain books or formats to be accessed with the preinstalled default app and 3rd party ones such as Moon+ Reader, Aldiko etc.
Digital Note Taking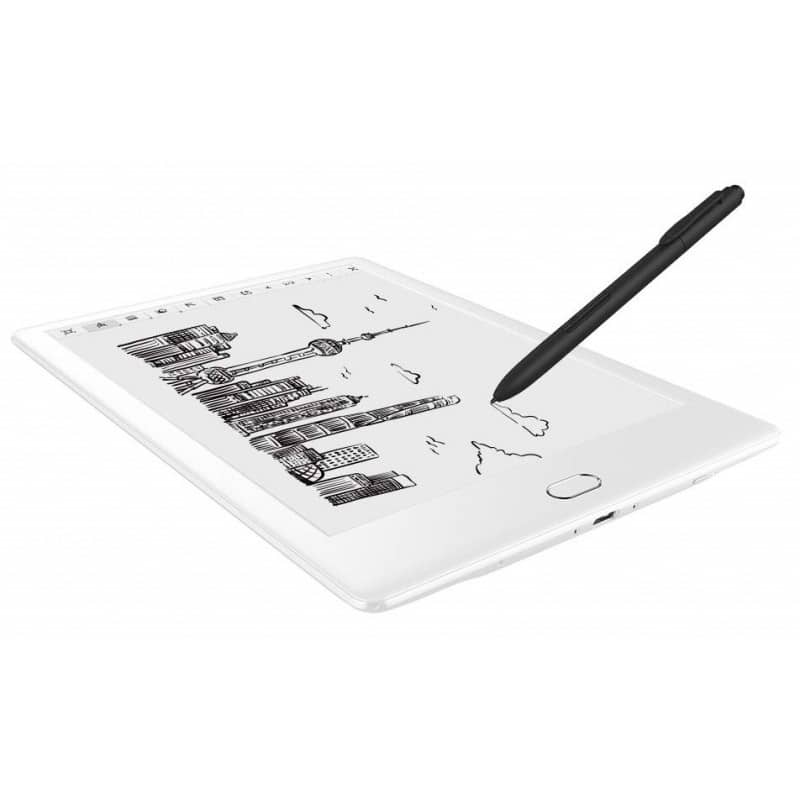 The Muses has a stylus with an eraser at the top and over 4096 degrees of pressure sensitivity. There is a clip on the Mimas, so you can attach it to a carrying case or your lapel. There are a few preset options for different types of pen and pencil types and each of them get really fine or dark, depending on how hard you are pressing on the screen. If you draw while having your hand resting on the screen, no worries, the Mimas has palm rejection technology.
The Muses note taking experience is fairly basic. You can use different shapes, like squares or circles and resize them on the fly. There are options to delete the last thing you drew, circle an area and delete everything that is inside or just kill the entire page. I feel that the Remarkable and Onyx Note do a better job at providing more advanced options for drawing, but the latency on the Muses stylus is next to nothing, anytime you draw, there is no playing catch-up with the E-Ink screen, everything is done on the fly, just like an Apple Pencil on an iPad.
There are 24 different preset backgrounds that ship on the Mimas. You have everything from College Rules to Sheet Music. Peter really dug the time schedule background that let him plan his day and write down times he had meetings or doctors appointments.
The Muses has a default PDF reader and can you draw on pages, make notes and annotations on anything that you sideload on it. You can save anything you edit as an entirely new independant file, so you can have the virgin file with no edits and your copy with all of the things you have done. The stylus has pressure sensitivity within a PDF file, but there are not very many advanced options.
Wrap up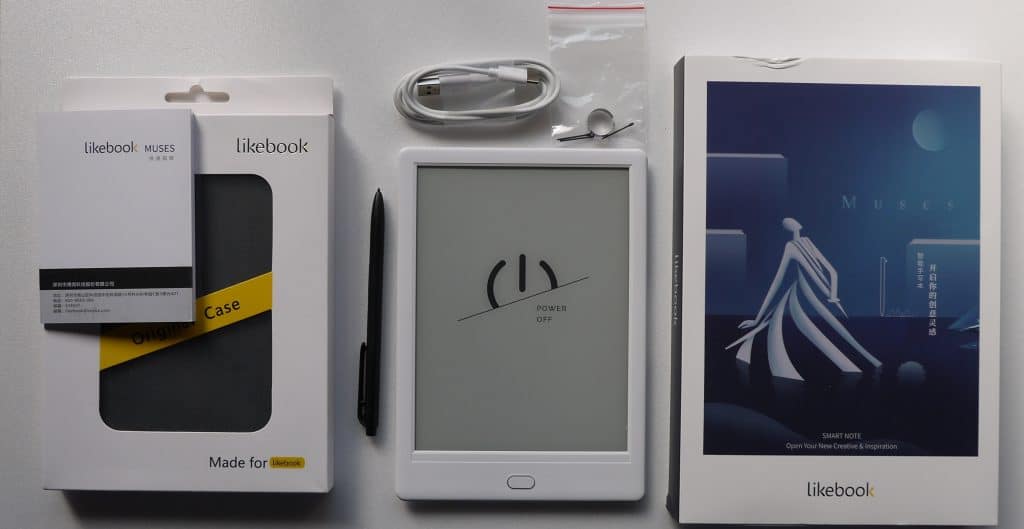 The Likebook Muses fills the gap between the Likebook Mimas for a digital note taking device. I would likely recommend the Mimas overall because it has a 10.3 inch screen, whereas this device is 7.8 inches. Having extra room on the screen for making notes is and viewing PDF files is critical.
The Muses is currently retailing for $289 from the Good e-Reader Store and the Mimas is $459, and this device is our number one seller, which is very telling.
Michael Kozlowski is the Editor in Chief of Good e-Reader. He has been writing about audiobooks and e-readers for the past ten years. His articles have been picked up by major and local news sources and websites such as the CBC, CNET, Engadget, Huffington Post and the New York Times.