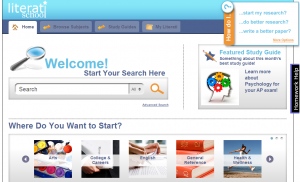 GoodeReader reported last week about Credo's Literati Student Athlete platform, which helps a key demographic of students who might otherwise be under-prepared for the rigorous requirements of higher education to succeed at the college level by providing a tailor-made database of content for student athletes. Today, Credo has also announced its Literati School platform, aimed a broader audience of students.
Literati School, which is now available for students of nearly any grade level but is geared towards the seventh through twelfth grades, addresses on of the key educational issues which is namely the discrepancy between being able to conduct actual research and translate that searchability into new knowledge by the user.
"Credo is truly doing something different with Literati," said Dr. Lana Jackman, President of the National Forum on Information Literacy, in a press release. "The potential for Credo to establish a key leadership role in education reform and 21st century teaching and learning is enormous."
GoodeReader interviewed Carol Helton, Credo's VP of Worldwide Sales and Marketing, about both of the newly launched Literati platforms. Helton also works on product management and customer solutions, meaning she has firsthand understanding of the specialized individualized needs of Literati consumers, such as online tutoring, homework help, and Librarian Connect with real-time text, chat, and email.
"Our claim to fame has been our reference service, the idea that we move reference material in an electronic fashion online," said Helton. "Credo has always thought outside the box on those solutions by treating the content differently. Everything we do with the content is XML-based, rather than PDF, which helps us leverage the content very effectively inside our platform."
One key feature of Literati is that it not only provides users with the information they are searching for, but they also discover related content that many people may not always realize is part of that topical search. This approach actually teaches students how to search for information, while they are engaged in the actual process of research. Literati also now includes a completely customizable study guide component that are specific to individual teachers and subject areas, letting schools be a part of the research instruction. This includes embedded videos for student use and related articles. For schools who don't opt to create specific study guides, Credo will have a catalog of study guides for use, along with its writing instruction module and Read Speak read-aloud feature.
"As I started to study the Common Core standard, I've learned that research is becoming the 'fourth R,' which put us on a mission. The product itself can't search the same way that a typical database searches. We use a research map to drive a topic-based approach to actually teach them how to search."
Mercy Pilkington is a Senior Editor for Good e-Reader. She is also the CEO and founder of a hybrid publishing and consulting company.