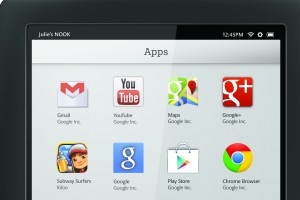 Barnes and Noble has seen a decreased interest in their Nook line of e-Readers and Tablets during the last calender year. The company verified that holiday sales were down 12.6% over the previous year and their entire digital division lost $262 million dollars in 2012. B&N also expanded out of the United States for the first time, setting up shop in the UK. There was a time when the Nook Color and Nook Tablet were very popular, but then Google, Amazon, Apple and Samsung all have captured a huge market share. Now that Barnes and Noble has launched Google Play on their tablets, can they woo customers back?
When Barnes and Noble first launched the Nook tablet in 2010, tablets have yet to hit the mainstream, other then the iPad. There was over three million Nook Colors sold right away and sales were good. Towards the end of 2011, Barnes and Noble announced a new tablet, and generated almost $220 million in sales during the holiday quarter. The Nook HD and HD+ were released in 2012 and had the dubious distinction of being the least successful.
Barnes and Noble has been running a ton of promotions lately, giving away the Simple Touch e-Reader for free, with the purchase of the Nook HD. They also slashed their prices in the United Kingdom significantly to compete better. B&N announced last week that were integrating Google Play to run into conjunction with their app curated app store. I can't remember a time when the Nook brand had this much attention on it. Most of the major eBook and e-Reading communities have been discussing Google Play non-stop and many users have now pulled the trigger and bought one.
Jersyman from Mobileread said "I was going to run down to B&N and get the HD+, but now I will wait to see what this announcement is on Monday. This is a very good move. Now I can get a large tablet for a very good price and it has full access to Google Play. What a deal" Meanwhile Greenmonkey said "B&N needed to do this, instead of trying to grab the whole closed marketplace scheme ala Apple or Amazon. I've owned a Nook color (Which I put CM7 on about 6 months into ownership). We had two more with CM7 for a while before I upgraded my daughter to a Galaxy Tab 2. Overall they've been great hardware and very durable. Being able to use the native Nook books that read to you AND the Google store is a big win. Our last Nook Color is due up for replacement – when my daughter turns 6 I'll likely get her a Nook HD for her birthday."
By the looks of it, most former Nook owners are switching back to the brand and even prompting new customers to switch over. Google Play is a big draw, with almost 700,000 apps, magazines, movies and TV. In the past, if you wanted Google apps, you had to root your device or buy a special SD card that had Android loaded on it. This was more confusing for your average user and most just decided to gravitate towards tablets like the iPad Mini, Kindle Fire or Nexus.
Is it too little too late for Barnes and Noble to regain its market share due to the fact that it has Google Play? My gut feeling feeling is that in the short term, its going to see a small spike in sales, but long term, it will give people confidence in the Nook brand. I remember when the Kobo Vox came out, it did not have Google Play, instead they tapped into the Getjar market, as a source to get apps. It was not until almost a full year later that they got a license for Play, by then it was too late. It was already an outdated tablet, but when the Kobo Arc launched, it was the total package. Barnes and Noble is in a similar situation, I don't think their sales will dramatically spike until they release a new tablet and hype the fact it runs Google. Right now only internet readers are aware of this change, your average buyer has NO IDEA.

Michael Kozlowski is the Editor in Chief of Good e-Reader. He has been writing about audiobooks and e-readers for the past ten years. His articles have been picked up by major and local news sources and websites such as the CBC, CNET, Engadget, Huffington Post and the New York Times.