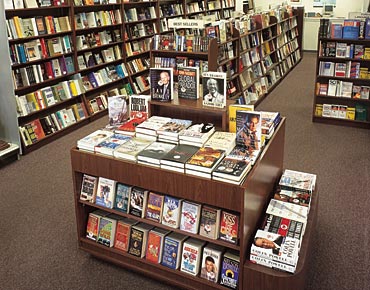 While Amazon has its rabid critics, no one can argue that the online retailer didn't sweep through the publishing industry and turn a few things on their respective heads. Access to a nearly limitless catalog of books available overnight, a platform to enable undiscovered authors to publish their work, even a traditional imprint that lures some of the most exciting names in publishing, have all created a powerhouse that everyone seems to love or despise.
Self-published author and expert David Gaughran wrote a post on his blog that explains how Amazon not only got it right, but will continue to loom large over its competitors by meeting one of the greatest needs in the bookselling business right now: discovery. While app developers and publishers struggle to put their digital content in front of consumers in a market where a glut of material already fills the virtual shelves, Gaughran explained how Amazon helps tailor consumers' choices through an eerily accurate system of algorithms to help ensure buying.
More importantly, as he explains, Amazon also has no vested interest in promoting one piece of content over another; its fundamental goal is to lead consumers to a sale, regardless of where the content originated. Unlike physical bookstores, where display location is a premium commodity that publishers actually negotiate and pay for, Amazon is willing to put any content in front of buyers' eyes, based on their purchasing histories.
As he explains, not only is this system superior to that of the days when the Big Six publishers could afford all of the best retail spots and indie authors were relegated to a corner shelf in the back of the store, the complicated process of selecting exactly which titles to put on users' screens is actually superior to that of other online retailers.
Gaughran's full blog post can be read here.
Mercy Pilkington is a Senior Editor for Good e-Reader. She is also the CEO and founder of a hybrid publishing and consulting company.