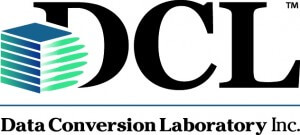 Data Conversion Laboratory released the findings of its most recent survey yesterday and even DCL was a little surprised by the results. This April survey was all about content and what companies perceive it to mean in terms of wealth and the marketability of companies.
"Notable is that 27% of respondents' estimate corporate content to be worth 75% of company value," according to the press release on the survey. "That's quite an incredible acknowledgement of the shift in corporate value. And just as surprising, 44% said their content would make up half the value of their company! We've spoken about knowledge workers for years – but the shift to knowledge corporations may be even more profound."
But what does this mean for reading consumers who are relying on digitally converted content from major businesses and small companies alike?
"Consumers are getting more and more comfortable with their mobile devices, and are used to the convenience of it all," said Mark Gross, CEO of Data Conversion Laborartory, to GoodEReader. "As a result expectations are rising that they will have accurate and high-quality self-help support where and when they need it – on their mobile device. So it is your readers that are driving the trend for companies to scramble to publish online. Our instant, mobile device culture is driving the trend as they are using these devices to access any information they want – and not just to read a novel."
It is very promising to hear that consumers are actually the driving force in many cases behind corporations' decisions to go digital. It should therefore come as no surprise that of the companies surveyed, fifty percent said that they want their product service manuals to be digital, presumably to put them in the hands of their customers instantly and in an easy-to-read format. Another 77% of respondents said they wanted to convert their content to a digital format specifically for their customers to use.
While much of the consumer population might still think of Kindles or Nooks when they think of digital reading, the advent of so many practical, day-to-day niches for e-reading has meant a greater demand for electronic and a greater need for companies who serve to convert data and content.

Mercy Pilkington is a Senior Editor for Good e-Reader. She is also the CEO and founder of a hybrid publishing and consulting company.