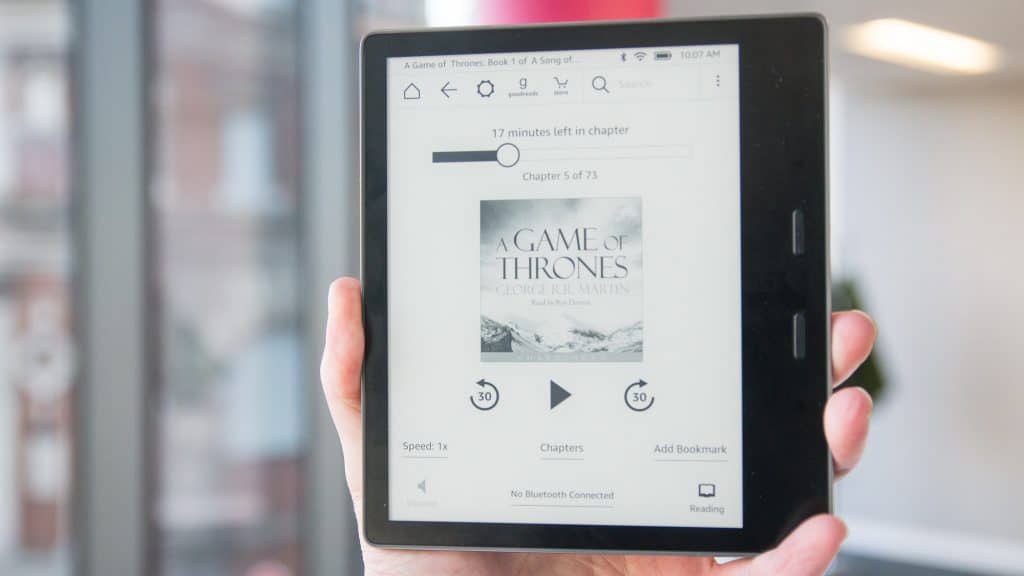 The Freescale IMX.7 dual core processor was announced in 2016 and no e-reader company employed it, until late 2017.  The new Amazon Kindle Oasis 2 is the first e-reader in the world to utilize this new processor and many other companies will begin to adopt it in late 2018.
One of the big reasons why Amazon is using the IMX.7 dual core processor is because the Oasis is a premium e-reader that is fairly expensive.  It was the first Kindle branded product to launch with an audiobook player and Amazon wanted this system to be tremendously robust. They also wanted to make browsing around the UI and page turn speed more fluid.
Nik Jedrzejewski was the former Consumer segment Business Development for the i.MX family of processors at Freescale and now works in product line management at the company that purchased Freescale, NXP. He has been focusing on the synergy between processors and e-readers for the last ten years and explained a little bit about IMX.7 and some of the barriers that are preventing other companies from adopting it.
"We are engaged with several non-eReader EPD customers, many of which are keeping the application a secret for now. I hope that we/they will be able to share something publicly soon, but for now please assume that we are engaged with many of the same e-Reader customers on the i.MX 7 as we were on the i.MX 6SL.  You can expect to see the i.MX 7Dual in the higher end versions of e-Readers first, and a continuation of i.MX 6SL designs in the lower end devices."
Amazon was the sole company to take advantage of the processor and  Nik outlined some of the challenges that companies face with using it in their products. "In e-Readers, going from i.MX 6SL to i.MX 7 is not that difficult.  The work associated with the upgrade is usually with the EPD drivers.  Any new e-Reader will have a different resolution, waveform, etc.  Optimizing the e-Reader performance using the new EPD controller on the SoC will take some time.  The companies usually work with E-ink on the waveform and any algorithms that the waveforms support (e.g. REGAL).  Many times I see a company that has waited a while to come out with a new design, it tends to have a different set of S/W engineers working on the project.  EPD technology is very unique and takes some time to understand how to efficiently create a nice GUI, or the tricks needed to speed up the display, etc.   I've seen this this ramp up time slow down the launch many times."
Many people are unaware that the Oasis 2 is using the Freescale IMX.7 dual core processor and Amazon does not mention it on their technical spec sheet or use it any of their marketing.