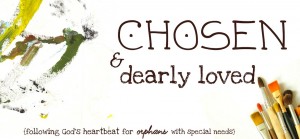 The industry surrounding both traditional and digital publishing has fully recognized that some authors and certain titles would never have seen publication if not for digital. While some argue still that this is a good thing, that traditional publishing and its gatekeepers help the quality of books by serving as a vetting portal and only letting the "good" books through, there are just as many great titles that would not have had an opportunity to be shared due to the financial risks in undertaking the project. As animated ebook readers discovered at an incredible book's release this month, sometimes those authors' voices are the ones that need to be heard most of all.
Chosen and Dearly Loved, an organization founded by adoptive parents Michael and Mandy Gallagher that is dedicated to raising funds and awareness for orphans with special needs around the world, helped launch a full-color interactive ebook entitled Walter's Flying Bus that serves to help readers understand these children better, while also giving credit to the very special children who contributed their illustrations to the ebook. The Gallaghers happen to be the owners of a school uniform company and therefore work closely with educational settings around the country, so their interest in children's education paired with their special concern for orphans led them to grow both this charitable organization and the ebook.
According to a press release on the book, "In co-operation with Global Virtual Studio based out of Kona, Hawaii, Chosen & Dearly Loved incorporated the children's art and their dreams took flight via the Apple App store. The characters in the story are based upon the real children and their unique personalities. The art of the actual children is featured throughout the eBook." The children worked with art therapists and professionals to create their masterpieces for inclusion in the ebook, allowing both the artistic experience and the publication of their work to bolster what may be already cramped self-esteem.
While trying to create Walter's Flying Bus in a world of strictly-print media would not have been impossible, it would have been an incredibly costly project that would have been relegated to a niche market of bookselling. With the partnership with interactive ebook designers and the ability to market the title through the App store along with every other ebook, the possibility of reaching global audiences with a cost-effective but engaging title was realized.
The ebook is available through iTunes at https://itunes.apple.com/us/app/walters-flying-bus/id582138770?mt=8.
Mercy Pilkington is a Senior Editor for Good e-Reader. She is also the CEO and founder of a hybrid publishing and consulting company.