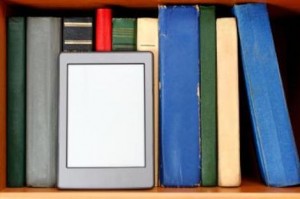 It's an accepted fact that romance fans dominate the digital market, as shown by the high numbers of ebooks sales, the romance publishers who've established ebook-only and digital-first imprints, and the success stories of bestselling self-published romance authors. The explanation used to be simple. as romance fans can't seem to get enough books. The instant downloads and the slashing of the time-to-market afforded by digital have made e-romance a great success.
Now, other genres are demonstrating at least a fraction of the hunger that romance fans have shown for e-reading, which begs the question: is there something about reading a book on a small electronic screen that is just suited to certain kinds of books?
Anna Baddeley of The Observer actually posited the theory that there is something about the numerous page turns and the little bar that shows the reader how much he has accomplished within the book that gives e-reader users a sense of fulfillment, and it does make sense. How many more reluctant readers have passed over great titles because the book is simply too big? With an ebook, the reader can't tell right away how much work will be involved in choosing the story. There is also the feeling that the book is simply one long digital file, as opposed to carrying a hefty book, so the sheer portability makes readers—especially commuters—feel less overwhelmed by reading.
While romance novels tend to be on the "quick and easy" thin side of book length, other genres with titles like the Game of Thrones series or the Harry Potter books lend themselves to more wordiness and are therefore catching up to romance in terms of ebook sales thanks to Baddeley's theory. Digital readers don't have to concern themselves with page numbers or word count, but rather just continue to tick away at the tiny percentage bar at the bottom of a small screen for the feeling of accomplishment within the story.

Mercy Pilkington is a Senior Editor for Good e-Reader. She is also the CEO and founder of a hybrid publishing and consulting company.