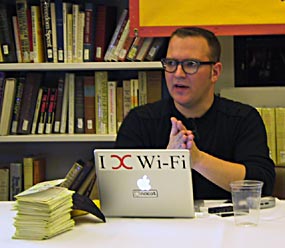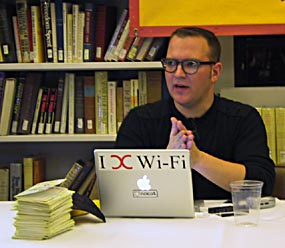 To the average reader who owns a brand-specific device and only shops for books through the device's parent company, concerns about things like cross-platform compatibility and DRM status might not really be on the radar. And for a large portion of the reading population, that may be the case; browse for a book on your favorite retailer's site, click the Buy button, and wait for your book to appear on your small screen.
But for many other readers, a growing number, if the traffic on this issue is an indicator, the discoverability of new books by indie authors and the court-protected right to share a good ebook with a friend without worrying about different devices are a growing concern. Factor in the ever-increasing numbers of authors—both indie and traditional—who simply believe that books are meant to be read by as wide an audience as possible, and concerns over the artificial limitations of ebooks seem very, very real.
Cory Doctorow made this point both quite effectively yesterday in a blog post on Publisher's Weekly's website. The full text of his post can be found HERE. Doctorow, a champion for removing the restrictions that limit the potential of books, makes a very clear case for the belief that DRM, or the "locking" of a book to one platform and the limitations that are supposed to protect the author and publisher from piracy and illegal file sharing, actually leads to piracy and loss of books sales for the author. He even points to well-known authors and books like JK Rowling's Harry Potter series that have thrived due to their DRM-free status.
While piracy and protection are only one half of the equation in the debate over these restrictions, compatibility is the other half; with the sheer volume of choices in the digital reading market, it's also a concern that authors, publishers, and self-publishers need to address. In marginally related news, digital publishing solutions mainstay Aptara will be hosting a webinar today on "eBook and App Device Compatibility: Separating Fact From Fiction." The event will feature moderator Scott Abel and speakers Jean Kaplansky, a Solutions Architect with Aptara, and Joshua Tallent, CEO and founder of eBook Architects. The free event begins today 1:30pm Eastern time, 10:30am Pacific and registration can be found HERE.

Mercy Pilkington is a Senior Editor for Good e-Reader. She is also the CEO and founder of a hybrid publishing and consulting company.