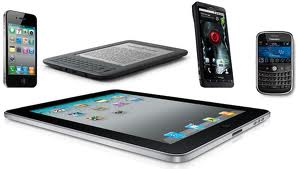 Croatian Telecom (T-Hrvatski Telekom), the leading internet service provider to the former Yugoslavian state, announced today that it has partnered with Berlin-based digital solutions company txtr to bring e-reading technology to its customers. Croatian Telecom's e-reading platform Planet 9 will provide an online shop for downloadable digital content, compatibility with iOS and Android devices through its e-reading apps, user-friendly customer billing, and more. The e-reading service will allow users to integrate their previously purchased digital books into its app-based platform through txtr's cloud-based storage system, so no prior content will be lost.
Planet 9's parent company is a joint stock company in majority ownership of Deutsche Telecom AG, better known to U.S. customers under the cellular phone brand T-Mobile, which operates IT and telecommunications services worldwide. Telekom (as it's known at home) launched its digital reading kiosk PagePlace for various devices in June 2011, allowing users to read digital books, magazines, and newspapers on any tablet or smartphone.
txtr has made news recently for its technological support to the 3M cloud-based library lending system which will allow public library patrons to borrow e-books on their own devices and to devices that libraries can loan out to patrons who do not have their own reading-specific device. txtr also works with a wide variety of international companies to provide back end support of their online content.
[showhide type='pressrelease']Croatian Telecom launches new service with eReading solutions from txtr
Berlin, 1 August 2011 – Croatian Telecom, the leading provider of telecommunication services in Croatia and a joint stock company in majority ownership of Deutsche Telecom AG, has expanded its multimedia service offering. The technology behind the eReading part of the service, branded Planet 9, is supplied by txtr, a leading innovator in eReading solutions. The solution consists of a backend system, online shop, apps for Apple iOS and Android based devices, a tool to upload and manage the eBooks in the shop, as well as customer billing integrated in Croatian Telecom systems.
Croatian Telecom explains the decision for txtr: "The txtr solution enabled us to offer a complete ecosystem to all our customers regardless of the device they are using. For us it was very important to have maximum interoperability between the different device platforms to reach the largest possible audience. We at Croatian Telecom offer innovative services to our customers so that they can experience the best from the world of telecommunications. Croatian Telecom is the first operator in Croatia which, along with the txtr solution, allows customers to have their own cloud library.
The market for eBooks and eReading is growing fast, spurred on by the sales of smart phones and tablets. Leading online book sellers already sell considerably more eBooks than hard covers. "Mobile operators are ideally positioned to take their share of this growing market. They decide which devices and services they want to offer, they already have the ability to handle invoicing online and last but not least, they already have a multimillion customer base. eReading is a great opportunity for them, since eBooks use relatively low bandwidth and have an attractive consumer price point in a mobile operator environment", adds Christophe Maire, CEO of txtr.
For end-users, the txtr cloud service differentiates itself by allowing consumers to upload existing documents such as previously bought eBooks and personal documents. They only have to download the eReading app from the Apple app shop or the Android Market site.
About txtr
txtr is a Berlin-based technology-led B2B company which provides a global but locally relevant eReading solution to mobile operators, device manufacturers, content or media companies and retailers.
Recent achievements of txtr include the realization of the mobile reading apps for iPhone and Android for a range of leading eBook retailers and wholesalers. Recently txtr also announced that the company is supplying their technology to Acer and 3M. Furthermore, 3M decided to make a strategic investment in txtr.
The txtr solution offers an end-to-end eBook discovery, purchase, read and share consumer experience, built on a back-end platform with store, a cloud based personal library storage and an extensive international eBook catalogue.
The company was founded in 2008 by among others Christophe Maire and Andreas Steinhauser. Txtr now employs some 60 staff with customers in a number of countries in Europe, Asia Pacific and South America. [/showhide]
Mercy Pilkington is a Senior Editor for Good e-Reader. She is also the CEO and founder of a hybrid publishing and consulting company.