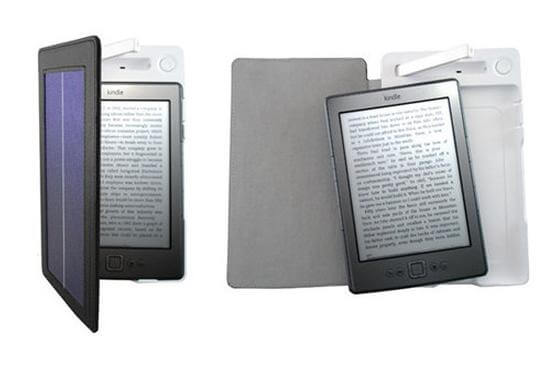 One of the aspects of digital reading that its fans have often spoken of is the ability to have one's entire library available in one portable device. As if the Kindle couldn't get any better, TechCrunch's Jordan Crook had to go and let us all in on an item that goes on sale in just over one week. The SolarKindle, developed by Solar Focus, is a protective-cover-slash-solar-panel that not only keeps the device secure but also keeps a regular-use charge on the device for up to three months with only sunlight.
While consumers can pay a hefty price for so-called designer covers for their e-readers, this is the first one that charges the device, has a built-in battery backup, and has an LED light for reading in the dark which is also powered by the charge from the solar panel. And this one only rings up for a typical e-reader cover price, $79.99US when it goes on sale January 15th.
"The cover also packs a reserve battery, which can either power an LED reading lamp (built right in) or offer extra reading time by feeding energy into the Kindle's main battery. The LED lamp will run for 50 hours continuously before using the Kindle battery. Solar focus says that an hour under direct sunlight can offer 3 days of reading time," said Crook.
While the perception was that the cover is by no means a museum-quality thing of beauty, it seems to be both functional and still maintains the sleekness of the device. When the cover is secured over the Kindle screen, simply placing it near a window or on the dashboard of the car on a long drive can be enough to recharge its reserve battery.
With the constant reports of huge e-reader sales from several companies, hopefully even more innovative products like this will appear, whether from the original manufacturers or after-market suppliers like Solar Focus. However they come to market, these additional accessories can prove to enhance the already innovative digital media.
Mercy Pilkington is a Senior Editor for Good e-Reader. She is also the CEO and founder of a hybrid publishing and consulting company.