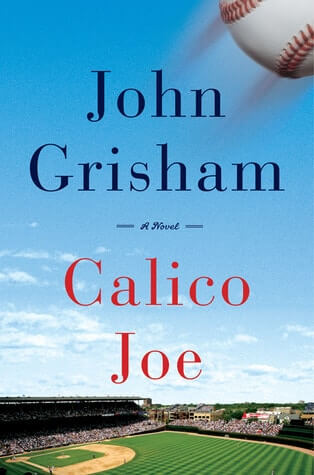 Verdict: 5-Stars – Best known for his legal thrillers, Grisham steps away from courtroom intrigue to pen a heart-wrenching story of loss and redemption.
I've never read a John Grisham novel in its entirety…until now. If I had to pick one of his bestsellers to start with, though, Calico Joe was the right one. The writing is so masterful and vivid that not only does the reader feel like he's right there on the field with the phenom rookie player, he also forgets that this is a work of fiction.
I'd only made it just shy of halfway through when I had to put the book aside and Google these baseball players. Surely characters that Grisham depicted in such complete detail, down to their batting averages and the way they tied their shoelaces, surely they were real. They had to have existed. No one is a good enough writer to invent all of these complex-yet-heroic sports icons. On the one hand, I was pleased to know that Grisham is the kind of writer who can draw me into the lives of his characters; on the other hand, I was a little bit sad to know that these people had never really existed. While reading, I wanted them to be real.
The story line itself is so original that the drama unfolds piece by piece, or rather, inning by inning. I was again halfway through the book when I realized who the villain was, but by the final page I wasn't even sure of that anymore. The lines between good guys and bad guys weren't quite blurred, but they were certainly fuzzy.
The most praiseworthy attribute of this book is that it is a timeless baseball story that can be enjoyed by any reader, whether they cheer for the Cubs or the Mets or whether they have never followed baseball at all. Grisham makes all of us become baseball fans, at least for the duration of his book.

Mercy Pilkington is a Senior Editor for Good e-Reader. She is also the CEO and founder of a hybrid publishing and consulting company.