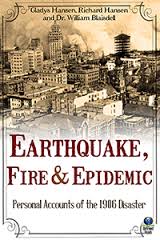 Verdict: 5 Stars
In this look at one of the most devastating natural disasters in US history, digital publishing is responsible for a number of key factors. First, the timeliness of the book is important, as ebook-only publisher Untreed Reads released the title to coincide with the anniversary of the 1906 earthquake and resulting fire that destroyed San Francisco. But perhaps more importantly, this work was created to dispel a lot of the long-held beliefs about the San Francisco earthquake, which can be a risky investment for a more traditional publisher, especially when some of the incorrect beliefs and myths that are explained in the book border on conspiracy.
Authors Gladys Hansen, Richard Hansen, and Dr. F. William Blaisdell, all highly respected and honored in their fields, sorted through exhaustive archives on the event that historians have long believed claimed the lives of 478 people. Their research, begun by Gladys Hansen almost forty years ago, led to the conclusion that the number is actually closer to three thousand people. But after noting the diligence and quick work of the city leadership in gathering personal accounts from the event and storing newspaper articles from papers around the country whose reporters covered the devastation, the logical conclusion in the face of so much stored up evidence is that the city's political and economic leadership attempted to downplay the horror of the event.
Still other myths about that event are also closely examined by the authors. A rumored street riot sparking a brawl between members of two of the city's immigrant populations apparently never took place. The rumors about the mass shootings of private citizens by US soldiers were apparently false, as well. Possibly most disturbing, the researchers were able to uncover numerous leads and documents that point to the existence of crucial records and accounts of the events, records that were commissioned by the city leadership, only those records have vanished, possibly because they contain evidence of the devastation that the leadership didn't want coming to light.
Most appealing from a historical and literary standpoint, however, is the fact that this title does what the various committees formed immediately after the earthquake were supposed to do: gather personal accounts from the people who lived it. Their stories are finally being told, more than 100 years later.
Earthquake, Fire and Epidemic is available now for e-readers and compatible devices at Untreed Reads, Amazon, Barnes and Noble, Kobo, and more.
Mercy Pilkington is a Senior Editor for Good e-Reader. She is also the CEO and founder of a hybrid publishing and consulting company.