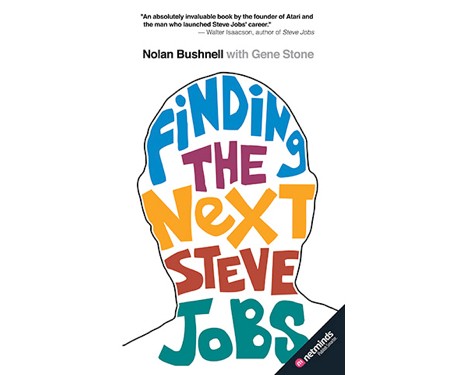 Verdict: 5 Stars
As an entire subset of reading, business books have got to be the most diverse. Titles that promise to reinforce business ideas or shake things up give us new catch phrases like "out of the box" or slogans about colorful parachutes. They seem to develop an almost cult-like following among certain sectors of industry, with well-dressed professionals standing around holding paper cups full of coffee and asking each other, "What do you mean you haven't read so-and-so? He's changing the whole paradigm!"
The interesting thing about this business book, though, is that not only does it not force its way onto the scene with catch-phrases, but that its creation was actually born from a whole new attempt to shake things up in one key business: publishing.
Finding the Next Steve Jobs by Atari founder Nolan Bushnell was the first title released by innovative self-publishing platform NetMinds. Launched earlier this year, NetMinds brings together authors and industry professionals in a very complex system that lets self-published authors pay a portion of the professionals' fee, as well as pay them via a portion of the royalties. This method ensures that top talent come to the project, but also that those professionals can build their portfolios with high-caliber projects. One of the immediate differences with this title is the Contributor page in the front cover, which lists the names and roles each person played by collaborating on this book.
Bushnell, who founded more than two dozen companies, is credited with seeing something unique in Steve Jobs and giving him his first real " shot." As the author describes in the beginning of this book, he was also very supportive of Jobs' plans to leave Atari and create a little start-up known as Apple.
One of the things that makes Bushnell's title, co-written with Gene Stone, so appealing is the high level of interest in the subject. This isn't some far-reaching book for MBA students to read to "get ahead." Apart from the international interest in Steve Jobs as an individual, Nolan's title is actually about finding creativity and not being afraid of it. The author shares anecdotes from his many business ups and downs, while still bringing the subject matter back to creativity and how to ignite it. Whether you're a CEO of a company or you're the guy who dumps the garbage can in the CEO's office at night, finding new ways to think about situations and how to put those ideas into practice is a skill that all people can stand to embrace. This isn't a business book, it's a "being alive" book.
Finding the Next Steve Jobs is available from Amazon, Barnes and Noble, iBookstore, and more.
Mercy Pilkington is a Senior Editor for Good e-Reader. She is also the CEO and founder of a hybrid publishing and consulting company.