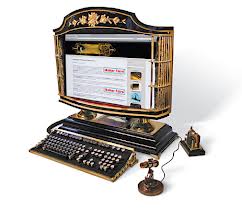 Judging from how hard it is for an author to write and publish a book, it's quite possibly exponentially harder for two authors to write and publish a book. That difficulty might only be compounded when one of those authors is a historian and the other earns his keep as a futurist. In Vintage Tomorrows: A Historian and a Futurist Journey Through Steampunk into the Future of Technology (O'Reilly), Carrott and Johnson tackle the task of dissecting how steampunk can help us understand where we are headed.
Brian David Johnson (@IntelFuturist) spoke during a keynote presentation at last week's Tools of Change conference about how science fiction and steampunk actually impact readers' perceptions of both the very real history and future that they envision. While steampunk is an almost revisionist history of what we wish the olden days had been like, science fiction is the future that we can only hope for and strive to make into a reality.
In Vintage Tomorrows, the authors met and interviewed some of the most well-known names in their genres to decide on the impact of both. The work is filled with anecdotes and intriguing photos, some of which the authors admit were taken with a camera phone because the opportunity to document something profound presented itself and was not to be missed. And because, thanks to faceless mass technology rather than steampunk, camera phones are pretty sophisticated these days.
Throughout the interviews, though, the reader begins to learn that steampunk is not at all limited to being a genre of writing, but is an actual tangible lifestyle for its hardcore fans. It's not about dressing up in pseudo-Victorian garb and attending ComiCon, instead it's about the culture of taking an object and recreating it into a new technology that suits the user's purpose, about the age-old craft of tinkering with something until it becomes new again.
One of the most summarily profound quotes in the book comes from the authors' interview with Robert Martin Armstrong, founder of Steamcon, who said, "We are reimagining the Victorians' original views of the future. Their science fiction has become our science fact. Steampunk is a group of people looking back to look forward again and say: 'What if?'" And truly, the what-if presented in the book is about reimagining the future before it ever happens in order to shape it into what we all want it to be.
Vintage Tomorrows is available now as an ebook from Amazon, and will be available soon from Barnes and Noble, Kobo, and more.
Mercy Pilkington is a Senior Editor for Good e-Reader. She is also the CEO and founder of a hybrid publishing and consulting company.