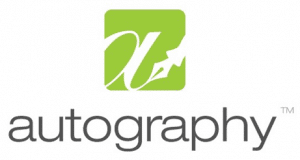 The developers of Autography, the software that allows authors to fully personalize and sign their ebooks as well as embed a photo page for their readers at both live and virtual book signings, have had to resort to a legal battle over the theft of their product. The defendents? Major League Baseball's Tampa Bay Devil Rays.
According to the court document filed on behalf of Autography founders Tom Waters and Robert Barrett, the company had explored options outside of the signed ebook realm and had been in talks with the Rays' management about creating something akin to autographed virtual baseball cards. But despite the lengthy negotiations and the confidentiality agreement—specifically a non-disclosure agreement and a non-compete agreement—signed by the involved parties, that partnership didn't happen.
Then Waters stumbled across a company called Egraphs. Under Egraphs model, or a hefty price tag, fans could receive an emailed photo of a team player from any of the participating teams with a digitized autograph and possibly a personalized message. These pictures could be stored as the wallpaper on smartphones or tablets and shown to friends.
In the court documents, Autography states that the Rays' management involved in the deal, specifically Brian Auld, the vice president of operations for the baseball team, offered up several lucrative opportunities that were essentially ploys to get Waters and Barrett to not take their digital signature software any further. This allegation makes a lot of sense when Auld, former Rays' player Gabe Kaplan, and major investor Stuart Sternberg—who happens to be the principal owner of the Rays—launched the Egraphs company last month.
"From the digital standpoint, this is a common problem with any digital startup, trying to find backing and partnerships," said Tom Waters in an interview with GoodeReader. "This is the same sort of David and Goliath problem small companies have. We had an idea for digital baseball cards so we took it to a local MLB team and started negotiations. The Rays liked what we were doing, they liked the technology, they really liked our counter-piracy protocols that were in place and the social media tools that we demonstrated at Tropicana Field, for fans in the park and those who can't be there for every game. We literally walked them through a ton of ideas that this technology could bring to the fans."
The negotiations came to a halt when the Rays later decided that they wanted to own the company and the technology outright, rather than form a partnership as originally discussed.
"Our trade secrets have been acquired and used against us, despite the agreements we signed. There are certain aspects of Egraph that are trade secrets that were taken directly from our confidential agreements. Instead of getting investors, we have a long process ahead of us."

Mercy Pilkington is a Senior Editor for Good e-Reader. She is also the CEO and founder of a hybrid publishing and consulting company.