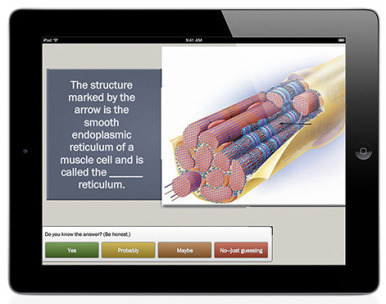 This year's Consumer Electronics Show, taking place in Las Vegas, has already unveiled some exciting new products and enhancements, especially in the area of education and digital textbooks. Alongside this morning's announcement from educational software company Kno of the interactive study assist dashboard called Kno Me, McGraw-Hill unveiled its own interactive adaptive technology to help learners reinforce their valuable study time with valuable metrics on how they are learning.
McGraw-Hill's widely popular LearnSmart program has now been enhanced with SmartBook, its first-ever adaptive ebook. This new method of learning and reinforcing allows college-level students to zone in on the material that is most crucial to incorporating the necessary information.
"Since the launch of LearnSmart in 2009, we've developed a deep understanding of how personalized learning through adaptive technology helps improve student performance," said Brian Kibby, president of McGraw-Hill Higher Education, in a press release. "Bringing our expertise and proven effectiveness in adaptive learning to new areas of the learning experience represents an enormous opportunity, both for McGraw-Hill Education and students, instructors and institutions across the country. With the launch of SmartBook and the rest of the LearnSmart Advantage suite, we continue to lead higher education in using adaptive technology to help improve student performance."
The model of adaptive learning that is made possible by metrics included in digital textbooks helps students maximize their study time by deciphering which parts of the material the students have already mastered, while helping them pinpoint which areas still need focused attention and repetition. Students become better prepared for evaluation, and teachers don't waste valuable class time having to review material that LearnSmart has already helped students identify as an area of need.
This new approach is actually a part of a full suite of materials from McGraw-Hill which include SmartBook, LearnSmart Prep, LearnSmart Labs, and LearnSmart Achieve. Working together to improve student knowledge and achievement, the different portions of the LearnSmart Suite are available in almost 100 course areas, with more features coming in the spring, and most will be priced for student or parent direct purchase beginning at just under twenty dollars.
Mercy Pilkington is a Senior Editor for Good e-Reader. She is also the CEO and founder of a hybrid publishing and consulting company.