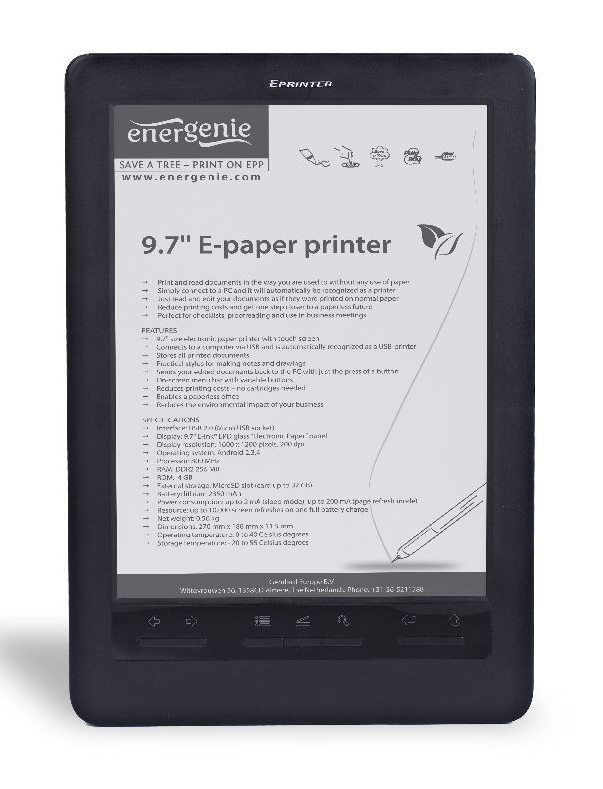 Jostling for space among the plethora of new gadgets that's waiting to be unveiled at the upcoming IFA 2013 event will be a humble ereader device which, according to reports from its developer,addresses readers' responsibility to Mother Nature. The ereader in question, the EnerGenie PP2 from Danish company Gembird, is very similar to any e-ink-based ebook reading device out there. However, its makers want to convince us the EnerGenie PP2 is in reality an e-paper printer.
Here is how the company behind the device is justifying it being labeled as an e-paper printer. When connected to the computer via a USB cable, the device is recognized as a printer. Pressing the print option will transfer the document to be printed onto the EnerGenie where it remains saved. The document can then be called up and displayed on the 9.7 inch e-ink display the device offers, any time it is needed. The 1600 x 1200 pixel display also helps the cause, though while this makes for a nice way to save paper, that's only as long as the document is in black and white. Also, it's a two-way journey with the documents, as the same can also be sent back to the PC.
Meanwhile, the EnerGenie PP2 also includes a stylus which can also make impressions on the display. What this means is that the pen can be used to modify the document or add a signature and so on. The rest of the spec story speaks of a 80 Mhz processor powering the device, together with a 256 MB RAM and 4 GB of internal memory. There is also a micro SD card slot to allow for more storage. The device runs Android 2.3 Gingerbread, though it's unlikely users will be allowed access to the operating system. There's a 2350mAh battery that will be providing the power, which it must be said will be quite enough given the power saving credentials that e-ink based displays are known for.
However, what comes as a downside is the intended pricing, which at 399 to 499 Euros translates to about $530 to $660. That makes us wonder if there will be enough buyers to splurge on an e-paper printer, no matter how committed they may be towards the green cause.
Meanwhile, here is a video of the device in action.
Sovan Mandal is the senior tablet and tech corespondent for goodereader.com. He brings a international approach to news that is not just applicable to the North American market, but also Asia, India, Europe and others. Sovy brings his own writing flavor to the website and is interested in Science Fiction, Technology and Writing. Any questions, send an email