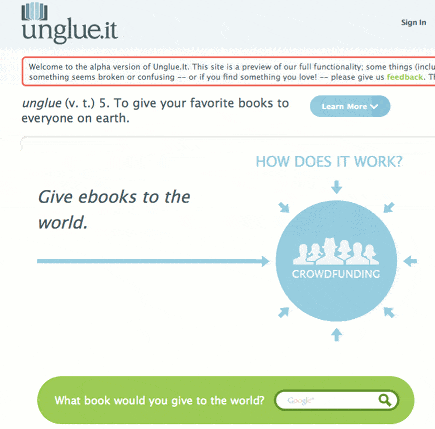 A little over a week ago, GlueJar unveiled its new division, Unglue.it. This new venture is directed at taking away the barriers to reading for a lot of people, specifically public library patrons who are currently still at the whim of the publishers when it comes to ebook lending. CEO Eric Hellman spoke to GoodEReader about how this is supposed to improve access to content.
Acting on the idea of "ungluing" a book using crowdfunding to remove any licensing concerns, readers makes pledges toward individual book campaigns. Once the funding goal has been met, the rights holders are compensated and the book becomes free permanently, across all devices and platforms. As the cost of production for an ebook is minimal once the initial book is created, campaigns like Unglue.it's are working to take advantage of the accessibility that CCL can provide.
"The business model for unglue is to take a percentage of any successful transactions, like a realtor," explained Hellman. "It's a marketplace rather than a discovery portal. Once the books are unglued, they're available to be hosted anywhere. Because CCL does allow for distribution, libraries can get involved and host files from their sites as well."
The first concern when there is discussion of free access to ebooks and DRM-free content always comes back to piracy, an issue that Hellman explained will no longer be an issue with Unglue.it's CCL model.
"Once a book is unglued, there is no issue of piracy because the publisher has been paid for the book." Following its ungluing, the book is available anywhere, including to public libraries. The rights holders, whether they are the publisher or the author or an author's estate, have already received their agreed upon compensation. Since the rights holders are the ones who agree upon whether or not to accept the compensation, or even have the book included in a pledge campaign, for that matter, the stakeholders are liberated from concerns over illegal download and distribution while knowing that their content is being made available to readers across all platforms.
"At launch we started with five campaigns and we're working on a number of other campaigns. We had two from publishers and three from authors. In January we opened a preview of the site without any campaigns on it and we talked specifically about special features for the library market. The things that libraries tend to be interested in are metadata, so there are a number of things we're looking at doing for the library market. Right now, we have 140 different enhancements on our list of things to do and we're constantly adding to that."
GoodEReader will be speaking again with Hellman and the Unglue.it team at BookExpo's IDPF conference on Monday, June 4th, in order to get the company's perceptions on how readers are responding to the pledge campaigns.

Mercy Pilkington is a Senior Editor for Good e-Reader. She is also the CEO and founder of a hybrid publishing and consulting company.