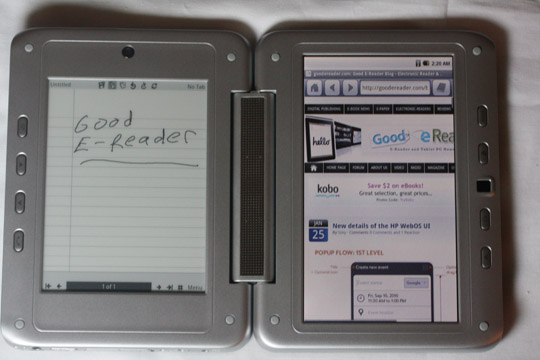 The Entourage Pocket Edge is the follow up to the world's first dual screen e-reader and tablet the Entourage Edge. The Pocket Edge refines on what made the original successful, and condenses it down to an easily transportable device that gives you the best of both worlds; a Tablet PC and E-reader. Is it a viable product for the student in your life or the professional, or is it trying to do too much and under delivering?
Hardware
The Entourage Pocket Edge features dual screens that close up like a book and allow for 180 degree rotations with the physical hardware. The right hand screen functions as your program launching platform in full color and features a 7 inch capacitive WXGA with a resolution of 800×480 pixels. The second screen is touchscreen e-ink based and is 6 inches with a resolution of 800×600 pixels. The e-Ink screen also can display 16 shades of gray, which makes it comparable to most other electronic reads on the market.
The full color screen allows you to rotate it up to 180 degrees in portrait and landscape mode with the touch of a button. Although the device does have the ability to switch prospective it does not do it automatically, a button press is mandatory. The e-Ink portion of the dual screen currently does not have the ability to switch between landscape and portrait mode. The main method to interact with the device is via the Wacom based Stylus.
Internal memory is limited to 3 GB but you can further increase the storage up to 16 GB using a MicroSD card.
Internet connectivity is done via the integrated WI-FI 802.11 b/g and there is also an Ethernet to USB dongle adapter currently available from the Entourage online store.
Unlike the full sized Entourage Edge, the Pocket version has only 1 camera that is limited to 2 MP, you can shoot video, take pictures and even video chat using software available from the alternative Android Markets.
Speaking of Android one of the drawbacks of the device is that it uses an out-dated Android 1.6 operating system with a very custom Linux overlay that makes the Edge, well the Edge. Upgrading to Google Android 2.2 is in the development pipeline for Entourage, but so far there are no official updates available.
Finally, you can get around 8 hours of battery life, with the charger device that comes with it, it has a MIC, headphone jack and speakers conveniently in the middle of the device, to give you a fuller sound experience.
Software
The Entourage Pocket Edge runs Google Android 1.6 and has a custom Linux Kernel overlay that helps make the e-ink portion really shine.
There are many custom applications that come with the device when you turn it on for the first time, after you download around 2 or 3 updates when you first setup your device. There is a journal application that allows you to hand write and take notes on the e-ink screen and is very robust once you run the calibration tool.
Some other custom applications include a dedicated YouTube viewer, which allows you to watch videos online, but not while surfing the internet and clinking on a YouTube video. Even with other web browsers like Dolphin and Opera, you cannot watch videos embedded into blogs or internet pages.
There of course is also a bunch of applications such as Internet Browser, Email, eBook Reader, Calendar, Media Player, Media recorder and so on. We were actually impressed on the number of applications that initially came with the device. Most Android tablets that come out, have minimal programs that come with it, sort of like when you buy an Android phone for the first time, there is not a whole lot of anything. The Entourage Pocket Edge worked remarkably well right out of the box, with a ton of content.
Entourage also has their own portal for Pocket Edge support via its webpage; you can purchase ebooks, subscribe to newspapers and download applications. Popular applications such as Facebook are on the main site, and some instant messaging clients, but you would want to download some Alternative Google Android Market Place applications. When we tested it the device ran the Kindle, Barnes and Noble, Kobo and Sony Reading applications.
Entourage uses a custom SDK for its own app store offers, so some are impressive and allow you to utilize the dual screens properly. The Entourage forums are also great, along with our very own Good e-Reader forums that allow you to download a ton of applications for your device, such as Twitter, MSN Messenger, and many more.
Media supported
Entourage is marketing the Pocket Edge as a multi-purpose device that can be a single answer to a lot of requirements. It's a device that can be used to read e-books, write notes, surf the web, record and play back audio as well as video, take photos and view them, create word, excel and PowerPoint files and so on. And for the Pocket Book to be able to accomplish all of these, the device is found to be compatible with different file formats. For instance, the tablet part of the Pocket Edge can decipher files types MP3, WAV, 3GPP, MP4, AAC, OGG, and M4A. Similarly, the Pocket Book as a tablet can play back video file types such as 3GP, MP4, Adobe Flash Lite® (H.264), AVI (DivX or Xvid encoded), MOV, and WMV.
However, as an e-reader, the Pocket Edge has been found compliant with only ePub and PDF. Also, it's here that the Pocket Edge throws up some interesting facts as unlike the original Entourage Edge, the Pocket Edge has been made for a more general application unlike the former that is targeted primarily at the student community. This is in spite of the fact that while the Pocket Edge does allow for the PDF files to be zoomed in and zoomed out, but there is no way one can reflow the text to make them adjust to the display on smaller sized screens.
Our Thoughts on the Entourage Pocket Edge
The Silver edition really shines and the Pocket Edge is extremely portable, making it the perfect device for the high school, college or professional in your life. If you are using it for a textbook reader, ebook reader, it really allows you to do things with this device that you cannot otherwise do.
Take for instance the e-ink screen, it is fully interactive and can be used to draw, take notes and annotations, and look up words in the dictionary and so on. Many of the other higher priced e-readers are not touchscreen and do not really allow you to interact with the device in terms of taking notes and highlighting. I really liked the way you could launch the note pad and actually write directly on the screen. One of the most impressive features was how when writing on e-ink it actually auto-completed your words, as it lagged a bit behind. Where as the Sony PRS-650 and PRS-350, if it lagged and you stopped writing, it would cease trying to catch up with your Stylus.
This device works really well for a dedicated ebook reader; it turns pages very quickly and is responsive to the Stylus. Although you can turn pages using the built in forward and backward buttons embedded into the unit.
The Android screen despite the lower resolution to other higher end tablets will not blow anyone away, but due to the capacitive screen they use, make it easier to interact with then many tablets that use a filmy resistive touchscreen.
Navigating around and opening applications, games, menus and settings are a breeze and many users will be instantly familiar with it, if you ever have had an Android device before, if not its tremendously intuitive.
I really liked how the Pocket Edge just folded up like a book and allowed you to shift it into different positions, such as folding it up, so just the e-ink screen was visible to take notes or to read a book, while you can do the same with the full color screen if you wanted to play a game, write something on an app, watch a movie or listen to music.
The Pocket Edge does have some shortcomings for one it does not support Adobe Flash and has no short term plans in order to do it. The company has said a fix might be on the horizon, but they have been mentioning it since October of 2010.
Another shortcoming is the YouTube Player that comes with it, until you run many upgrades it will not even work. Embedded YouTube videos found on blogs, internet websites and so on will not work. Because the Edge works on Android 1.6 you cannot even download Dolphin HD to take advantage of browser based YouTube viewing.
The final drawback is the charger units gets very hot when you are charging your Edge, make sure when you charge up your Edge you are not using it at the same time, or you might have overheating issues on your hands.
Summary
In closing the Pocket Edge is a very unique device and is the world's first true dual book e-reader. It certainly takes advantage of worlds, an e-ink book reader and an android tablet. It manages to pull off the two blends very uniquely. The cost is low, around $399.99 from our retail partner Shop e-Readers and for your money it is a solid investment.
It certainly is not a super high end tablet with its advanced processing power or tons of built in memory and does run an older operating system, but it does its job well. There are lots of ebooks, newspapers and manages available from the Entourage Edge market and it allows you to download books from websites or other stores and import them with Adobe DRM or ePub books.
We would recommend this device to a high school, college, or professional that needs a single device to do many different things without spending a ton of money. We recommend the Entourage Pocket Edge, pick one up today from our retail partner Shop e-Readers.
[cincopa AIPAbcKCg85f]

Michael Kozlowski has written about audiobooks and e-readers for the past twelve years. Newspapers and websites such as the CBC, CNET, Engadget, Huffington Post and the New York Times have picked up his articles. He Lives in Vancouver, British Columbia, Canada.