The Kobo Arc is the latest generation tablet and a direct successor of the Kobo Vox. This new device has been revised from the ground up to give you the best reading experience on a full color display. Many companies simply release vanilla tablets and try and sell you on email, facebook, and an internet browser. Kobo has gone the route of Barnes and Noble and Amazon to give you a custom UI and a new Overlay called Tapestry.
Hardware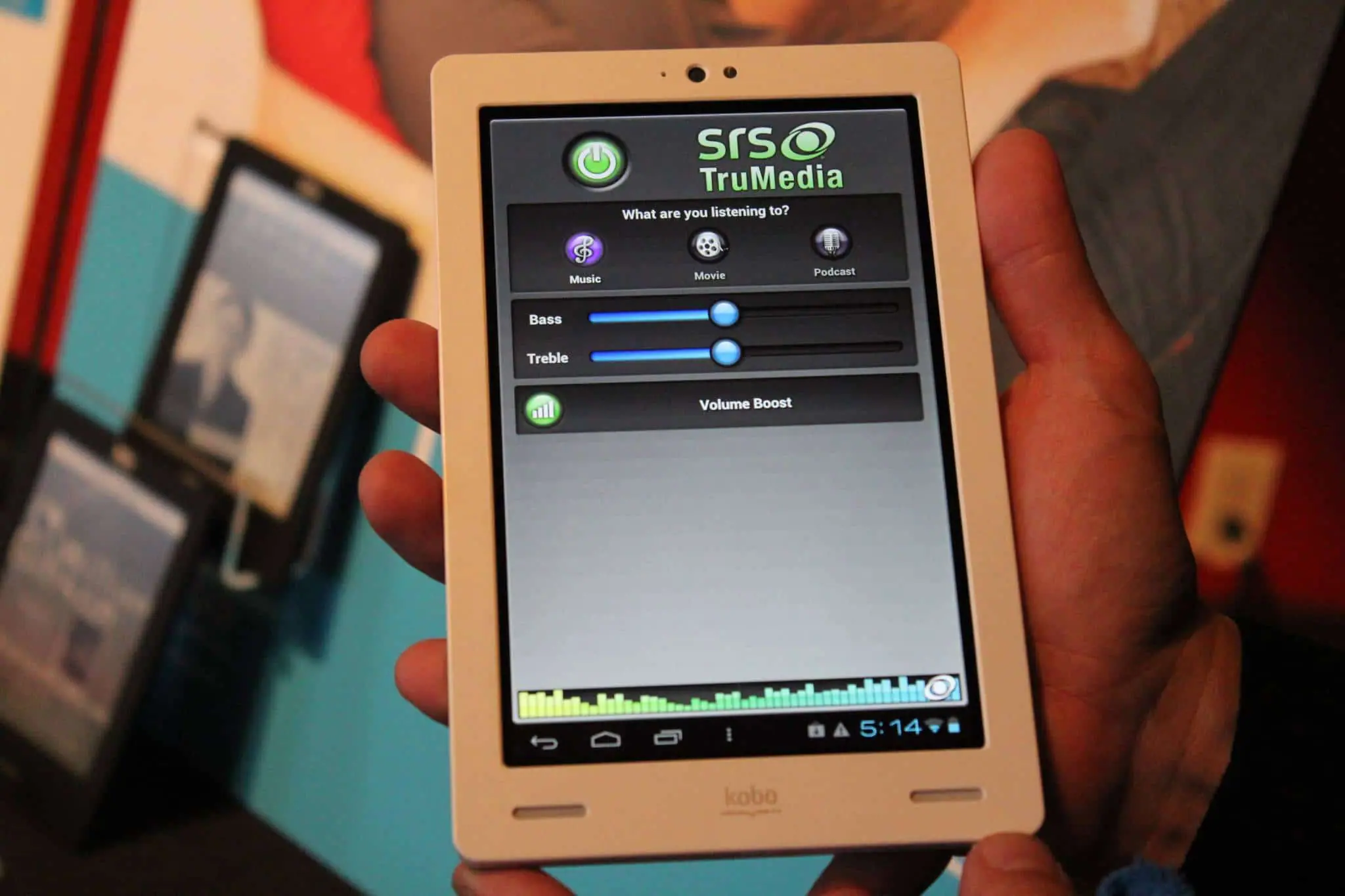 The Kobo Arc features a seven inch HD display with a resolution of 1280×800 pixels and 215 PPI. The screen features IPS screen technology, which is an industry-leading display optimized for 178 degree viewing angles and ultra durable glass, resistant to damage, scratches, bumps, and drops. Underneath the hood is a Texas Instruments OMAP 4470  1.5 GHZ dual core processor and 1 GB of RAM. There are two different storage options at 8 GB and 16 GB, depending on your needs.
The front facing camera gives you 720 P video recording capabilities, which is useful for video conferencing or instant messaging. Also, the front of the unit features two front facing stereo speakers that use a new SIS technology. This gives you the ability to dramatically enhance the audio capabilities of the tablet. By default, it is turned off and while in the conference I could barely hear any of the audio playing at full blast. When the enhancements were turned on, I heard everything loud and crystal clear. I am totally sold on the dual front facing speakers; many of the leading devices from Barnes and Noble, Sony, and Amazon do not have front facing speakers. Their speakers are either at the top or at the bottom of the device. The speaker quality is one of the most endearing features of the Kobo Arc on a hardware level.
On the sides of the device sits your 3.5 mm headphone jack and volume control options. On the top is your power button, which also puts it into standby mode. One of the cool elements of this device is the ability to swap out the different color panels. Kobo has always released e-readers and tablets with a quilted back and when you purchased one, you were stuck with that particular color. With the ARC you have the ability to buy different colors that allow you to swap out the quilted back. Kobo has said that at launch there will be only five different colors available, but the company intends on launching more.
Software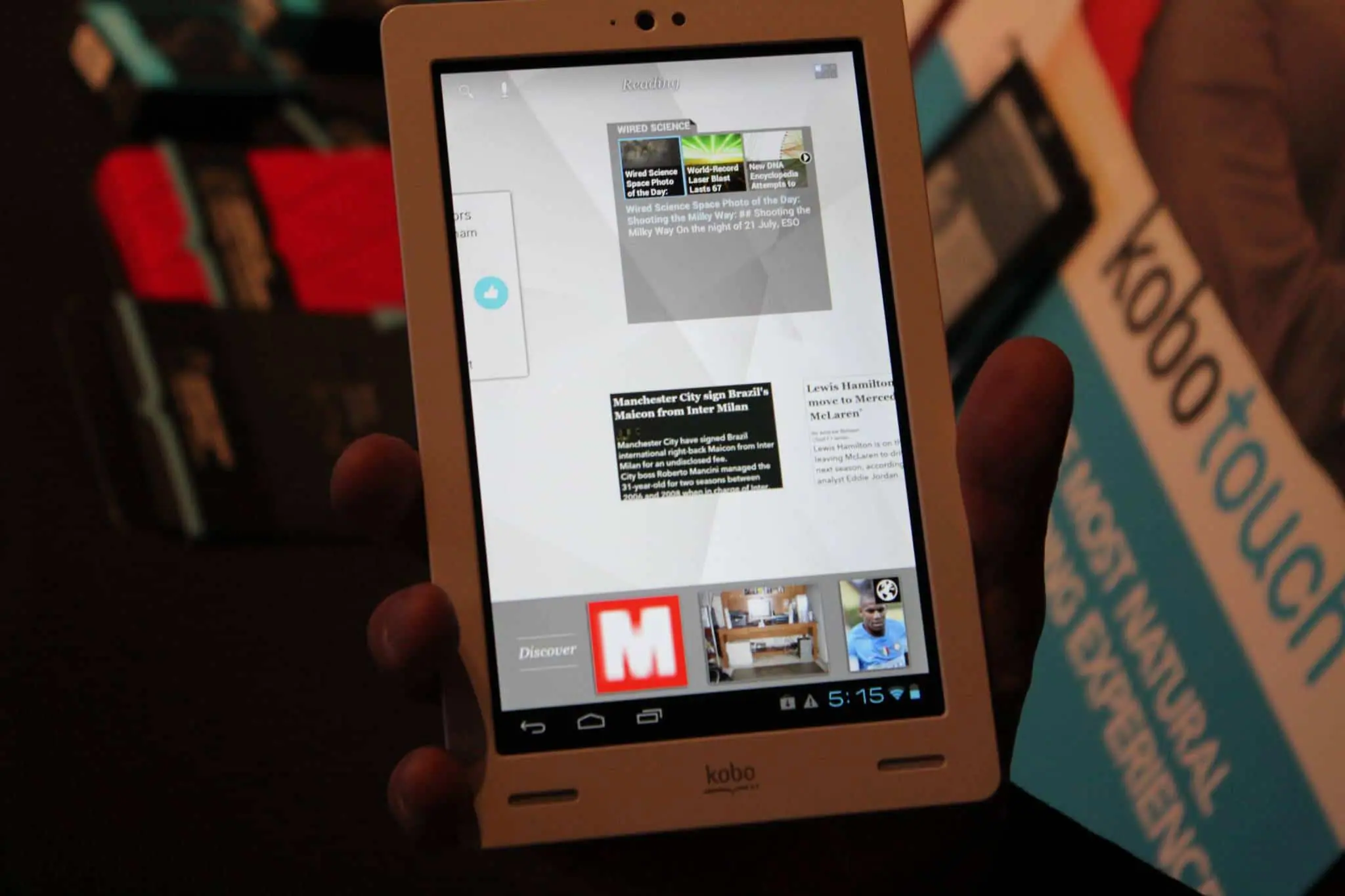 The Kobo Arc runs on the Google Android 4.0 operating system and does not give you the same old Vanilla Android experience that so many tablets try to sell you on. Instead they have an innovative feature called Tapestry that really allows you to use the tablet for reading since the OS is geared towards it.
Tapestry has several major elements that contribute towards a very unique tablet. The first is the ability to get supplementary information on a book that you have purchased. For example, when we opened a Steve Jobs autobiography purchased from Kobo, along the button of the screen was a wide array of content. There were Wikipedia articles, pictures, Youtube videos, interviews, and tons of other content. This is not a selling feature. Kobo is not saying, "if you liked Steve Jobs, buy these books." In effect, it is giving you a ton of links and content available on the internet without having to go and search for them. Another example is if you are using Pintrest and pinning a picture of a new BMW car, it will give you a ton of podcasts talking about it, hundreds of other pictures, and all sorts of other information. This is very useful for researching a particular book, photo, or for school projects. It gives you a ton of source material based on a book, video, picture, or anything else you find online. Kobo made it clear that they are not caching this information or looking over your shoulder. None of this information based on your search patterns is being used by the company for nefarious purposes.
One of the other exciting UI elements it the main homescreen. It groups certain things together in such a way that makes it very intuitive to find what you want. On the demo unit I played around with, you had your books, social media, music, and photos all grouped together on the main page. If you clicked on the books, you saw some of your most recent reads and a ton of online content.
What I really liked about the Arc was how it handled online websites and the ability to pull text. On our website, Good e-Reader, there are a ton of graphical elements that sometimes make the text content hard to pull up. The Arc has a feature where you can just pull the text instantly in an RSS style of format, which makes it easy to read and strips away all of the pictures and other site-wide content. As an example, I pulled a recent article we wrote and with a click of a function key made it an independent entry in the book section. Once you pull it via a WIFI connection you can read it offline, which is useful if you are outside of internet coverage areas, traveling, or at the beach.
Kobo used to do business exclusively with Getjar, but lately they have worked hard to attain Google Certification. Around four months ago the company was able to offer the Google Play Market, which now offers customers the ability to download close to 600,000 free and paid apps. The Arc comes with unfettered access to the entire Google ecosystem, which is another reason to pick this up.
In essence, the guy in charge of the UI elements of the Vox and ARC walked me through all of the new features. Having used both, there is a night and day difference between the first generation tablet and second generation. You still enjoy all the core functionality of the Kobo experience like Pulse, Reading Life, and other social media aspects. The new software elements are light-years ahead of where they were only a year ago. This feels like a solid device on the software level. Everything instantly loads and the features are exclusively geared towards reading. One thing Kobo made very clear at the launch event was that its competition has their hands in many cookie jars. Kobo is the only mainstream company whose sole premise is delivering hardware to tap into its ebook ecosystem. Amazon is focused on many different things and books are only a portion of its focus. Barnes and Noble might be the closest competitor because the company also focuses on digital content, but it also runs its own app store and a large retail chain.
Reading Experience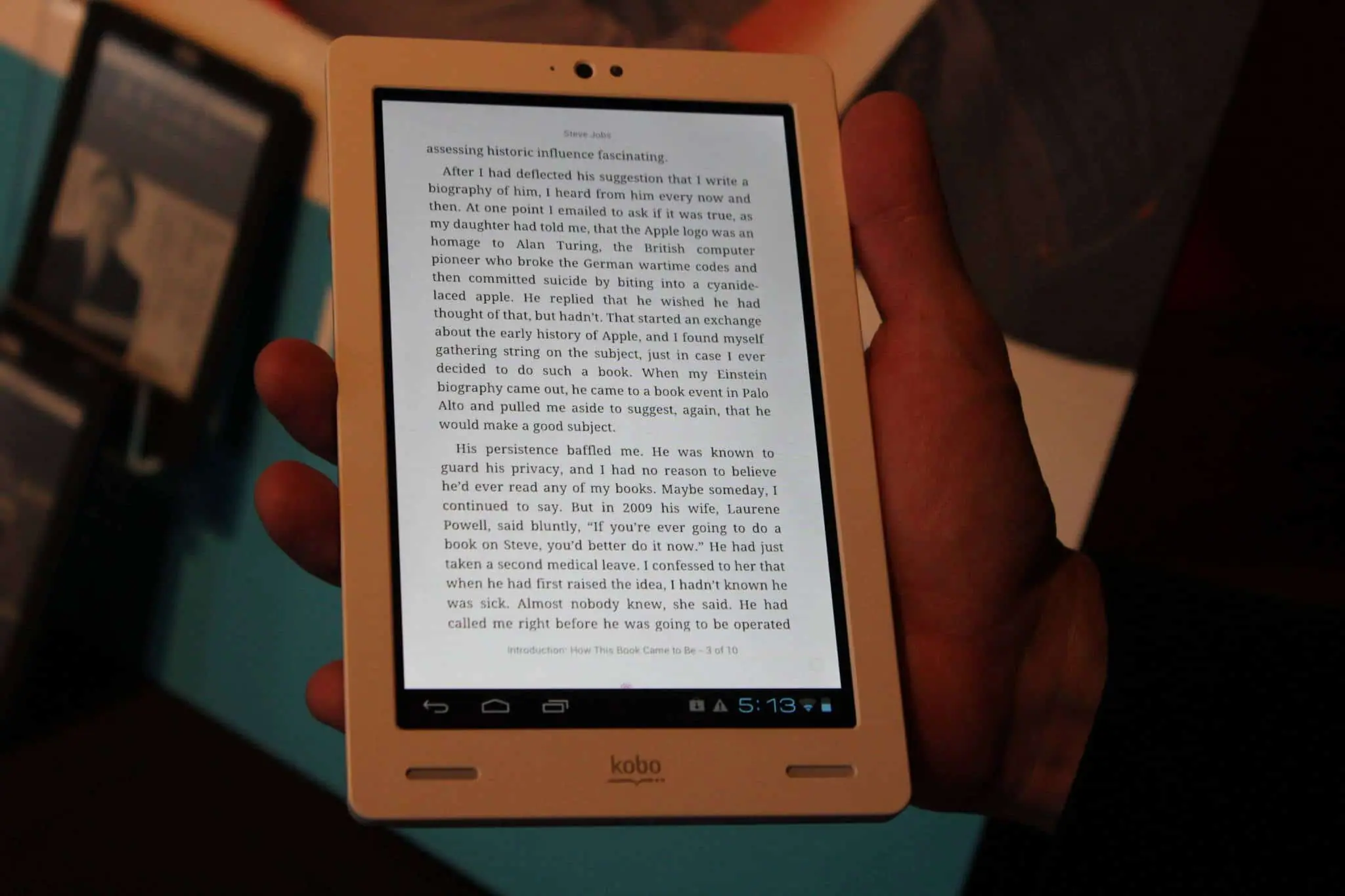 When the Vox first came out, one of the large selling factors was the social media angle, such as Kobo Pulse. Pulse allows you to see how many people are reading the same book as you are and chat with other readers. It has a function to turn off spoilers, so if people are further in a book, you won't hear them talking about events that have yet to transpire for you. The company has done various test projects that have invited authors to talk with readers in real time and allow the average customer to poise questions and have them instantly answered. Kobo said that you should see more of this coming down the pipe.
In the last few months, Kobo released Writing Life, which is their self-publishing program. Authors can publish in all of the different countries that Kobo has a presence in, and the program allows the authors to set the prices in different markets. You can also track your sales in real time, making Kobo the only company to offer this features. Many authors we have talked to, such as Bella Andre, said this is what attracted them to the platform in the first place. Being able to go on a book tour and see what markets respond more strongly to your book allows you to focus harder on them to generate more sales. You can also run discount or coupon codes for your books and see how many people have purchased it at a discounted rate, until you find the pricing level customers respond to the most. Using the Arc, you can purchase many indie writers' books from the Kobo bookstore.
Good e-Reader reviews many tablets and e-readers and Kobo does one of the best jobs in the industry of letting users customize their reading experience. You can change your line-spacing, fonts, font sizes, margins, and the background color. If you are reading at night, you might not want a glaring white background, so you can change it to black and the text to white. Not much has changed on the core reading augmentation from the original Vox to this device, but some of the menus look a bit different.
The Arc allows you make purchases directly from Kobo with the built in store application. You can also add books to your wishlist for content you want to buy at a later date. The one strong element of any Android device is how compatible it is with a myriad of ebook formats. You can download popular reading apps directly from Google Play, such as Google Books, Amazon, Nook, Moon+ Reader, Droid Comic Viewer, or anything else your heart desires.
Wrap Up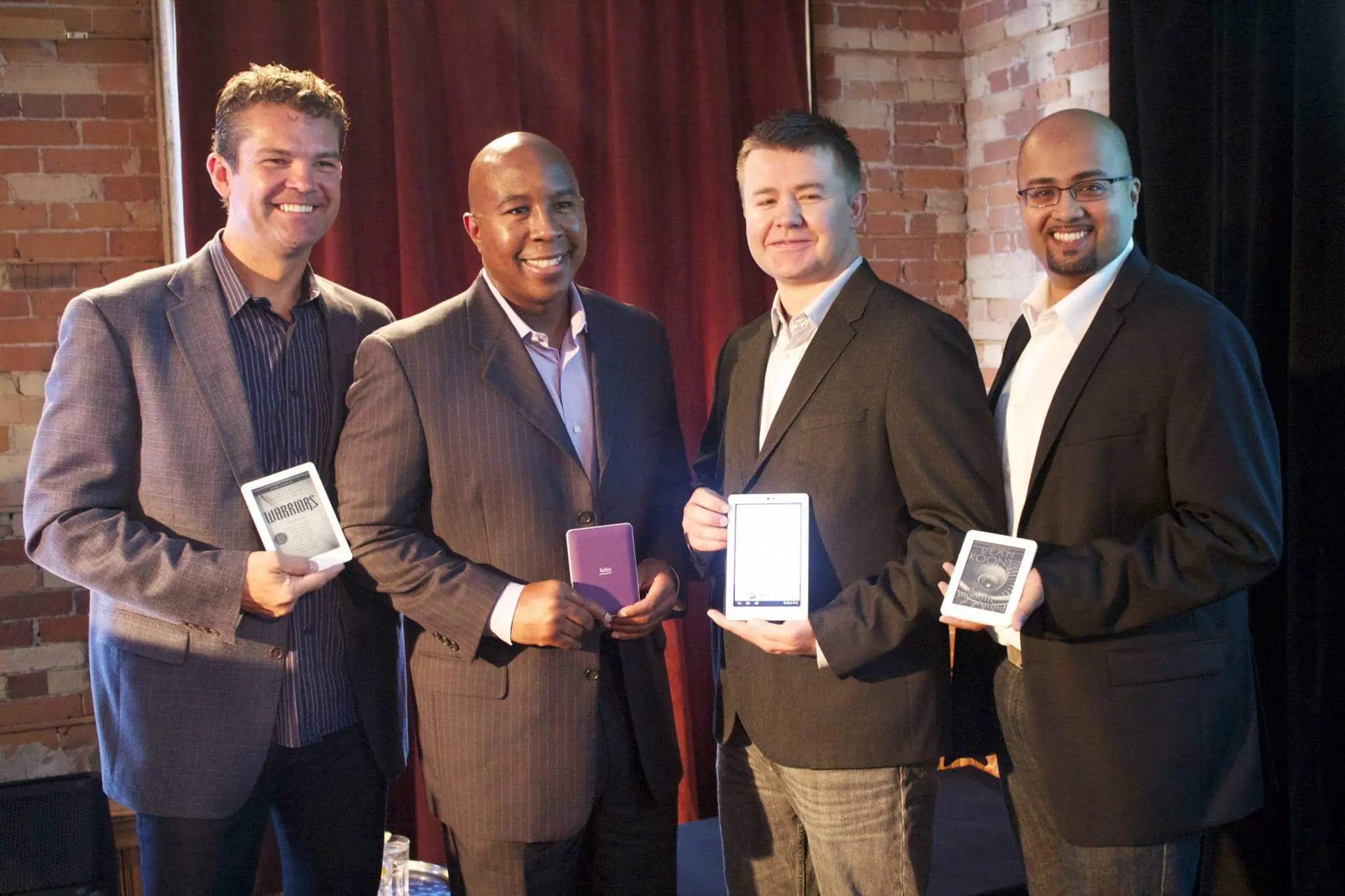 The one benefit going for the Kobo Arc is how compatible it is with a large number of markets. Sure there is comparable hardware from Amazon and Barnes and Noble, but unless you live in the USA, you are missing out on the majority of their content. It is possible to use the Kindle Fire 2 in Canada, but you won't be able to purchase Amazon Instant Movies and a number of other critical factors. The Nook Tablet also does not work that well outside the USA unless you are faking an American address during registration. With the Kobo ARC, you can just as easily use it in Canada as you can in France, Spain, UK, or Brazil.
I really like the slick white design and the interchangeable back covers. It provides official Kobo covers but will undoubtedly inspire aftermarket companies like Decalgirl to offer unique covers for the back of the unit. It is small and lightweight and the bezel is very small. The firmware on this unit is not finalized and there are still a number of bugs and features to be worked on. The unit we were demoed today had all the core functionality locked in and mostly just needs to be refined.
The 8 GB model is due out in the beginning of November and will cost $199.99, while the 16 GB version will cost around $249.99. All of these units will be available internationally on launch day. This is great because you won't have to wait very long in any market that Kobo officially supports.
[cincopa AUNAF8qT1R14]

Michael Kozlowski has been writing about audiobooks and e-readers for the past twelve years. His articles have been picked up by major and local news sources and websites such as the CBC, CNET, Engadget, Huffington Post and the New York Times. He Lives in Vancouver, British Columbia, Canada.