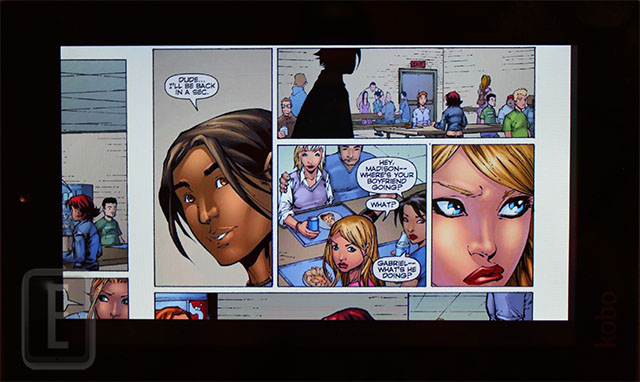 Kobo has just released the spiritual successor of the Arc tablet released last year. Like any major hardware upgrade you normally see enhanced resolution, a faster processor, more memory and RAM. Truth be told, the Arc 7 is a bit of a downgrade. It has less memory, a woeful webcam and less resolution then the older model. With all of these downsides, is this still a worthy investment or a reason to upgrade?
Hardware
The Kobo Arc 7 features a seven-inch capacitive LCD touchscreen with a resolution of 1024×600 pixels. Kobo had to sacrifice screen quality to drive down the price, but if you are buying this just to read eBooks, magazines, and newspapers, it should be more than sufficient.
The Kobo Arc HD 7 and the Kobo Arc 10 HD all use an Nvidia Tegra 4 quad core processor, but this model uses a budget-conscious MTK 8125 Quad-Core, 1.2 GHz. processor. Still, the processor really shines when compared to the dual-core processor of the original Arc. There are also 1 GB of RAM and 8 GB of internal memory. One of the great things about this model is that users can expand the memory via the Micro SD card up to an additional 32 GB.
This might not be a full HD tablet, but it does have a Micro HDMI Port, so users can watch movies, play games, or display content on a television or projector. It also has a front facing camera, but has a fairly woeful .03 MP, which is pretty well VGA. You will also glean around 9 hours of battery life with your daily tasks.
There is a single speaker for listening to music, audiobooks, or other content. The Arc HD 7 actually has the speaker on the top of the unit, whereas this model has it at the bottom. In a head to head test vs the upgraded model, this entry level one actually produces better audio, but suffered with the video resolution.
Overall other than the expanded processor this model is a downgrade from the original Arc released last year. The hardware is just not a compelling enough reason to upgrade if you have the older version but is worth it if you have the Vox.
Software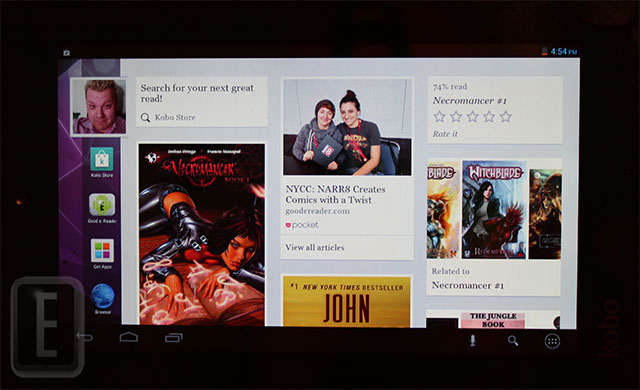 The Kobo Arc 7 features a very modern version of Google Android, with the final device being bundled with 4.2.2. It is also Google Certified, so users will have unfettered access to Google Play and around one million apps.
Some of those apps come bundled on the tablet. Facebook, Twitter, Pinterest, Skype, OfficeSuite Viewer, McAfee, Pocket, Feedly, 7digital, Rdio, TuneIn Radio, Cinema Now, WildTangent (more than 200 games), Google Play, Gmail, YouTube, Google Maps, Street View, Calendar, Contacts, Google+, and Google Chat are all included.
Kobo has done away with their Tapestries UI they developed last year and went in an entirely new direction. This is where the ARC 7 really shines with a new home screen that gives you live wallpapers and widgets. I like the functionality to include a picture of yourself in the top right hand corner.
The second main screen is your eBook discovery engine and lists a number of books you have purchased, loaded on yourself, eBook samples, top 50 and articles fetched from Pocket. This screen is the most bright and colorful of all the main menus and actually looks visually arresting.
The final menu is your collection management system that really takes it to the next level. Most tablets see managing your eBooks as creating a folder and putting books in it. Kobo has allowed folders within folders and not only puts eBooks in it, but websites, Youtube Videos, Recipes, Pocket Articles and tons more! You can watch videos in one click and establish custom collections if more then one person uses the tablet. Adding everything other than books is really simple. Just fire up the stock internet browser and hit the icon next to the navigation bar. It will give you an option to add to an existing collection or make a new one.
You can access the quintessential list of apps installed on your system by hitting the main app icon. If you have ever used an Android tablet before, you will feel right at home.
Overall the entire skinned version of Android is a tremendous upgrade from the original Arc. It is less prone to crashing and Reading Mode is a huge boost to managing irksome prompts and popups that often detract from the reading experience.
Reading Experience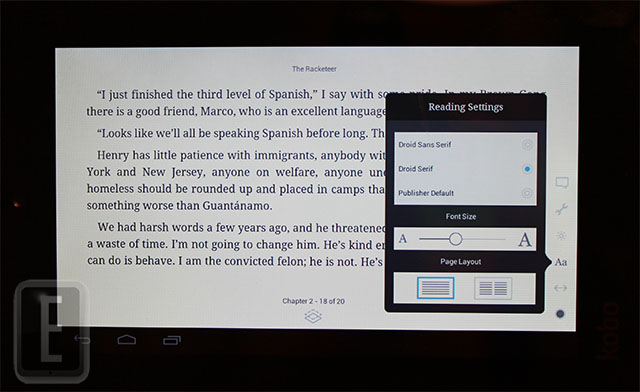 The bulk of your reading experience out of the box will be via the stock Kobo Android App that is accesses in the Collections menu and under books. You can edit the margins, font size and change the font completely. There are options to change the page animations every time you turn a page. The majority of books you will read here are EPUBS.
One of the big changes in the reading app was the elimination of Kobo Pulse and taking most of the popular aspects from it and launching Beyond the Book. This gives you a rundown of how many people have read or are in the process of reading the book. You can also check out public notes that people have read, that allow you to talk with fellow users. It also gives pictures that tell you a bit about the people, places and things. You can access an author biography or get more info on a particular city, country or region where the book is geographically based. Really, it borrows some elements from Amazon X-Ray and makes it distinctively Kobo.
The comic book engine allows you to read graphic novels and comic books that Kobo sells. This is one of the weak points of the reader and doesn't go beyond pinching and zooming. If you are a serious reader I suggest downloading a dedicated app such as Comixology or Dark Horse.
Wrap Up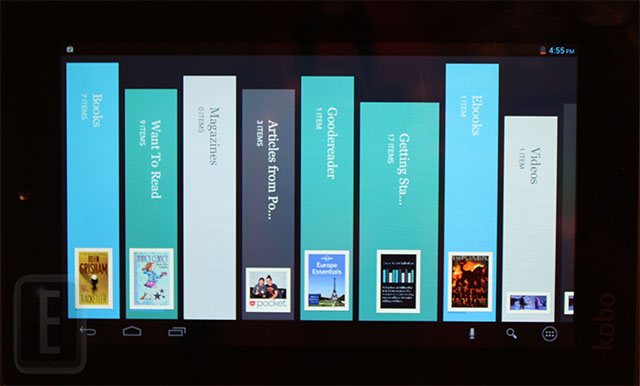 This is the time of year when a slew of new tablets hit the market and people often wonder what one is best. This is one that is firmly aimed at people who want a a multimedia experience but who want to read first and foremost. It lacks in a ton of different regards, but the price point is quite respectable at $129.99.
PROS

Innovative UI
Quad-Core Processor keeps things robust
Economically priced
Best eBook Collection Management system found on tablets
CONS
Hardware overall is worse then the one released last year
Speaker and Video capabilities lack against the competition
No manage section yet
WIFI can be spotty and not recognize strong local networks
Touchscreen can be unresponsive at times
Rating: 6.5/10
Michael Kozlowski is the Editor in Chief of Good e-Reader. He has been writing about audiobooks and e-readers for the past ten years. His articles have been picked up by major and local news sources and websites such as the CBC, CNET, Engadget, Huffington Post and the New York Times.