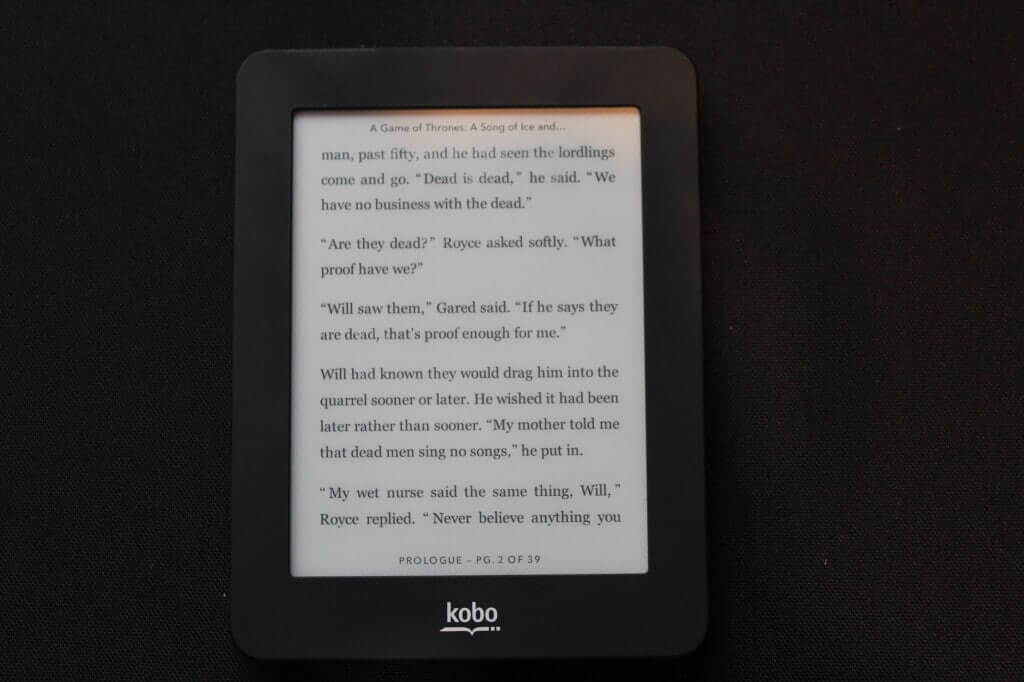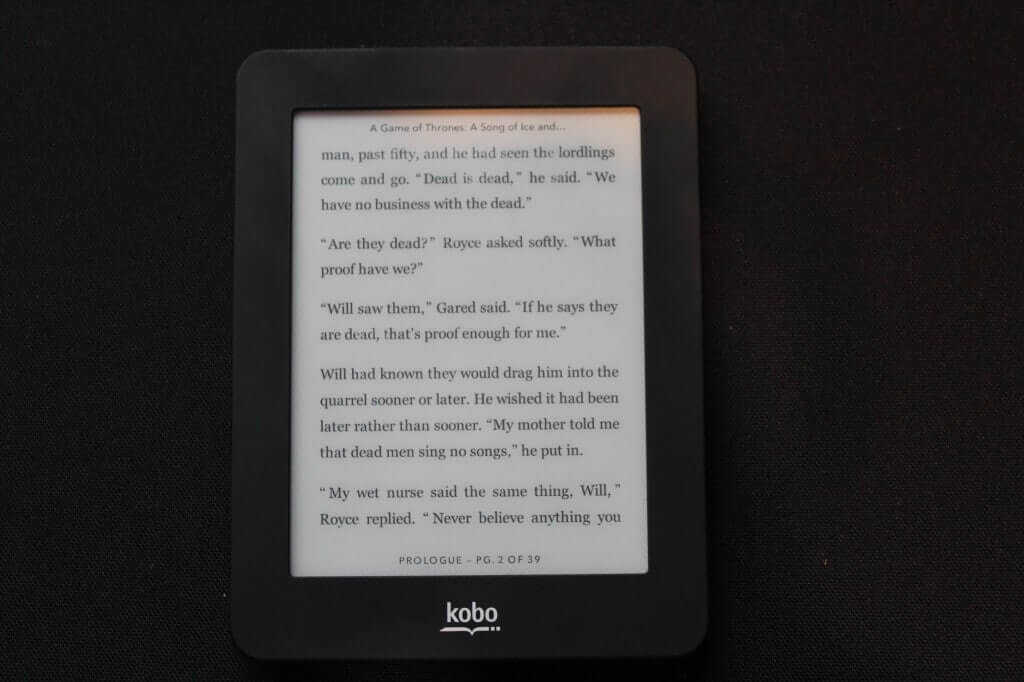 The Kobo Mini was unveiled today at an exclusive press event in Toronto, Ontario. Good e-Reader was live at the scene to get the full scoop on what the Kobo Mini eReader is all about. This device should dominate the entry level market due to the amazing price point of $79.99 and the features it packs in.
Hardware
The Kobo Mini is a very pocket Friendly 5 inch e-Reader with a resolution of 800×600 pixels. One of the benefits of this device is the fact that it has a touchscreen and is very responsive to page turns and hitting various menu and settings buttons. It is using an older iteration of an e-Ink display with the Visplex technology. Underneath the hood is a 800 MHZ processor, which is enough to power your daily tasks, but there was no word on RAM at all, so I would guess it only has 256k.
The main selling point on the Kobo Mini is that for the price, it gives you the full functions of a normal Kobo e-Reader. You can have full control over your font types, font sizes, margins, line-spacing, note taking, and much more! On a hardware level, there are four different back covers you can purchase to make your reader standout. In the past, the back of the Kobo readers had a matted quilted grip that allowed you to easily hold it for a longer duration of time. Now, you can buy different quilted covers and swap them out on the fly. This is great for family situations where one person might want a pink one to bring to work and then someone else can switch to a blue or black one. There are at least four or five that will be a part of the launch and Kobo told us the company will issue more in the near future.
There is no audio functionality in this device and the only button is a power switch, all the other processes are done via the software. It has an Android type of feel to it, in the respect that Kobo has done away with all buttons on these new devices and gone completely with the software. I think the absence of the proverbial home button is a welcome change. It makes the devices seem a bit cleaner.
Software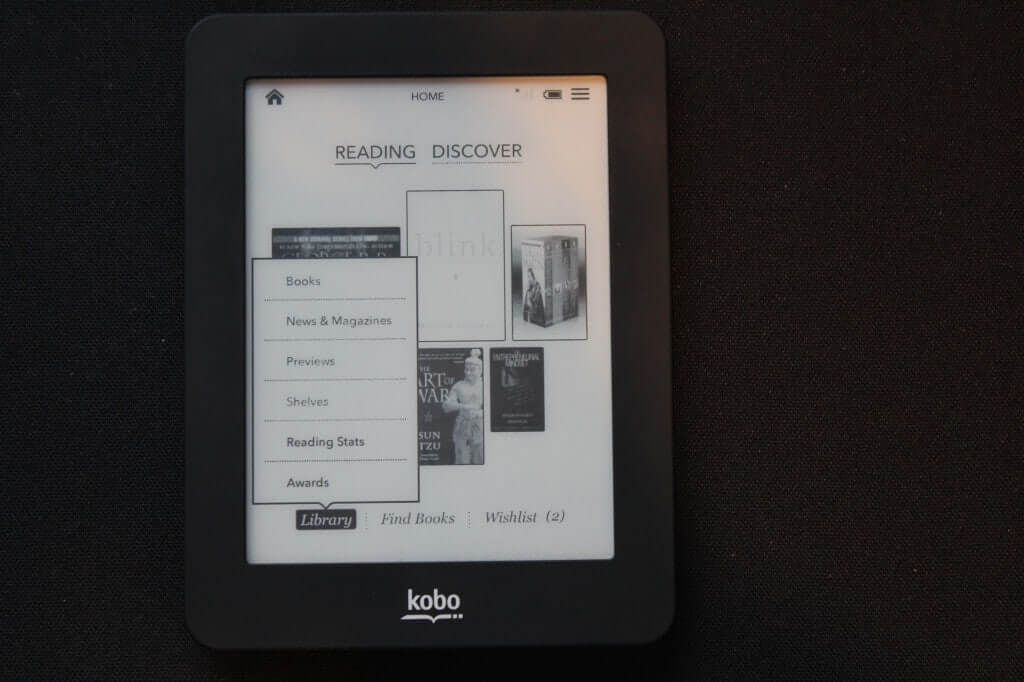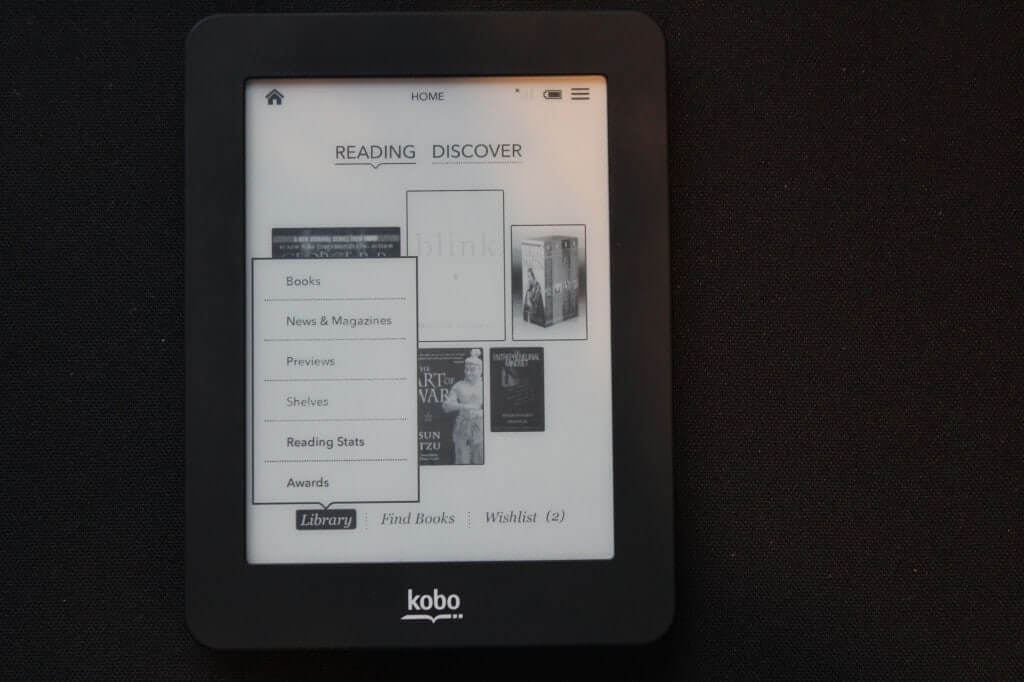 The Kobo Mini was surprisingly feature rich and makes a fairly good e-Reader. You can do business with Kobo directly and buy over three million ebooks that are currently in its system. These are also over one million free books, so you really don't have to spend a great deal to get some great content.
The main homescreen is reminiscent of previous offerings by Kobo, and evolves the original "Touch" firmware into this build. Your homescreen comprises of the books you are currently reading and shows their cover art. Your main navigation settings are The Library, Find Books, and Wishlist.
Your library is the main hub in which you will organize all of your purchased content or ebooks you have loaded manually on your reader. You can create your own collections based on genre or author. This is useful for people who have a large library and need some semblance of order. You can also create custom shelves, which go a long way in adding further customization options. The other main options under your library are the Reading Life Awards and Statistics. Keep track of how long it takes you to read a book and all the individual facets of your reading experience. Statistics are useful because you can challenge yourself to read faster or to encourage your child to read through rewards. I personally know parents that have used the statistics aspect of the reader to reward their children for surpassing previous results. Reading Life is also the online nexus for rewards and achievements. You can earn a myriad of different merit badges that you can then share with your friends via Facebook.
The Kobo store allows you to procure magazines, newspapers, and ebooks. Anything you have purchased on another device will automatically be synced to your account. If you have bought books on a prior device or used their iOS or Android apps, you are good to go. When you browse the store you can flag books as your "Wish List" for future purchases or say "well, if you want to buy be a gift, you can buy me this!"
I was honestly surprised on how quickly this device ran. Kobo said that the battery life will last you a few months, because of the size and power requirements. This would ideally be a great stocking stuffer or for someone who is totally new to e-readers and doesn't want to buy something that breaks the bank.
Reading Experience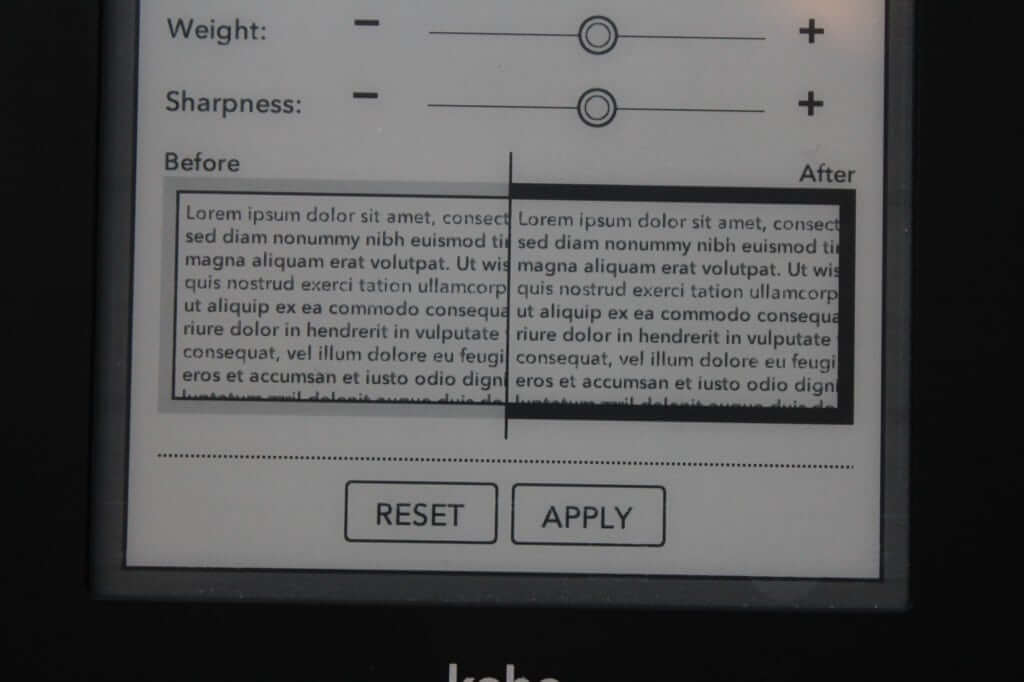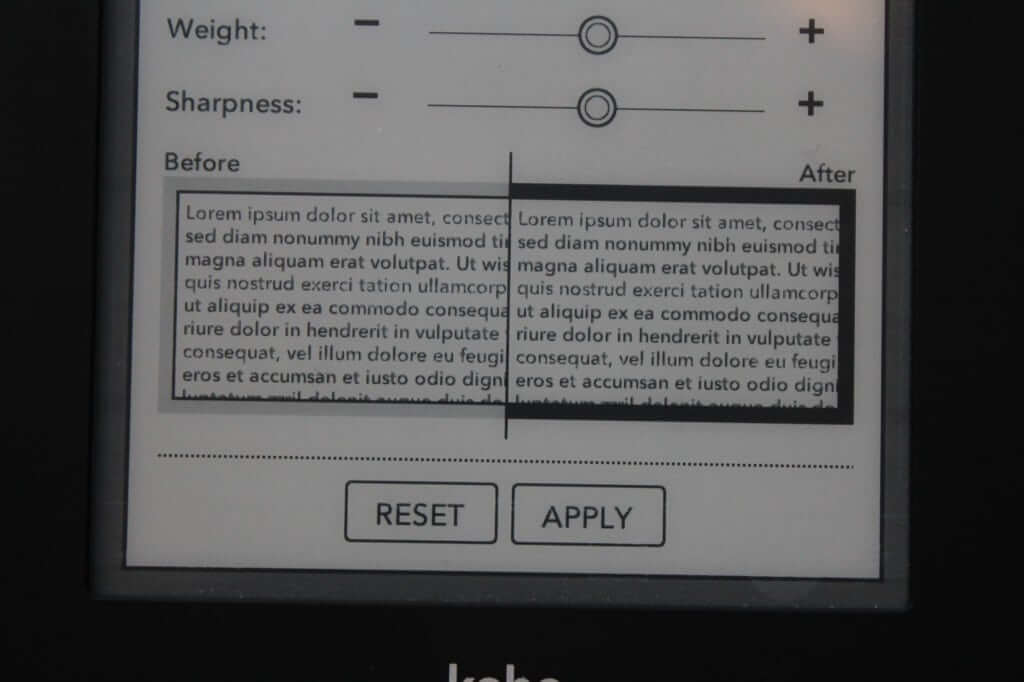 The Kobo Mini maintains most of the core functionality from the previous iterations and the same team who worked on the Touch also designed the main UI. Book reading is very robust and continues to lead the charge for most devices on the market in allowing you to augment the reading experience. You have the flexibility and control to change your fonts, font sizes, margins, line-spacing, or go with the publisher defaults. Whenever you make a change, it is dynamically updated, so you can find the sweet spot in your customizations.
There are plenty of built in dictionaries for you to highlight specific words and then instantly look up the definitions. This is a useful feature not only for textbooks, but for younger readers who want to know what a particular word or phrase means. You can also take highlights and save them to the book you are reading or make notes based on your highlights. One of the senior UI Design people at the Toronto event told us they were making new abilities for people to export their notes into a singular file. This would in effect allow you to save your notes to a TXT or DOC file and transfer it between your different devices.
One of the new features I really liked about the Kobo Mini was the ability to change the light and darkness of the fonts themselves. You can open up a preview window and configure the luminosity of the text. This is the only reader in the world that lets you do this and is perfect for people who like really dark or light text, or anywhere in between.
Wrap Up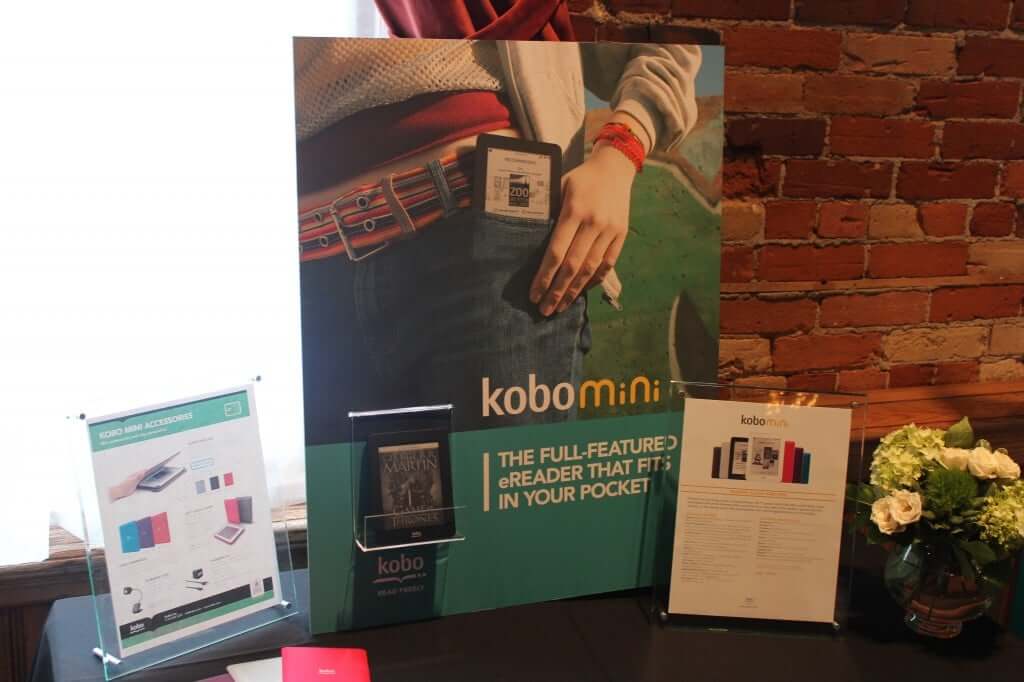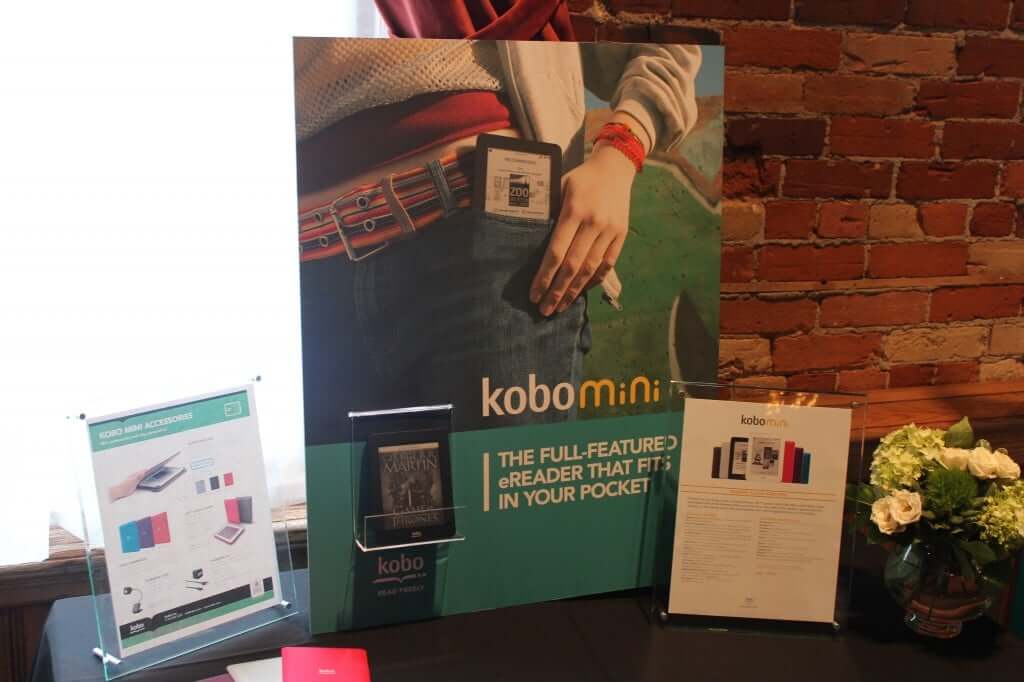 The Kobo Mini is the perfect blend of portability without sacrifice. It offers a feature rich experience for a very low price point. This would be perfect for guys who wear suits and want to carry it around in their jacket pocket. It also fits snug in any jeans or pants pockets, too. I would also recommend it for small kids, who are not likely to break it, and for people who are new to readers and don't want a ton of features. This reader has strong social media elements via Facebook and the ability to share your reading awards with friends and family.
[cincopa AsPAt-Ko3pNI]

Michael Kozlowski is the Editor in Chief of Good e-Reader. He has been writing about audiobooks and e-readers for the past ten years. His articles have been picked up by major and local news sources and websites such as the CBC, CNET, Engadget, Huffington Post and the New York Times.