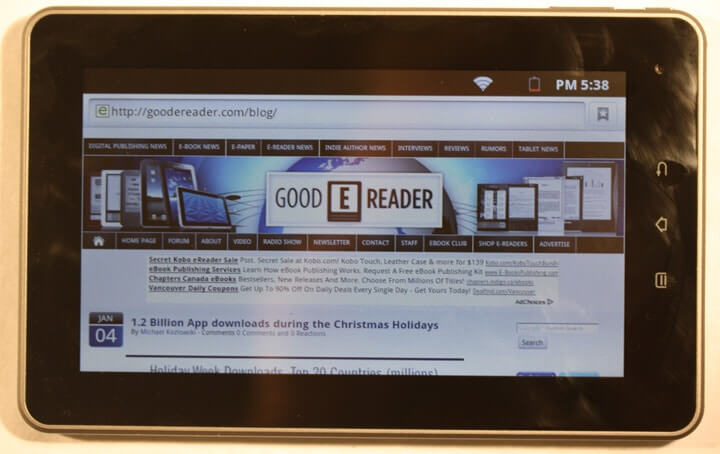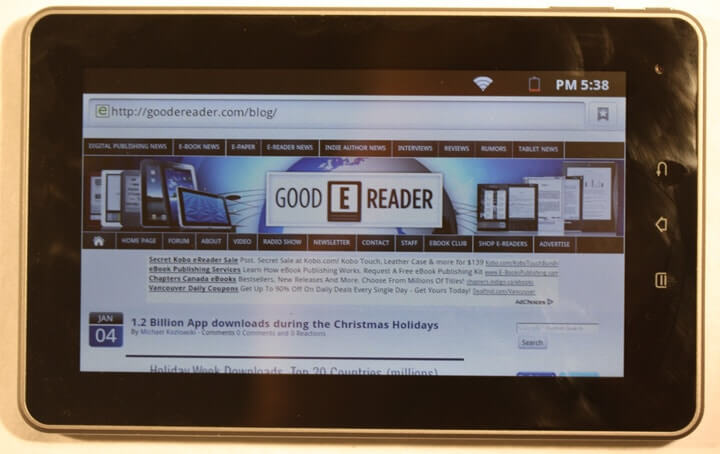 The Skypad Alpha 2 has just officially been released and is the second iteration to their popular tablet. This new version sees a large boost to the overall hardware performance and sees an inclusion of HDMI and a capacitive multi-touch display. How does it rate against other tablets on the market and how does it stack up against the original model?
Hardware
The Skytex Skypad Alpha 2 features a 7 inch capacitive multi-touch display with a resolution of 800×480 pixels. It certainly will win no awards for the visual resolution but it gets the job done by providing rich and vibrant colors. One of the ways it offsets the low pixel density is via the HDMI out which gives you 1080P video if you hook it up to a projector or your television. It actually will also give you 3D video playback if you have a TV that will render 3D video.
One of the things that baffled me the most was the position of the power button, volume and the webcam. Normally tablets have the power and volume on the top right hand or left hand sides. The webcam is also normally at the very top of the device so it gets the good video streaming of your face and profile. The design of the Alpha 2 almost seems like it was upside down. The camera is on the very bottom and the volume/power is on the bottom right hand side. The unit is bundled with a DC power adapter to recharge the tablet but I found connecting it up to your PC via the mini USB adapter does a better job.
One of the drawbacks of the Alpha 2 is the speaker quality and sound. It only has 1 single mono speaker and does not emit very clear audio quality. Movies, music and audiobooks suffer the most from this but it is bundled with a pair of 3.5 mm headphones which does boost the performance. So know that the speakers may not be good at all, the headphones do give you stereo sound.
Battery Life is inline with most other tablets of the 7 inch variety at about 7-8 hours of constant use. I found during the course of when I got the tablet and tested the various aspects of it, this is what I got. Of course, if you need to be frugal about the lifespan if you are traveling, you might want to disable WIFI and turn the brightness down. This will give you an extra 1 or 2 hours of usage for say reading. If you are watching streaming videos and listening to music you might get around 6 hours or so out of it.
So what is the difference between the Skypad Alpha 2 and the first iteration the company released midway last year? The display panel is a definite upgrade on the second model because it does away with the resistive touchscreen and went into a capacitive direction. It also did away with the bluetooth support of the first model and instead went with something most people will utilize, which is the HDMI port. The Web Cam on the Alpha 2 actually is a step downward from the first edition model. The new version has a .03 MP camera while the earlier model had 1.3. MP. I found that Skype quality was actually not very good, but at least it has a video camera, right? Finally, the processor saw a boost from 800 MHZ on the Alpha 1 to 1.2 GHZ on the Alpha 2.
Software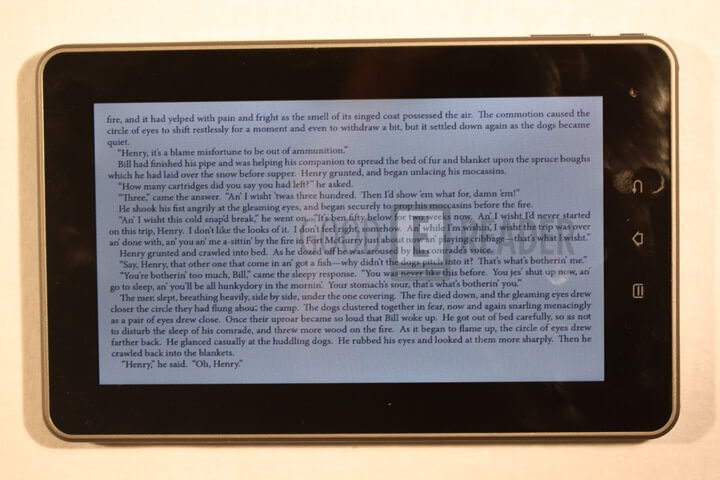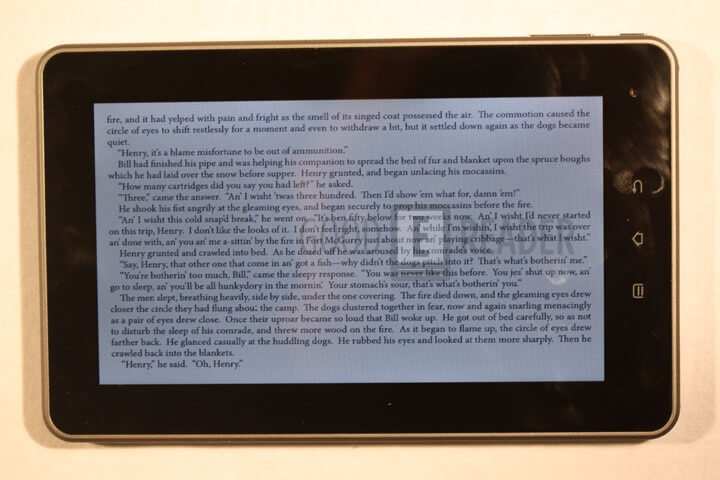 The Skypad Alpha 2 is running the Google Android 2.3 operating system and this allows for a fair number of enhancements. You can run live wallpapers and it basically has support for 95% of all Android apps you will find in the market.
One of the surprising things I found about the content distribution system on the Alpha 2 was the default market that came bundled on the device. It comes with a market called the '1 Mobile Market. If you are a regular Good e-Reader visitor you will know that we review every single e-reader that hits the market and a fair number of indie tablets. I have never seen a single device bundle with this particular market for apps and there was some trepadation on what to expect. Honestly, I was very surprised by the quality of apps that were available to download. This blows the Getjar and most other markets either come bundled with a particular tablet or are available as 3rd party downloads. Everything is here in the 1 Mobile Market and you will get almost all the mainstream programs that are available on the official Google Android Market. On the front page there is common programs like Flash 11, Dropbox, Facebook, Twitter, Gmail, Google Earth, Twitter, Amazon, Barnes and Noble, Aldiko and Droid Comic Viewer. All of the essential apps you will need are really just on the front page and you won't have to search extensively for the big name programs you want to get on your device right away. I had to search for Task Killer and ES File Explorer, but they were all easily found and 1 click installs. Surprisingly this market dominates other competing devices at the same price-point such as the Kobo Android Market.
Really when you crack this device open for the first time you are getting a stock Android experience. There is little to no customization and no overlay GUI you might find on Motorola and Samsung devices. This is a mixed blessing that makes you have to access the market in order to install most common programs. One of the benefits of this tablet is that it will make a great development device. If you are in the business of making Android apps or wanting to test them, this is low enough on the cost scale that it would be worth the money. It also does not lock you into any specific ecosystem and Skytex is very good at allowing you to install anything you want on their tablets without restriction.
Programs often load fairly quickly but I did find a number of issues with internal memory and applications. Lower end Android devices normally suffer from application crashes due to not enough memory. This often occurs when you open a ton of different programs and don't close them properly. I found various comic books would crash unless I installed Task Killer and closed down all of the open apps on the device. Speaking of apps, the official position is that this tablet has 4 GB of internal memory but really you only have 1.6 GB to work with out of the box. This is due to the Android installation and some of the media players it is bundled with. I suggest if you are going to use this as your main tablet to invest in a 32 GB Micro SD to enhance the memory.
Most people buy tablets in order to surf the internet and watch videos via Youtube. The overall experience on this Skypad Alpha 2 is fairly solid and you will be able to do view all of the normal websites you visit on a daily basis on your PC on this device. It is not bundled with Adobe Flash but the 1 Mobile Market has that and Adobe Air right on the front page. Once this is installed you can listen to podcasts and watch embedded Youtube videos on blogs, like ours. Website speed is dependent on your WIFI connection but it does have Ethernet support if you buy a USB dongle.
E-Reading Experience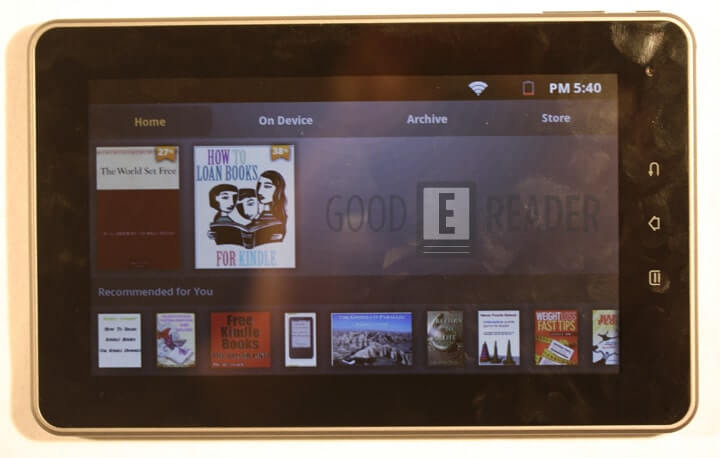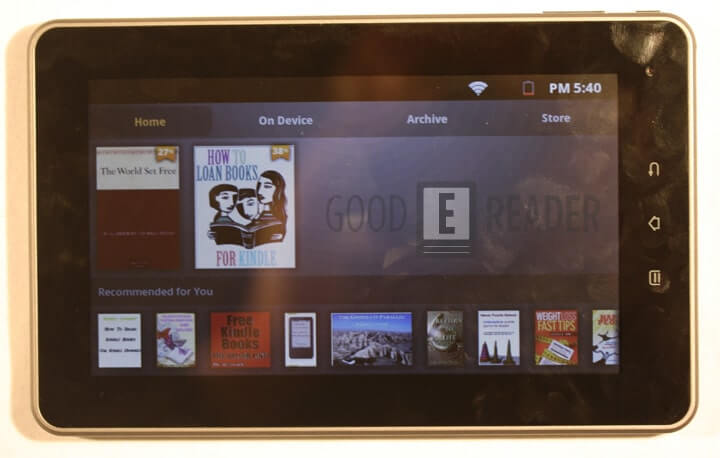 The Skypad Alpha 2 makes one fine e-reader and if you are looking to invest in a full color tablet to read comic, kids books or cookbooks this is perfect. The 1 Mobile Market has all of the mainstream e-reading applications such as Kindle, Sony and Barnes and Noble. Mysteriously absent is the Kobo for Android application but it is easily found on the internet, you can also download it from HERE.
If you have an existing e-ink based reader by any of the previously mentioned companies you can easily sync all of your purchased books right to the Alpha 2 and import in your notes, highlights and annotations.
One of the big factors that makes this a user friendly device is that it has support for all of the independent companies that make reading apps. Aldiko continues to be one of the most popular reading apps and showcases library shelves and even links to free places to download books. It is ridiculously easy to copy books to your SD Card or the devices main memory and then import them into the reader app. This allows you to download books from the internet that have no DRM to get reading right away. One of the benefits of this particular app is that it has support for you to transfer books you have purchased from other stores that do have DRM. You can find a tutorial on how to copy and open books in various formats into Aldiko HERE.
If comic books are your things this tablet will work wonders for you! All of the big name apps like Droid Comic Viewer are all available in the market. We have a great list and reviews of all of the big name comic android apps, you can read it HERE. One of the things 7 inch tablets do well, is they are extreamly portable. If you are reading books or comics on the go, it easily fits in your pocket or bag. Most apps have options to read them in both landscape and portrait mode and customize your experience depending on how you like to read them.
Our Thoughts
The Skypad Alpha 2 is a real upgrade hardware wise from the original Skypad Alpha. It is worth it to upgrade if you have an earlier model but it doesn't have enough hardware to really make it competitive with the Nook Tablet, Kindle Fire, Samsung Galaxy Tab and various other big name devices. It really kills the Kobo Vox, Velocity Micro CRUZ and Elocity Tablets in terms of processor speed and access to better quality apps.
The price is fairly solid at around $180 for this tablet which makes it a fairly good buy for the hardware and overall Android Experience. I like the fact it has an HDMI port to stream 1080p movies and will render 3D on a compatible device. It will not play 3D or 1080 directly on the device because of the low screen resolution. I would recommend this device for anything wanting to buy a cheap and cheerful Android tablet or to develop and test applications with. It is intuitive and easy to wrap your head around and the app market is a major plus.
Pros
App Market is excellent
Videos look good
e-Reading and Comic Reading is amazing
Good internet experience
Cons
Sound is awful
Web Cam is .3 MP
Suffers from memory issues
Home Button is buggy
Rating 7/10
[cincopa AUNAIzq2Dv0B]

Michael Kozlowski is the Editor in Chief of Good e-Reader. He has been writing about audiobooks and e-readers for the past ten years. His articles have been picked up by major and local news sources and websites such as the CBC, CNET, Engadget, Huffington Post and the New York Times.