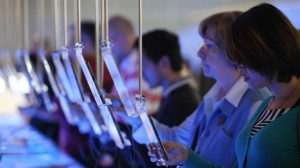 Neelie Kroes for The Guardian UK posted a poignant and interesting opinion piece last week that asks some of the questions that rest in the back of most digital readers' minds. Basically, readers want to know why we are still treating ebooks in much the same way as their computerized counterparts, and what are we to do about it?
"In the United States, where ebooks are 31% of the market, print isn't dying. More people are reading more books than ever before. They also make books social by interacting with texts and sharing their favourite parts.
By failing to ride this wave authors lose millions and consumers lack choice. Publishers kill income streams. At a time when the mantra of leaders is 'jobs, jobs, jobs' we are waving goodbye to all the jobs a healthy ebooks ecosystem generates," says Kroes in her post.
But while the US may be leading the way in digital reading—a trend which is not a dying flash-in the-pan like its critics predicted, as studies show both print and digital reading and book purchasing are on the rise—there are still entire sectors of the digital market that are not living up to the potential as provided by the technology.
One area that Kroes cites is the resent Books Without Borders initiative that is aimed at putting an end to the difficulties associated with ebook purchasing in the EU, a union that was designed for the very purpose of making commerce more feasible and less irritating for both the consumers and the producers. This initiative has arisen out of the frustrations that stem from each country waging its own separate taxation war on publishing and on authors.
"You should be able to buy an ebook from a website based in another EU country," continued Kroes. "It is ridiculous that today people end up lying about where they live to cheat the system, or are forced to buy from the US. Piracy is fostered by this impossibility to buy legally."
One concern that Kroes specifically mentions is the unbelievable VAT rate that is charged on ebooks by various countries' governments, while no VAT is charged on a print edition of an identical volume. This tax is charged at an almost punitive 20% in some regions, meaning that consumers are actually being forced to pay more in order to take advantage of a paperless and greener form of reading. In some countries, the individual governments have even resorted to forking over a hefty fine to the EU in order to avoid charging the VAT on ebooks to their citizens, a sad circumstance in the digital era.
For the full post by Kroes, read her piece in TheGuardianUK.com.

Mercy Pilkington is a Senior Editor for Good e-Reader. She is also the CEO and founder of a hybrid publishing and consulting company.