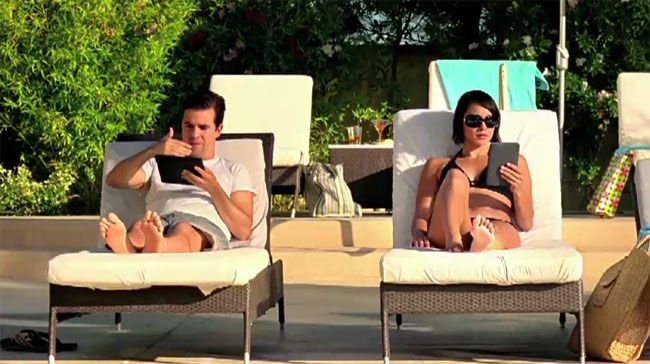 E-Readers and tablets in 2011 have really come into their own and are readily available to suit most peoples financial budgets. Now more then ever newspapers, magazines and books are readily available in digital format. Marvel, DC, Darkhorse and other comic books companies have all come to an understanding that it is in their best interest to release the digital format on the same day as the printed. Since content is so easy to get and the technology to read it with is in the hands of many people, how has your reading habits changed?
You have to look no further then every major retail and big box store in the USA to get your hands on a low-cost e-reader or tablet. The Amazon Kindle, Nook Simple Touch, Kobo Touch and many more have broke the $100.00 price point and you can get a solid e-ink based device for $79.99. The devices themselves are not only more affordable then ever but have really matured to appeal to a wider audience. Two years ago you would be hard-pressed to find an e-reader that allowed you to purchase books right on the device. Reading and loading books entailed complicated procedure to buy them with your PC and then transfer them to your device via Adobe Digital Editions. For the less tech savvy inclined this factor was very challenging for new users. Now most mainstream devices allow you to connect right up to the Sony, Google, Kobo, Amazon or Barnes and Noble digital store and have access to millions of books.
In the last year digital magazines have started to proliferate an an accelerated pace. Companies like Zinio has been a leading provider of high profile publications for a multitude of platforms such as Android and iOS. During 2011, Yahoo, Apple, Google, and Amazon have all entered the fray vying for your dollars. There is now more choice then ever before and most of these providers appeal to a wide range of people. Whether you have a Kindle Fire, iPad or Android smartphone it is easier then ever before to read Wired, the New Yorker or Vanity Fair on the go. Often prices for the digital editions are more cost effective then the printed variants and require not going out of your way to purchase and read them.
Comic books and graphic novels have finally reached the point where the same days the printed versions come out the digital version is released. This is very new and companies such as Marvel and DC were worried that retail stores would suffer because customers wanting to get 0 day editions would not come into the store anymore. After much research and due diligence they released the more people reading comics would result in more people visiting the stores to buy back issues or just to talk shop with the geeks running the joint. All of the major companies now offer dedicated apps to read and purchase content with the push of a button.
Tablet Computers have hit the point where every major company is releasing new models all year long and enjoying tremendous innovation on the hardware front. At the beginning of the year single core CPU processors were the norm and then many companies switched to the Tegra 2 and other multi-core processors. Now at the end of the year we see the advent of quad-core processors with Tegra 3 with the Asus Transformer Prime. During 2011 the technology underneath the hood of your device has really been refined which results in a better end user experience. You only have to draw parallels with he shift in standards with hardware with the Kobo Vox and Amazon Kindle Fire. It is really night and day differences with the performance side of things.
2011 resulted in peoples reading habits drastically change because of the technology maturing and coming down in price and the huge increase of content now available. It is simply cheaper and simpler to procure the electronic versions in the comfort of your own home then go out and buy it in the stores. e-Readers continue to lead the reading of books, while tablets give you the best newspaper, comic, graphic novel and magazine experience.
I know my reading habits have radically been altered in 2011. I used to visit my local used bookstore and Chapters every two weeks to buy the latest first edition hardcover books. My reading habits are all over the map with business, fantasy, sci-fi and socioeconomic. With digital comics really maturing I now exclusively buy my GI JOE and Marvel comics via my iPad and rarely go into my local store anymore. Mainly this is because I can lay in bed at night and check on the new releases of the day and pick and choose what appeals to me at the time. The other reason is my local comic shop moved from 2 blocks from my house to a bigger location 15 blocks away. While I use my Kindle for books and my iPad for everything else, magazine purchased in the tangible form I still purchase a copious amount. I honestly spend close to $90 every two weeks purchasing Stuff, Wired, PC Gamer, and many imports. It is really the magazines from Europe which I really dig that costs the most amount of money but hey, its great bathroom reading!
With the pace technology has changed in 2011, how has your reading habits changed?

Michael Kozlowski is the Editor in Chief of Good e-Reader. He has been writing about audiobooks and e-readers for the past ten years. His articles have been picked up by major and local news sources and websites such as the CNET, Engadget, Huffington Post and Verge.