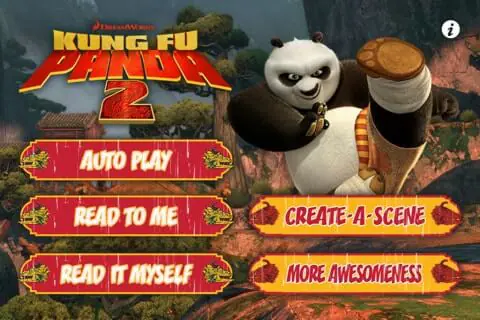 One of the hotly anticipated devices launching July 1 is the HP TouchPad, a new addition to the ever-expanding family of touch screen tablets slated to use the webOS operating system. Computex attendees were treated to a sneak peek of the tablet, but the full launch is finally here. One of the installed features for launch on the TouchPad may surprise some consumers who are looking for the ideal multi-tasking business machine: iStoryTime's interactive children's app book, Kung Fu Panda 2.
iStoryTime, founded just over two years ago by partners Woody Sears and Graham Farrar, was designed to place multi-level interactive storybooks for children ages two through ten on portable devices that their parents were likely to have handy, such as iPads and iPhones.
"I didn't want movies or videos to be the go-to entertainment for my children when we're out in restaurants or waiting in line at the grocery store," says Graham Farrar of the inspiration for iStoryTime, "so I thought it would be great to have a complete library of books for my kids available on my iPhone for those times when my kids needed to be entertained. Binky The Pink Elephant was our first app, and even though it was written by my partner's wife and illustrated by a friend of ours, it has never appeared anywhere but as a downloadable app, yet it's already sold tens of thousands of copies."
iStoryTime's app catalog includes over 100 interactive books, nine of which have reached the #1 spot, including the Kung Fu Panda 2 storybook which was the number one book in the iTunes Store out of all genres, not just children's books. These apps are complete with full-color graphics and video, touch-capable and automatic page turning, and synchronized audio read-aloud. But don't be misled by the distributor's humble beginnings with Binky the Elephant; they now distribute enhanced content starring characters and actual screen footage from DreamWorks, Jim Henson Productions, Cartoon Network, and many more, all while maintaining a price point for each book averaging about $2.99 apiece.
There is one downside to iStoryTime's model, which is the need to limit itself strictly to devices on the iOS platform and the HP webOS platform, a decision that was not a conscious choice to alienate itself from Android but that was determined by the capability limitations of Android devices, such as variances in screen size. With the HP TouchPad, the site has been able to reach a different customer base outside of Apple's products while maintaining the formatting of their ebooks.
"One of the fundamentally exciting things about the ebook market is when you publish traditionally and your one millionth book comes out, it costs the same as the one hundredth book. With ebooks, the cost of the millionth download is zero. There is no inventory, each copy doesn't have a cost, there's no shipping. We've taken the approach that we want the content to be top-notch and we could charge more for the latest book based on the latest hot summer movie, but we choose to ignore the concept of fixed profit margins and say we'd rather have more people have the books. We'd rather that people downloaded the content for their children to learn from and enjoy and the price keeps it accessible for everyone."
While the iStoryTime Kung Fu Panda 2 app will launch with the new HP TouchPad, zuuka (iStoryTime's parent company) is already looking ahead to comic books for older users and working with indie authors who want to bring their children's books and illustrations to this format.
Mercy Pilkington is a Senior Editor for Good e-Reader. She is also the CEO and founder of a hybrid publishing and consulting company.