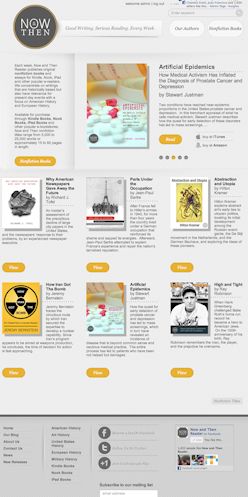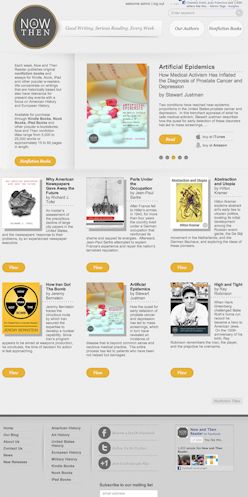 Now and Then Reader, an in-house publishing company whose authors' works are available via Amazon's Kindle Singles, Apple's iBookstore, Google Books, Kobo, and Barnes and Noble, was formed as a collaboration to market short-form serious reading.
"There's an audience for serious reading that has been kind of lost to publishers because of the nature of book retailing. It's gotten more and more difficult to publish non-fiction," says co-founder and chief editor Ivan R. Dee, a statement he makes based on the difficulty in finding reviewers to publish non-fiction reviews.
"The decline, I should say almost the disappearance of independent booksellers and newspapers, has collapsed or severely cut back reviews of serious reading. The audience is still out there but it's gotten more and more difficult to reach them. But reaching them through the internet seems to be a way to find them."
Chandos Erwin, co-founder and marketing director, agrees, also pointing out that this method of reading lends itself perfectly to publishing pieces, like in-depth news topics, in a timely way. "Digital publishing has made this possible. We're able to turn the book around in a matter of days and get it up on the site."
"We used to pride ourselves on not wasting any time in publishing, but it's still a six month process, not discounting the time for signing the contract, editing the book, designing the book, getting it into the hands of the sales people, and promoting the book. By comparison, signing, editing, and publishing is delightful with digital publishing," says Dee.
Now and Then Reader has a title being released this week by Jeremy Bernstein titled, "How Iran Got The Bomb." The piece itself is startlingly in-depth yet still highly relevant to the current state of affairs with Iran. The author of the piece is a physicist and an author whose credentials include writing for The New Yorker, a testament to the caliber of writers that companies like Now and Then Reader and the format as a whole are working with.
"We're just getting out of the gates," adds Erwin, "but we're picking up steam because there is an audience who is hungry for this type of format."
Mercy Pilkington is a Senior Editor for Good e-Reader. She is also the CEO and founder of a hybrid publishing and consulting company.