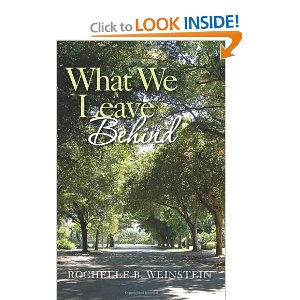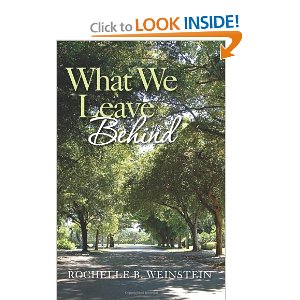 With so much of the stigma of legitimate self-publishing having more or less dissolved, there are still considerations that set indie authors apart. And with dire predictions like those of Smashwords' CEO Mark Coker stating that there will be a "glut" of ebooks in 2013, authors have to be prepared to help their titles rise to the top in order to garner discoverability. Author Rochelle Weinstein, whose self-published title What We Leave Behind tracks the love life of the main character from a teenaged first love and into the resulting relationship decisions as an adult, spoke to GoodeReader about how the decision to self-publish is both an automatic response to insightful analysis of the publishing industry as well as one that might not be right for every author.
"I wrote a book over ten years ago and the publishing world was not really open to first-time authors. I shopped it around and I actually had some really good contacts in the industry, and still got rejected. The book sat under the bed for about two years, then I took it out and hired a professional editor and we worked together on it for about a year or two before I put it back under the bed again. I used to be in the music industry when record stores started to close because people were buying their music online, and when I saw what I believed was happening in the publishing world, I thought that maybe this was a route I could go in that would allow me some control and flexibility."
Weinstein ultimately worked with Amazon's self-publishing division CreateSpace to bring her book to market, but still contends that there are many factors that authors have to be aware of when publishing.
"Whether you go traditional or indie, it's really important to know your goal. You have to know what you want to get out of your book because that will help you define your promotion and marketing. If you want to sell a million copies or if you just want to touch someone's life, you have to know what you want to do with your book. Some of the really successful authors still have to spend marketing dollars and energy."
Weinstein explained that Goodreads was a very useful marketing took for her, as well as the use of tangible business cards that can be distributed as the need arises, but she also explained that different tactics will be useful for different authors' projects. She also pointed to the need for authors to fully understand their niche and their audiences before trying to reach those readers.
"Once your friends and family stop buying your book, that's when you really have to use some muscle," Weinstein explained, talking about her decision to hire a publicist to work on marketing her book.
Above all, Weinstein agreed with what so many experts on self-publishing have stated, which is that the quality has to be there for an author to find a dedicated fan base. If the book isn't ready for publication–indie or traditional–the readers will make that known. What We Leave Behind is available in print from CreateSpace and as an ebook.
Mercy Pilkington is a Senior Editor for Good e-Reader. She is also the CEO and founder of a hybrid publishing and consulting company.