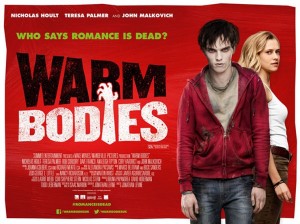 Word has gotten out about the GoodEReader Spreecast with author Isaac Marion, whose book Warm Bodies (Emily Bestler-Atria) was released in theaters last week. With a host of sponsors for the event offering promotional items to attendees, and with an author whose zombie romance is nothing short of inspired, it should be a lot of fun.
But on the more serious side of the issue, two of the sponsors of the event are fellow zombie authors who helped put on the event and donated promotional give away items, not because they are huge supporters of the zombie-human dating scene but because they are tireless champions for indie authors.
Marion, who has several independently published novels including the original effort with Warm Bodies, knows as well as authors Tim Miller and Jesse James Freeman what goes into the creation and resulting road to publication of one's work. Miller and Freeman, who each donated several Amazon gift cards along with copies of their own zombie titles, took advantage of the opportunity to participate in tonight's Spreecast not to self-promote but to show their support of the many avenues to getting books into the hands of willing readers. Miller, whose book The Hand of God (Vamptasy) is published by an independent publisher, saw this as a chance to give back to a larger community of authors who all have the same goal: producing inspired works in their fields.
"It's a great honor to represent Indie authors on such a large stage," said Miller to GoodEReader just prior to tonight's event. "It allows more people to see how many amazing books they've yet to discover."
To participate in tonight's author event, login with Facebook or email at Spreecast.com or click this LINK. This is a great chance to talk to the author of Warm Bodies and lots of other Zombie Fans! You can think of it as a online chat, where you can win free eBooks, music and tons more! If you are a fan of Zombies, this is a can't miss event! Tons of major publishing companies are pulling for this to be a success, so show your love of Zombies and Good e-Reader and check it out. The event will start at 9pm Eastern.
Mercy Pilkington is a Senior Editor for Good e-Reader. She is also the CEO and founder of a hybrid publishing and consulting company.