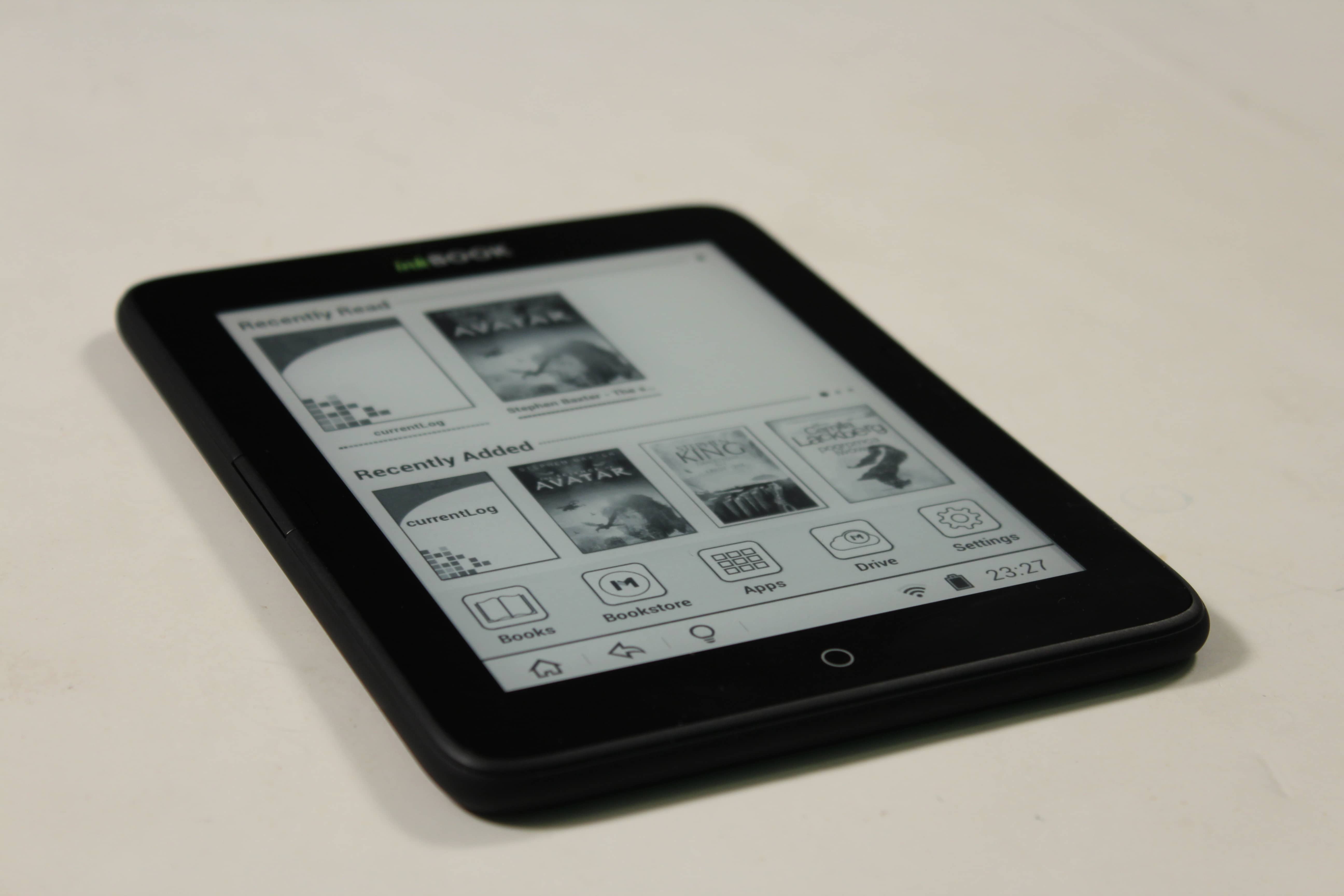 The Inkbook Obsidian is a new e-reader by Arta Tech, the former European distributor of Onyx Boox. The company has been selling other peoples e-ink devices for a very long time and decided to make their own. The Obsidian has a number of compelling things going for it, the screen is flush the bezel, you can install your own apps and it has an e-ink Carta display.
Hardware
The Obsidian features a six inch e-Ink Carta Capacitive touchscreen display with a resolution of 1024 X 758 and 212 PPI. I really like the fact the screen is completely flush with the bezel, the only other digital readers on the market that do the same thing is the Amazon Kindle Voyage the recently discontinued Kobo Aura.
The resolution on the Obsidian is passable, but there are better products on the market if super high-definition displays mean a lot to you. The Kindle Voyage, Kindle Paperwhite 3, Tolino Shine 2 and the Kobo Aura H20 all have 1430 x 1080 and 300 PPI.
Sure the competition has better resolution, but they also lock you into their own walled gardens. You are stuck with the built in digital bookstore that comes bundled with the device, whereas with the Obsidian, it runs Android. There is a built in app store called Midiapolis, which has around a thousand apps.
Underneath the hood is a Dual-Core Cortex A9 1.0 GHz processor. It has 512 MB of RAM and 8 GB of internal memory. You have the ability to expand the internal storage up to 32 GB via the Micro SD.
Many e-readers on the market have a front-lit display, which allows you to read in the dark. Unlike a smartphone or tablet, the light does not emit from behind the screen, instead there are normally five LED lights built into the bottom or top of the bezel and project light upwards. Front-lit displays are hard to get right and many companies face huge challenges in order to give people a solid experience. I have found that the best front-lit displays have the screen flush with the bezel. It helps contain the light within a fixed area. This is why the Nook Glowlight Plus, Kindle Paperwhite 2, Tolino Shine 1, Onyx Boox and Pocketbook products all have whats known as light spillage. If you are in a very dark room and have the luminosity levels between 50% and 100% you will start to notice discoloration at the top and bottom of the screen. Additionally, most of these e-readers also suffer from a blueish hue to the screen. This is why I am very bullish about screens that are flush with the bezel, you absolutely get the best lighting system currently available.
One of the other big selling points on the Obsidian is that there are two physical page turn keys. This allows you to hold it in one hand and easily turn pages. People who commute to work on public transit often like this kind of hardware features. Keep in mind though, only the stock e-book app utilizes the page turn buttons, if you install 3rd party apps, they don't work.
This e-reader is really well made and looks very sexy. The only other two products on the market that have a similar build quality is the Kindle Voyage and Pocketbook Sense. The one advantage the Inkbook has over these two devices is the capacitive home button. Whenever you push down on it, there is little glow, very neat.
Software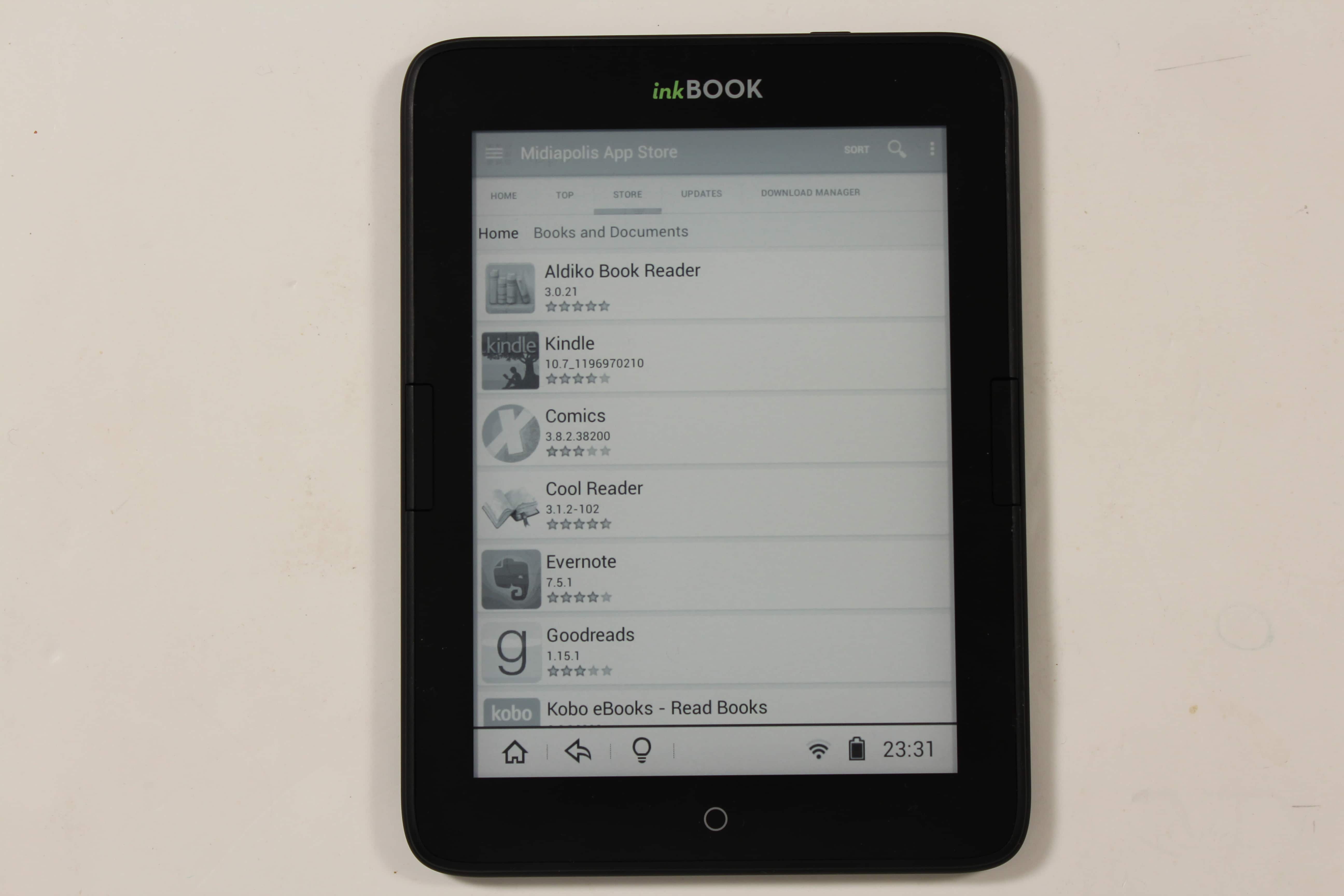 The Inkbook Obsidian is running Google Android 4.2.2 and allows you to install your own apps. There is a dedicated apps tray that contains all of the things you download from the Midiapolis App Store. You will find popular e-reading apps like FBREADER and Cool Reader, in addition to e-reading apps from major companies. There is not much of a selection when it comes to digital newspapers, manga and magazines, so you might want to install the Good e-Reader App Store for e-Ink.
One of the drawbacks of Android driven e-readers in general is that there is no skins or unique layouts.  There are a bunch of e-readers on the market that have the exact same UI, menus and settings as the Inkbook.  This is not a bad thing per say, but expect to navigate through a bunch of sub-menus to open up your favorite book, access apps or try and access the settings menu.
Navigating around the e-reader is fairly snappy, there were few cases when there is any discernible lag. The only time when things got really slow as when I downloaded the Kindle and Kobo e-reading apps. These apps were basically designed for smartphones and employ animated page turns and the ability to peak whats on the next page.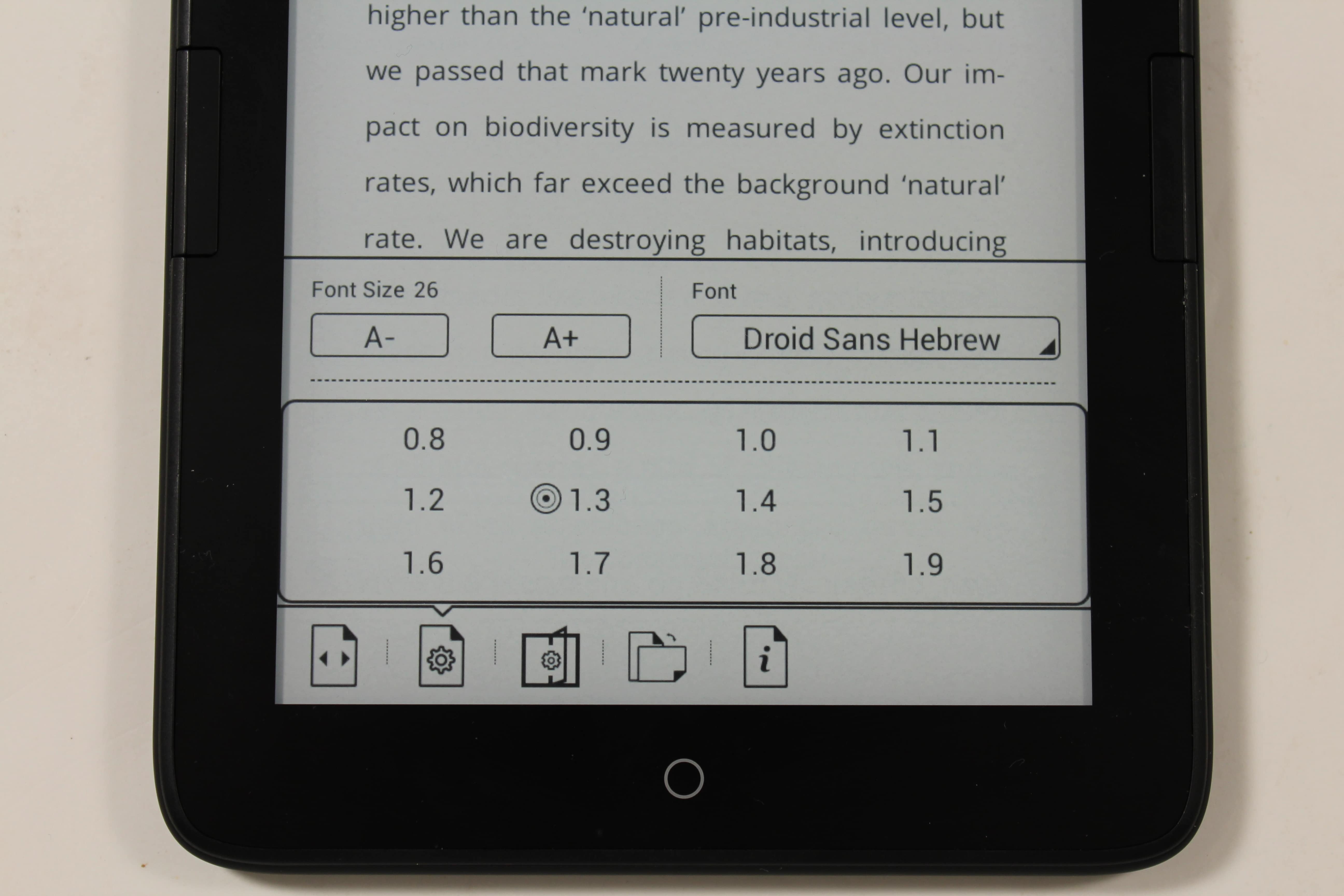 When it comes to reading, the stock app should handle all of your day to day needs. One of the my big complaints is that it becomes very difficult to find that sweet spot when it comes to font size, margins and line spacing. Instead of a slider bar or a few intuitive options,  everything is numerical. For example, if you want to adjust the margins, its done in 0.5% increments. There will be a lot of trial and error when it comes to finding your sweet spot.
The Inkbook also handles PDF e-books and Manga like a boss. You can pinch and zoom in a very responsive manner  and isolate specific parts of whatever type of document you are reading. The smaller the file, the more robust the overall experience is.  Keep in mind, this is a six inch device, so don't expect a huge viewing window.
Wrap Up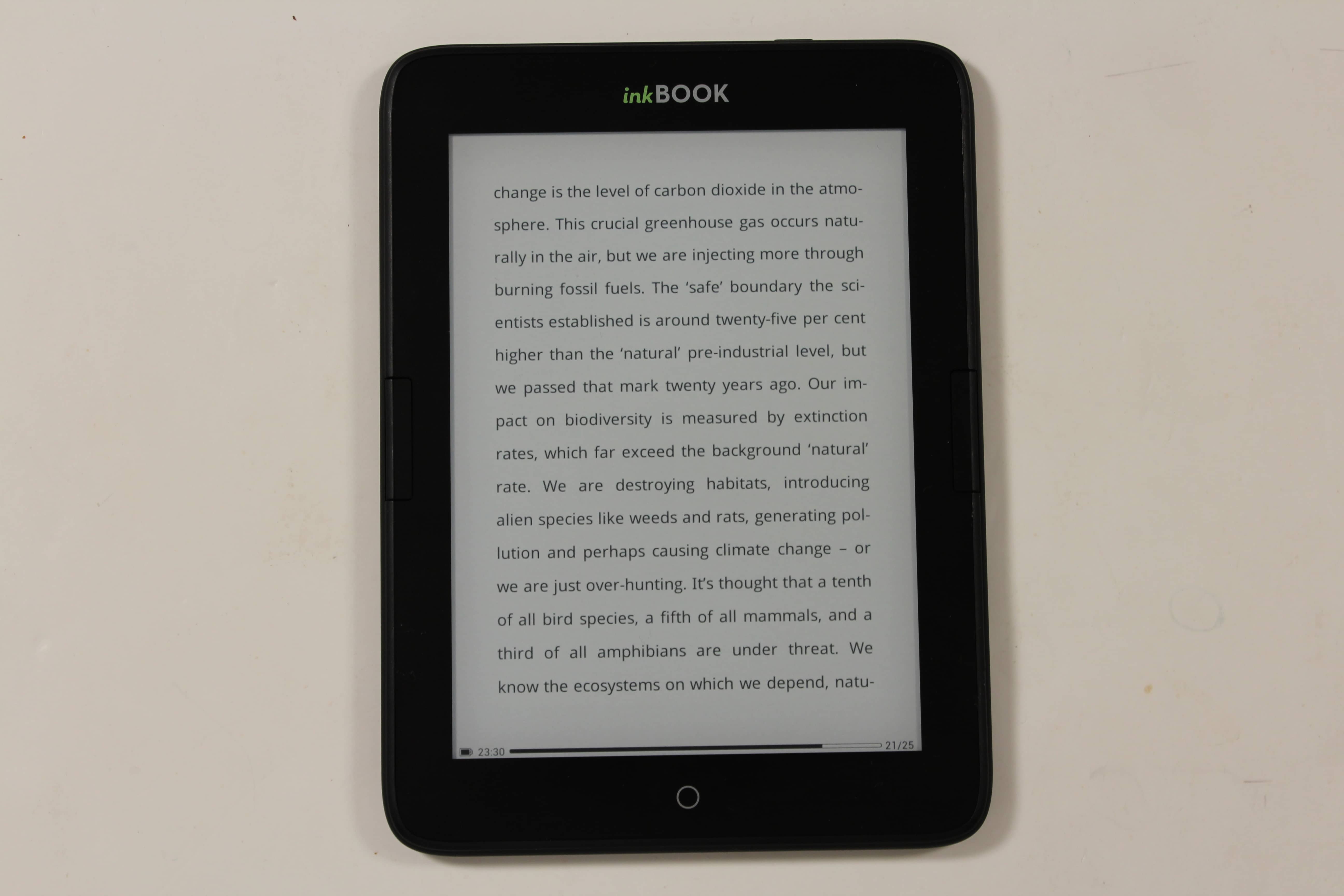 The Inkbook Obsidian is a perfect example of a great e-reader that has poor availability. You can only buy it from one website  for 145 €, but the business is located in Poland. This means that it will likely take a few weeks for it to be delivered and you will have to pay custom fees.
This e-reader is only the second one that Arta Tech has ever made and they hit a major home run with it. The hardware is sexy as hell and the reading experience is really solid. The only major drawback with this, and all Android e-readers in general is that there is a ton of trial and error with finding apps that are compatible with it. There are a ton of e-reading apps on Google Play, but few of them actually work great with e-ink. The best ones tend to be optimized for Android 2.3.
The Midiapolis Bookstore is going to be available soon via update. So far, Arta Tech has launched the Midiapolis.pl for polish-speaking customers. For English-speaking world they encourage people to you Midiapolis Drive instead. Users can upload e-books there and download them from the cloud.
I would recommend this e-reader to anyone who is looking for a pocket friendly device and not be locked into a specific ecosystem.
PROS
Tremendous hardware design
Front-light is one of the best in the world
You can install your own apps with Android
Physical page turn buttons
CONS
Stock e-reading app is terrible
Most Android apps are incompatible with e-ink
Resolution is average
Poor retail availability
Rating: 8/10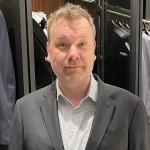 Michael Kozlowski has written about audiobooks and e-readers for the past twelve years. Newspapers and websites such as the CBC, CNET, Engadget, Huffington Post and the New York Times have picked up his articles. He Lives in Vancouver, British Columbia, Canada.