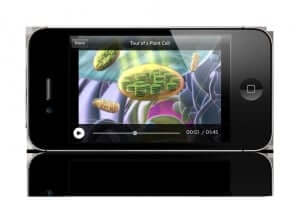 As students around the country start planning their back to school purchases, Inkling has added a new tool to their fall shopping carts. The company known for highly innovative digital textbooks formatted to the iPad will be rolling out the capability that lets students read their same content on their iPhones as well, seamlessly incorporating the iOS-based phone into the Inkling Habitat platform with real-tume syncing across the devices.
Notice that this feature is in addition to the existing accounts students can use on tablets or web-based laptops. While students with only an iPhone at their disposal can take advantage of the content that Inkling has optimized for its smaller screen, those with other devices can pick up on one tablet in the classroom and study on their iPhones as they travel home from class.
Inkling 3.0, which is available for free from the App Store, makes it possible for iPhone users to utilize the same textbooks that the view on tablets or laptops, but the content has been shifted for the screen, rather than simply minimized for the phone.
"As a company, we really think that we're reinventing the world of publishing," said Matt MacInnis, CEO of Inkling, in an interview with GoodeREader just prior to today's launch. And when considering that other reading apps for the iPhone only shrink the text rather than reformat the content, he may be right. "What's being used today for digital publishing is out of date. Anytime you have to declare the inches in a document before you can publish it digitally, something if fundamentally wrong."
Digital textbooks have remained a hot-button topic in publishing because the industry has not kept up with the capabilities, especially in terms of the expectations of lower cost for the materials. Inkling has changed a fundamental pricing structure to academic materials by offering their digital textbooks at a per-chapter rate, with many chapters of college-level texts being available for as little as three or four dollars; this chapter by chapter format also allows users to save precious storage space on their phones by allowing them to download one chapter for use at a time.
While Inkling has made a name for itself in both revolutionizing and the pricing of digital textbooks, the technology they've developed is also lending itself to other reference materials like Frommer's travel guides, making the iPhone the ideal tool for carrying on the go. Depending on the guide, users can view images which turn into an interactive map, click on video links, and even see the real-time five day weather forecast for their travel destinations.
Aside from the large numbers of students returning to school with a variety of devices, iPhone users outnumber iPad owners four-to-one, making the iPhone market a much broader customer base. The features that Inkling ebook users have come to expect, such as the test yourself option and cloud-based bookmarking, are there.
"There is a lot of thought going into each and every one of the elements," MacInnis said.

Mercy Pilkington is a Senior Editor for Good e-Reader. She is also the CEO and founder of a hybrid publishing and consulting company.