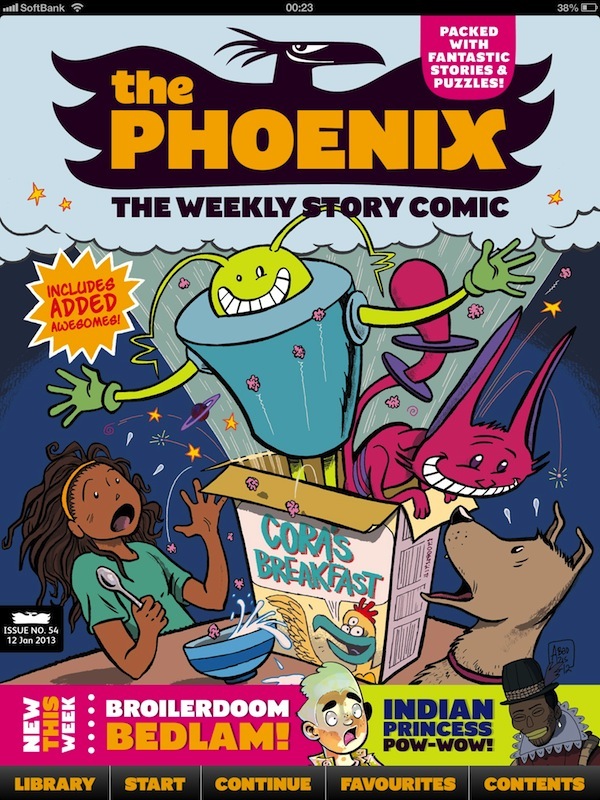 Panel Nine apps are sort of the iPad equivalent of coffee table books. Elegantly designed, with a deluxe feel, each one presents a graphic novel or the work of a single creator as a single standalone app. If comiXology is the digital equivalent of a comics shop, geared toward the way comics fans think (Wednesday releases, single-issue comics, heavy emphasis on superheroes), Panel Nine is more like a display in Barnes & Noble, highlighting one book at a time. So far it has published three of these standalone apps, with more on the way, and when I heard it would be publishing the digital version of the weekly children's magazine The Phoenix, which debuted at the beginning of the year, I had to check it out. At the time, I had a few criticisms, so I figured it would be a good idea to interview publisher Russell Willis about his approach to digital graphic novels in general and The Phoenix, a Newsstand publication, in particular. Russell has some interesting thoughts on comics and on user interfaces, as well as some exciting news about upcoming projects from Panel Nine.
Panel Nine also publishes a free iPad magazine about comics called Infinity, which features news, interviews, and previews; it's a good way to sample the interface without spending a dime.
Brigid Alverson: Let's start with a bit of background about Panel Nine, because you are very different from most digital comics services. What's the idea behind your company?
Russell Willis: Panel Nine is an imprint of a software development and publishing company I run in Tokyo. We work with a number of publishers there and globally, including Macmillan, Pearson, and Oxford University Press. With OUP we've licensed English-learning materials for the Japanese market and have had the No.1 iPhone and iPad apps in the education section of iTunes in Japan a number of times. Last year we topped the whole chart, and were selling six thousand apps a day, which was rather nice. In addition to that, we've had the No.1 podcast and audio book in Japan. Personally I've been involved in digital publishing since CD-ROMs replaced floppy disks…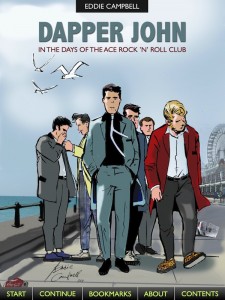 That's all a terribly self-important and long-winded way to say that we're not new at digital. When we saw other digital comics apps we knew that we could do a lot better… I was lucky because back in the 80's I ran a fanzine in the UK called INFINITY that was determinedly anti-superhero and included features on American Splendor, RAW, Cartoon History of the Universe, Arcade, Escape, etc. The mag was blessed with contributions from the likes of Alan Moore, Eddie Campbell, Hunt Emerson, and David Lloyd. When I decided to start a digital comics imprint it was no coincidence that our first three releases, Dapper John, Kickback, and The Certified Hunt Emerson were by Campbell, Lloyd, and Emerson respectively!
Our goal has been to focus on great writers and artists and provide what we call "deluxe digital graphic novels" that include audio commentaries by the artists, interviews, production sketches and loads more. Our latest app, The Certified Hunt Emerson, has all that with over 200 pages.
So, in short, the idea behind our company is to publish great graphic novels for adults and kids in a deluxe digital format. And no superheroes!
How did you find out about The Phoenix, and how did you come to be their digital developer?
Well, The Phoenix is famous in the British comics community, partly because it features some of the best comics talent in Britain and partly because it is one of the few serialized story comics for kids still going in print. I've been an advocate for "literary graphic novels" for adults since the 80s but I also know we need more gateway drugs like The Phoenix to get kids hooked on comics as an art form. The Phoenix is a best-of-class publication and so I got a contact, flew over from Tokyo to Oxford in the UK, and sold them on the idea of doing a digital version for the iPad using Apple's Newsstand service. We're immensely proud to be involved with such a marvelous publication!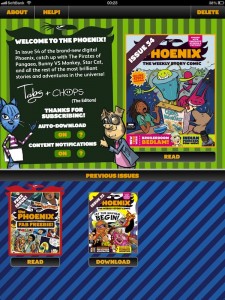 What challenges did you face in adapting The Phoenix to digital media, and how did you address them?
One key challenge was creating a Newsstand app environment that worked well—so many don't. When Newsstand works well it's magical. You subscribe and each week, whilst you're asleep, a new issue is downloaded to your iPad and you wake up with a great new comic to read. We wanted to make things completely simple and intuitive: you always subscribe with the latest issue (but can buy back issues), the library and store page are combined, the current issue is displayed nice and big, your notification settings are upfront and clear… It's the combination of hundreds of little details like these that result in a smooth user experience.
For the comic itself, a new technical challenge was handling double-page spreads. All other comics apps just chop them up into two pages if you're reading in portrait, or reduce the whole thing down to a teeny size. We implemented a "floating" double-page spread so you can smoothly move across the whole spread without a page break. And if there are panels on that spread you can double-tap to zoom into them. And then finally you can tap on a button to see the whole thing in landscape if you want to. Double page spreads on a tablet are tricky and I think we deal with them better than any comics app out there.
What changes did you make to your standard interface to accommodate the fact that your primary audience is children?
Well, we design our user experience for people over sixty, so seven-year-olds have no trouble at all… I'm not really joking here… If you get much younger than seven (Phoenix readers typically range from 7 years up) then you're looking at larger buttons and a different approach to user interface elements—our educational apps for toddlers look completely different. Of course, the Phoenix graphics are kid-friendly, as is the content, and we added a "Something Cool" button which pops up with specially-designed content. Mostly static at the moment but that area is able to handle animation, video, sound, and interactive elements. Keep an eye out for some great stuff coming up…
What features are you proudest of in the Phoenix app, and what do you wish you could do differently?
With our educational apps one big concern is ease of use and creating a delightful user experience, and this has translated into the platforms that we create for comics. No frustrating sticky screens, no pixelation  permanently available navigation buttons, a special Contents screen that includes both story titles and thumbnails of that section, a clean, clear intuitive user interface, a Panel Mode that work smoothly without pixelation or sudden jerkiness… Woodrow Phoenix, the artist and editor of the acclaimed Nelson book summed it up with "Panel Nine is the first digital comics app that doesn't make you want to punch someone in the face…" Bob Heer over at Four Realities called what we do the "Gold Standard" for digital comics apps. With The Phoenix we introduced the aforementioned "floating" double-page spreads and the "Something Cool" screen which allows a variety of media types.
Readers interested in user experience design might like a quick and dirty video I created which shows the different user experiences of our platform and Comixology, iBooks and a custom made app by the guy who was advising on the Cerebus digitization project. It uses David Lloyd's Kickback as our example, and is quite instructive, I think.
In terms of features we would do differently… Of course, if you are developing a kids comic for the iPad from the ground up then there are a lot of different ways you might approach it… But given that The Phoenix exists initially as printed item… I think we *might* have added more sound effects or different page transitions, and there are some timings that I would want to improve by a few milliseconds. I'm sure I'll look back at it in a couple of months and have more things and we're going to be very interested in what our users think.
Why did you choose to do strictly iOS apps? Are other platforms in the offing?
iOS is where the money is. iOS apps are still outselling Android apps by a huge margin. A recent report by App Annie showed iOS app sales to be 4 times that of Android, despite Android having the largest installed base. There are a number of reasons for this, not least the inferior general user interface and app store environments that Android offers. However Android *is* getting better, and catching up in sales, and our team is hard at work planning for Android releases.
What has the response been to the app so far?
Amazing. Just amazing. From raves on Twitter to the fabulous reviews on iTunes. For a few days there we topped the Children's Magazine chart, beating out Pokemon, Barbie and Doctor Who. We're delighted. Of course, we did our bit to facilitate it, but it's the brilliance of The Phoenix and its creators that is the main reason for the rapture!
What are your plans for the immediate (and distant) future?
In February we'll be releasing a new collection of VerityFair by Terry Wiley. Terry's been called "a true comic book genius" by comics website Bleeding Cool, but also "the greatest comic creator you've never heard of"… His work is brilliant and we're very proud to publish it in our "deluxe digital graphic novel" format.
The biggest news, though, is that we're working with a number of major publishers (and important smaller ones) to provide a storefront that contains deluxe digital graphic novels aimed at the "real mainstream," the audience for graphic novels that reads Maus or Fun Home or Dotter of Her Father's Eyes but would never think of going into a comic shop guarded by a dodgy life-size statue of She-Hulk… We think the immersive "lean back" experience that tablets provide, along with purchase ease-of-use and the ubiquitous availability that app stores provide, can, if handled right, create a sea change in the consumption of graphic novels—and, if we have our way, the whole thing will have absolutely *nothing* to do with superheroes.

A former book editor and newspaper reporter, Brigid Alverson started MangaBlog to keep track of her daughters¹ reading habits and now covers comics and graphic novels for Comic Book Resources , School Library Journal, Publishers Weekly Comics World, Robot 6, and MTV Geek. She also edits the Good Comics for Kids blog at School Library Journal. Brigid was a judge for the 2012 Eisner Awards. Send her an email to wordballoons@gmail.com