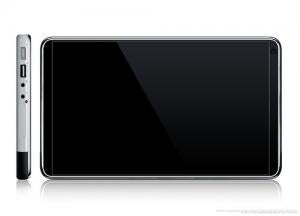 The Apple iPad tablet computer went on sale this morning, drawing crowds to stores across the country, rivaling the feeding frenzy seen when the iPhone went on sale in 2007.
Hundreds of eager shoppers lined up to wait for stores to open at 9 a.m. although the crowds didn't camp out for days this time, as they did when the iPhone debuted. Many of the buyers identified themselves as early adopters and Apple enthusiasts, making it harder to tell if the iPad will win over mainstream customers. Both Bestbuy and Apple stores had iPads in limited stock to be sold.
At one of the main Apple Stores in New York, Jacob Arentoft said "I love it," , a 37-year-old digital business developer hailing from Copenhagen. After exiting Apple's Fifth Avenue store in Manhattan, he unpacked the brand- new silver gadget and waved it at the crowd. "The size fits, the design fits, everything fits."
The Apple iPad is a bid to turn tablet computers into popular consumer devices, something rivals such as Microsoft Corp. have failed to do thus far. Although, with the news of the Microsoft Courier leaking out, anything is possible. The product builds on the success of Apple's iPhone and iPod, staking out the middle ground between smartphones and laptop computers. Apple is betting the design is enticing enough that consumers are willing to pay a premium over low-cost notebooks. It starts at $499.
"It's ridiculously expensive, way overpriced," said Josh Klenert, a 36-year-old graphic designer, who still went ahead and bought one anyways. Josh, whose one-bedroom apartment in Tribeca has "more Macs than people," pre-ordered the iPad as soon as it was available and came down to Apple's SoHo store in New York to be one of the first to buy it.
"You may call it a dumb computer or a smart telephone — it's in between," said Klenert, who plans to use it for reading newspapers and magazines via RSS feeds. "It's a unique, sexier device. More like a sofa-based device." This is one of the prime mentalities that Apple is trying to bill itself as.
Customers can surf the Internet, purchase digital books from the iBook store or countless applications such as Kobo, Amazon and Barnes and Noble eStores You can also watch video in 1080 P and play games on the iPad. The iPad is backwards compatible with all of the current applications in the the Apple App Store. A new SDK was released that allows developers to have a custom development kit to make apps directly for the iPad to take advantage of its higher end features.What it does lack is a built-in camera or support for Adobe Systems Inc.'s Flash software, which runs much of the video on the Web. The device also does not let users carry out multiple tasks at once.
The initial reviews of the iPad from many media sources praised its ability to deliver digital books and video quickly, saying it measures up well against other E-Book readers, including the Kindle. USA Today's Edward Baig called the iPad "fun, simple, stunning to look at and blazingly fast."
Tablets and Slate PC's have been available in one form or another since the 1990s. They never really caught on, such as the Newton or an ealy Microsoft tablet? Right now Tablets and Slate devices account for less than 1 percent of the personal-computer market, according to research firm Gartner Inc.
This might all change with the resurgence of the tablet movement put out by companies such as Dell, HP, Microsoft, and tons of start up companies such as Notion Ink, and Fusion Garage.
The iPad's success will depend partly on the attractiveness of their content distribution network and the applications that run on it. CBS Corp., the most-watched U.S. TV network, announced plans this week to offer past and current series of shows such as "Survivor" and "CSI" on the iPad. Walt Disney Co. will release iPad applications for ABC shows and ESPN games. And Netflix Inc., the movie-rental company, will let subscribers watch programming streamed to the iPad.
When the iPhone debuted, Apple struggled to keep it in stock. Most of its stores quickly sold out, and resellers on EBay and Craigslist hawked the device to desperate shoppers for as much as $12,000. The iPad although short in stock, will see more units available to public around April 16, and internationally including Canada at the end of the month.
Luis Martinez, a 30-year-old from Brooklyn who repairs computers, bought a Wi-Fi iPad today and already put in an order for the 3G version.
"People who criticize iPad are basically saying it doesn't fit their lifestyle. It fits mine," Martinez said. "Overall, I'm sold."
Check out our current issue of the Good E-Reader Magazine for the full details on the Apple iPad Launch and reviews. Also stay tuned to our E-Reader Blog for more E-Reader News.
Michael Kozlowski has been writing about audiobooks and e-readers for the past twelve years. His articles have been picked up by major and local news sources and websites such as the CBC, CNET, Engadget, Huffington Post and the New York Times. He Lives in Vancouver, British Columbia, Canada.