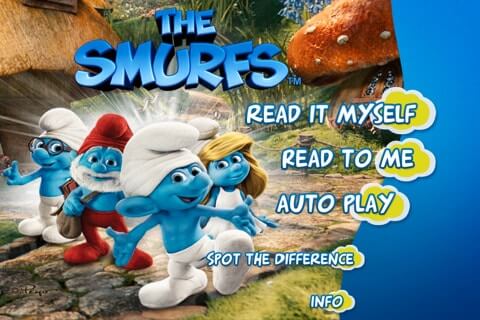 We profiled a strong front-runner in the app book market over the summer when iStoryTime partnered with HP to pre-install its children's multi-interactive book app, Kung Fu Panda 2, on the newly released Touchpad tablet. At the time, iStoryTime was holding quite steady in terms of sales of its many children's apps in the Apple store. Now, the app book publisher has issued a press release with details of its Series A investment in the amount of $2 million, an opportunity for the company that CEO Graham Farrar knows will take multi-media app production to a whole new level. The press release is below.
At the time that GoodEReader.com first interviewed Farrar, the interactive children's apps were only available for iOS products and devices. This limitation on compatible devices was a necessary result of the wide variety of actual consumer products that ran on Android. Rather than try to format every app to such a broad category of devices with a variety of screen sizes, iStoryTime chose instead to focus on iOS because the Apple app store was returning so many more sales than some of the outlets for Android apps, many times over.
With this new investment, one of the advancements currently on the drawing table is to expand somewhat in the Android market, specifically within the highly-rumored Amazon tablet market and then to the Barnes & Noble Nook Color.
"I do believe that Android compatibility is going to happen for us, and we had tested the waters with it in the past but the screen sizes were an issue," said Farrar in an interview yesterday with GoodEReader.com. "We had to pick one system to focus on and the Apple app store is just far outselling the Google Android app store right now. I do expect the Android tablet from Amazon to be interesting. The Nook Color, which is actually an Android tablet, could also have some possibilities. And people who buy devices from Amazon and Barnes & Noble are obviously book consumers, so those would be great places to sell book apps. We don't know much about the Amazon tablet yet but it's going to be Android and since it's an Amazon product, it will be good. Amazon will have a great consumer-friendly searchable app store once they release a tablet, and they will do a good job running it. It will be a store built to sell."
Other iStoryTime plans for their expansion include a slightly higher output of content now that it will not be relying solely on revenue from previously published app books to fund other projects. Farrar is also excited about the chance to take on some projects that may require a higher initial investment to make the app as ambitious as possible. The app publisher is also working more towards app comic books for older readers and expanding its foreign language titles in French, Spanish, and German. iStoryTime's Smurfs app book is currently in the top ten in the Apple book store.

Mercy Pilkington is a Senior Editor for Good e-Reader. She is also the CEO and founder of a hybrid publishing and consulting company.