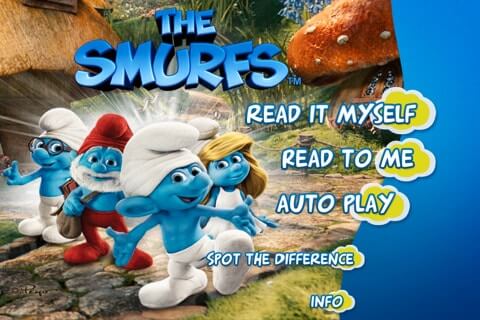 We profiled a strong front-runner in the app book market over the summer when iStoryTime partnered with HP to pre-install its children's multi-interactive book app, Kung Fu Panda 2, on the newly released Touchpad tablet. At the time, iStoryTime was holding quite steady in terms of sales of its many children's apps in the Apple store. Now, the app book publisher has issued a press release with details of its Series A investment in the amount of $2 million, an opportunity for the company that CEO Graham Farrar knows will take multi-media app production to a whole new level. The press release is below.
At the time that GoodEReader.com first interviewed Farrar, the interactive children's apps were only available for iOS products and devices. This limitation on compatible devices was a necessary result of the wide variety of actual consumer products that ran on Android. Rather than try to format every app to such a broad category of devices with a variety of screen sizes, iStoryTime chose instead to focus on iOS because the Apple app store was returning so many more sales than some of the outlets for Android apps, many times over.
With this new investment, one of the advancements currently on the drawing table is to expand somewhat in the Android market, specifically within the highly-rumored Amazon tablet market and then to the Barnes & Noble Nook Color.
"I do believe that Android compatibility is going to happen for us, and we had tested the waters with it in the past but the screen sizes were an issue," said Farrar in an interview yesterday with GoodEReader.com. "We had to pick one system to focus on and the Apple app store is just far outselling the Google Android app store right now. I do expect the Android tablet from Amazon to be interesting. The Nook Color, which is actually an Android tablet, could also have some possibilities. And people who buy devices from Amazon and Barnes & Noble are obviously book consumers, so those would be great places to sell book apps. We don't know much about the Amazon tablet yet but it's going to be Android and since it's an Amazon product, it will be good. Amazon will have a great consumer-friendly searchable app store once they release a tablet, and they will do a good job running it. It will be a store built to sell."
Other iStoryTime plans for their expansion include a slightly higher output of content now that it will not be relying solely on revenue from previously published app books to fund other projects. Farrar is also excited about the chance to take on some projects that may require a higher initial investment to make the app as ambitious as possible. The app publisher is also working more towards app comic books for older readers and expanding its foreign language titles in French, Spanish, and German. iStoryTime's Smurfs app book is currently in the top ten in the Apple book store.
[showhide type='pressrelease']~~~~~~~~~~~
Press Release
~~~~~~~~~~~
Publishers of iStoryTime Receives $2m Series A Investment
New digital storybooks featuring content from Cartoon Network, Sony Pictures Entertainment and more coming soon
Santa Barbara, Calif. / Frankfurt – August 10, 2011 – zuuka Group with its publishing label iStoryTime, the largest library of mobile children's book Apps, today announced a $2 million Series A investment. The investment will allow the company to quickly expand their domestic and international library of more than 100 books in 80 countries. Plus, the investment will allow the company to expand distribution of the content to additional mobile platforms.
Venture capital firm CFP& Founders Investments, advised by Corporate Finance Partners (CFP) led the funding round and is also responsible for the $150mm sale of Germany's largest online shopping club Brands for Friends to eBay.
iStoryTime, with its foundation of top-tier licensing partners and high demand children's content such as THE SMURFS®, the current No. 1 Children's book in the Apple App Store, has ambitious plans that CFP& Founders Investments recognized and will help facilitate. The investment will accelerate iStoryTime's expansion, enabling the company to further increase it's domestic and international reach across more mobile platforms, social media and forge new content partnerships.
"As parents, we're very excited to continue expanding our goal of providing children quality, fun and educational digital entertainment," said Graham Farrar, co-founder of zuuka Group. "We've established ourselves as a major contender in the children's digital space and our new partnership with CFP& Founders Investments positions us very well to continue our growth and explore more partnership opportunities."
Currently, iStoryTime's bestselling Kung Fu Panda 2 storybook, Transformers Darkside of the Moon Mix & Match app along with several major digital mobile licensing partnerships, including Cartoon Network, Sony Pictures Entertainment, Reader's Digest Children's Books® and The Jim Henson Company have made the company a recognized leader in interactive storytelling experience. The extensive library is delivered to the convenience of mobile devices including Apple's iPad, iPhone and iPod touch along with Android and the HP TouchPad, HP's first webOS tablet.
"The exciting growth of the mobile marketplace provides excellent opportunity within the children's content industry," said Jens Munk, Managing Director at CFP& Founders Investments. "iStoryTime makes an excellent addition to our portfolio with its proven track record and is well positioned to take advantage of this mobile entertainment revolution."
The investment finalizes the merger between Santa Barbara-based FrogDogMedia and Germany's zuuka GmbH, which have combined under the zuuka Group name and will continue to publish under their flagship label iStoryTime. Now, the four founders Susanne and Dirk Busshart, Graham Farrar and Woody Sears join forces to bring the company even further and keep up the leading market position in the children's book segment.
iStoryTime brings the joy of a kids' book to the convenience of the iPhone, iPad and iPod® touch.
iStoryTime books are illustrated and narrated, so children can enjoy the book even when parents are busy. Best of all, the apps are simple to use because they are designed for kids two-years and up. Pages can be turned automatically or manually depending on the age and preference of the user.
iStoryTime is the perfect way for parents to entertain their children while waiting to go to dinner at a restaurant, on a long airplane or train trip or even when they need a few more minutes to finish grocery shopping. And of course, it's a great way to enjoy a story before bedtime. iStoryTime provides great books to entertain and educated the kids on the go.
About CFP & Founders Investments:
CFP & Founders Investments is focused on investments in the Internet, telecommunications, mobile, new media and software sector. As of today, CFP & Founders Investments is funded by more than 160 individual European founders, entrepreneurs and business partners which provide CFP with further fund raising capabilities and a vast market radar screen. Investors include renowned entrepreneurs such as the founders of XING (www.xing.com), blau Mobilfunk (www.blau.de) and zanox (www.zanox.com). Portfolio companies comprise e.g. FIDOR Bank (www.fidor.de), sharewise (www.sharewise.com), Brille24 (www.brille24.de), Kognitio (www.kognitio.com) and convisual (www.convisual.de).
About zuuka
zuuka's publishing label iStoryTime – an interactive storytelling experience delivered to the convenience of your mobile device – features a series of illustrated and narrated books created by parents for kids. iStoryTime books have been highlighted in the New York Times, LA Times, CBS Early Show, theiPhoneMom.com and CNET and is decorated with PTPA Media's Parent Tested Parent Approved Seal of Approval and the Children's Technology Review's Editor's Choice Award. With over 100 titles to choose from including favorites such as The Smurfs®, Kung Fu Panda, Shrek, How to Train Your Dragon, Peter Pan and Binky the Pink Elephant, iStoryTime books are an excellent tool for both educating and entertaining children ages two years and up. These storybooks can be enjoyed in several different modes ranging from automatic to manual, depending upon the development and preferences of the user. For additional information, visit www.iStoryTime.com. [/showhide]
Mercy Pilkington is a Senior Editor for Good e-Reader. She is also the CEO and founder of a hybrid publishing and consulting company.