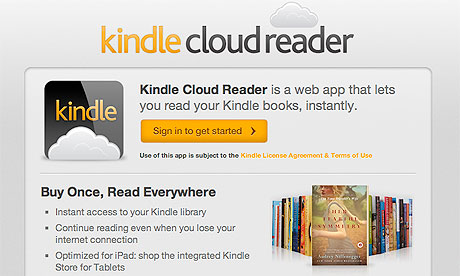 When we first saw the Kindle Cloud Reader, it was clear that it would be something special. Built in response to Apple charging 30% on all titles purchased using their app, the Kindle Cloud Reader allows you to purchase e-books and store them in the cloud for easy syncing with any of your devices with an Internet web browser. With a rather quiet launch, this browser-based reading app is now compatible with local Kindle stores worldwide!
Unfortunately, Kindle Cloud Reader still doesn't offer support for personal documents.
Cloud-based reading apps are still in their infancy, and most consider them a back-up method of reading (as opposed to the native apps on every device)… But for those frequently on the move or using a large number of devices, a cloud reader gives them an option for consistency of interface and ease of use.

Jillian Koskie is an experienced software developer, content writer, project manager and usability design expert. With over 17 years in these roles, Jillian has enjoyed applying her skill-set to assist clients and users across a wide variety of sectors including: legal, health, and financial services. Combining these professional opportunities with a love of technology, Jillian is pleased to contribute articles, opinions, and advice to numerous news outlets, websites, and publications.