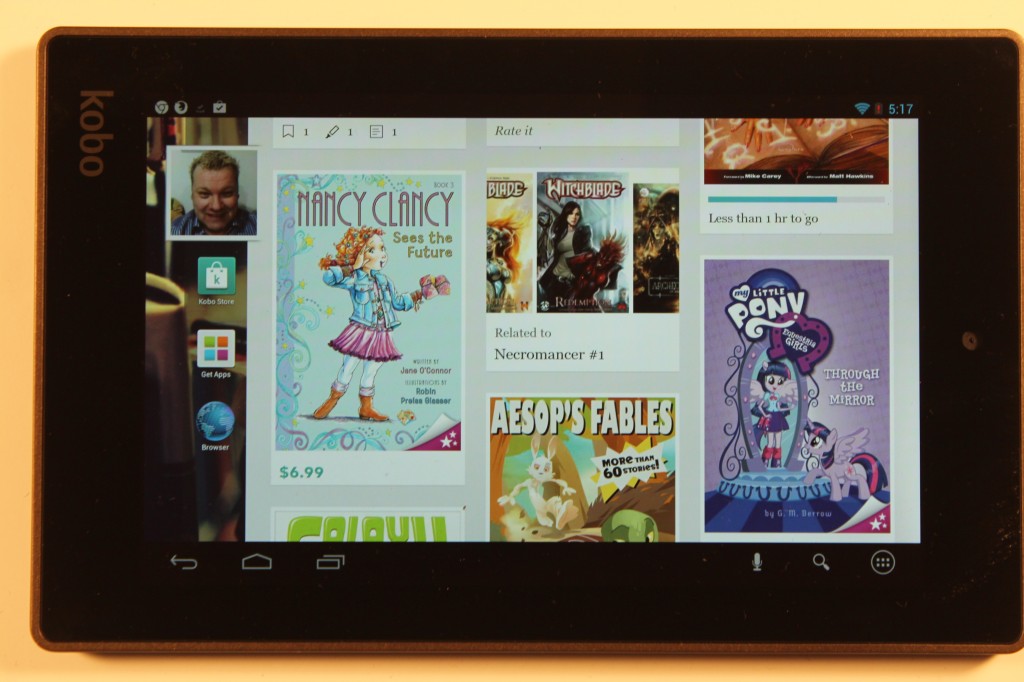 Kobo has just commercially released their brand new 7 inch HD tablet this week and they bill it as an e-Reader device. The company has ditched the tapestries UI that they spent a long time developing and gravitated towards a very unique way of accessing  your content and adding not only eBooks to your collection, but videos and websites.  There are lots of new tablets hitting the market right now to take advantage of the holiday season, how does this stack up against the competition?
Hardware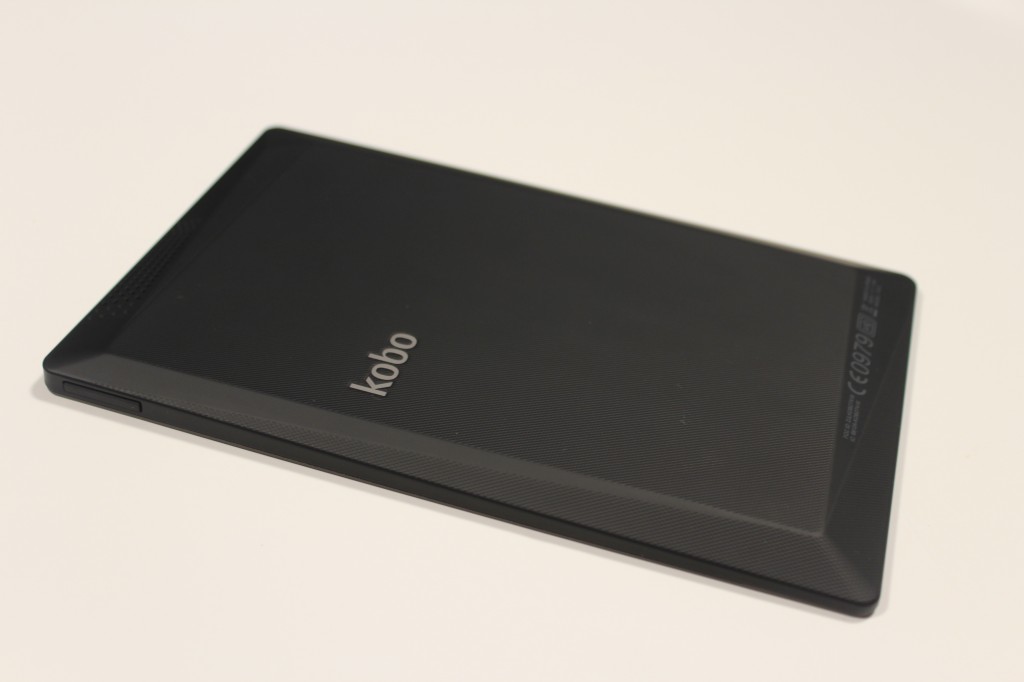 The Kobo Arc HD features a seven inch capacitive touchscreen display with a resolution of 1920×1200 pixels. It currently has over 323 PPI and will play back videos in pure 1080p. This is quite an upgrade in screen technology over the original Arc, which only had 1280 x 800 HD resolution and 215 PPI.
Underneath the hood is an Nvidia Tegra 3 quad-core processor that is running a very solid 1.7 GHZ. There is also 1 GB of RAM and 16/32 GB variants for storage space. There is no expandable storage with this model, so make sure you buy the one that suits your needs.
One thing Kobo has added to the Arc HD is the inclusion of a Micro HDMI port. This will allow you to hook it up to your television or projector. This is very useful, as not many e-reading focused tablets even bother with HDMI. Other ports include Micro USB, 3.5 mm headphone jack, front facing 1.3 MP camera and a rear facing speaker. The speaker is actually positioned right at the top of the device, and looks to be creeping to the top of bezel.  I found the front facing stereo speakers on the original Arc tablet are actually better than the one found on this device.
On a pure hardware level the Arc 7 HD is a very solid mid-range device. The speakers are the con strike against it, as they are muffled when the tablet is laying on its back. The WIFI can also get spotty at times, if you don't have a strong connection the UI will crash when you access your collections, because a ton of content is dependent on the internet.
Software
The Kobo Arc 7 HD is running Google Android 4.2.2 and right out of the box a 200 MB update is waiting for you. This tablet is Google certified, which means you have Gmail, Maps, Chrome and the Play market available to get more apps.
The Kobo UI is the most compelling aspect and it certainly stands out in a crowd of cookie cutter tablets. Instead of a vanilla Android experience they have customized the home screen and your various sub-screens that are accessed by swiping from the left to the right. One thing I liked was a picture frame on the tablet that you can use the front-facing camera to snap a picture of you, and be greeted by yourself whenever you turn in on.
The home screen mainly has your widgets and apps you want to have quick access to. The second screen is a compilation of all books you have added to the tablet recently or have purchased. It will also give you customized book offers based on your past purchases.  If you have any new content synced over from Pocket, it will also appear here. This screen is the most colorful and vibrant  due to the sheer amount of cover art.
The last screen is your collections, which is the heart and soul of the Arc 7 HD.  Most e-readers and tablets often have books that you can add, which this does quite well. The one thing that no other device does is put Pocket articles, Youtube videos and websites in your collection. Each collection can be a standalone or can have sub-collections within it. This is useful if you want one collection for videos, one for websites or another few for eBooks.  For example we made a Good e-Reader collection with our website added and anytime a new article is added you get a notification and the live tile updates.
In order to add a video or website to your collection you have to use the Stock Android web browser that is on your home menu. There is a little collections ICON next to the web browser menu. If you are on a website or a specific Youtube video you click on the button and it will show you all of the different collections on your tablet. Simply pick the one you want, and it will be automatically added.
One of the drawbacks on reading on a tablet is the fact you can get distracted with notifications, app updates or people visiting your Springfield on Simpsons Tapped out. Kobo introduced a Reading Mode, which allows you to suspend the radio and all notification. This allows you to  immerse yourself in whatever book you are reading and kill any unwarranted distractions.
Kobo did a really good job by eliminating the Tapestries UI, which was prone to crashing on the original Arc. This new UI is more intuitive and provides more customization than the Amazon Kindle Fire HDX or the Nook HD. Collections are the one standout feature and you can easily add new keyboard, live wallpapers and all that other Android jazz.
Reading Experience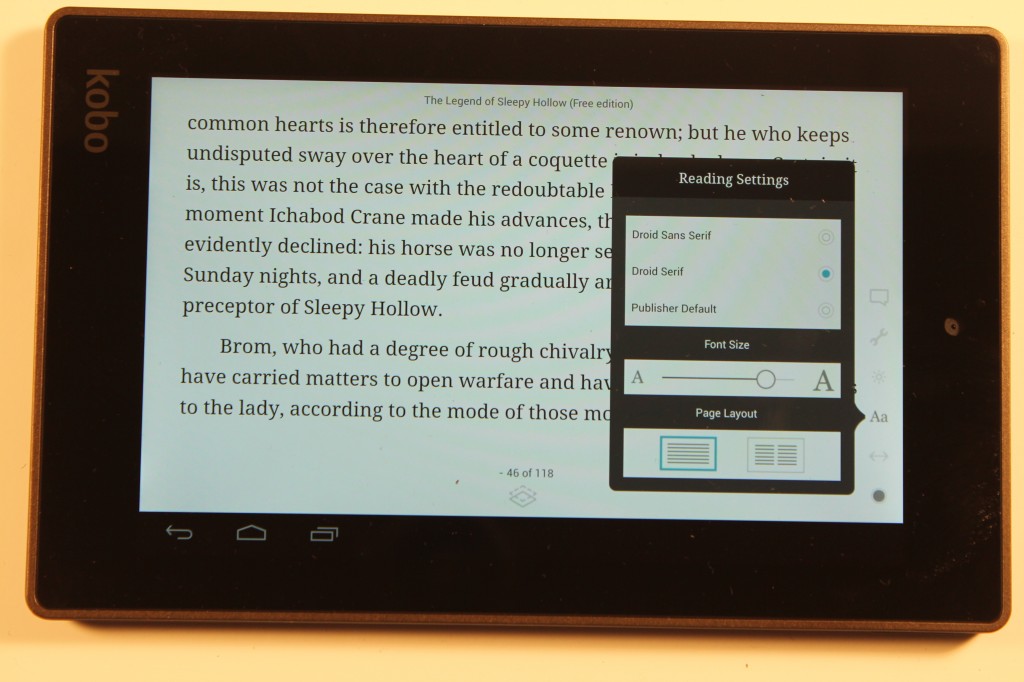 The one new aspect of the Kobo store is their Magazine section. The company has made deals with Conde Nast, Hearst and myriad of others. Sadly on the day of the launch in Canada this section  is not available yet and users are simply redirected to the main eBook store. The entire magazine UI is just placeholder content right now and it should be up and operational at the end of October. When it does, we will update this aspect of the review and let you know more.
The majority of your e-reading experience will be via the Kobo app for Android. All of your eBooks will be in the eBook section and you can also load in your own, but they have to be in EPUB format.
The Kobo Android app got an update recently that will allow you to access their new Beyond the Book program, that gives you a run down of popular terminology, biography on the author and people, places and things within the book.
In the past, whenever you added notes to any of your text, it was exclusively contained within your device. Kobo has launched Public Notes, which allows you to share them with the world.  This is a neat little feature that I have not seen before and is fairly cool in conjunction with their social media sharing platform.
It is quit easy to change the text size, change the font from 4 different ones or margins. If you screw up at all you can reestablish the publisher defaults.  I find the Font selection on their Android app to be the weakest link. All of their e-readers come with 12 and you can load in your own. If you are a really serious reader, I would likely go with a problem like Moon+ Reader or Aldiko for deep customization.
One of the drawbacks is the lack of PDF support. You cannot  import PDF files into the Kobo Reading app and instead need a third party program. The Arc HD 7 does not ship with a built in PDF reader of note.
Finally, Kobo as added new kids section to the store, which allows you to get plenty of stories, picture books and eBooks like My Little Pony.  The link to purchase from all are right on the front navigation bar. The one thing I don't like about the Android store is the lack of clearly defined categories to find Fiction, SCI-FI, Graphic Novels and Manga. You really have to dig deep to find it.
Wrap  Up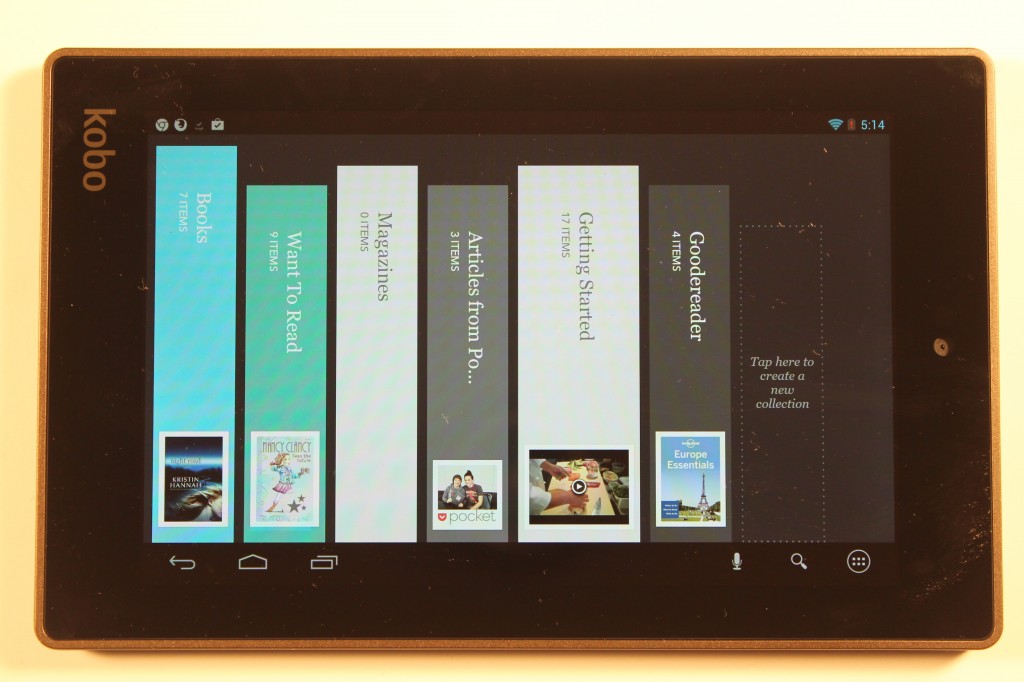 The Kobo Arc 7 on a hardware level is very solid. It gives you tremendous resolution and a quad-core processor. It is the best 7 inch tablet they have ever done and you can see lots of polish.
The weak points is the lack of a magazine store, even though it says it has access to one right out of the box. I also don't like their Android store experience, it feels clunky and unwieldy. It is hard to find categories and browse their selection. If you type "Free" in the search bar to find books, no free eBooks actually appear. We found ourselves using the store on the website to buy books and sync them to the tablet.
The entire collections concept was well executed and I dig the ability to add videos and websites into them. This makes this tablet very family friendly, as everyone can have their own collection with content that is entirely unique to them.
PROS
UI is Amazing
Solid Collection Management
Pocket integration
Fast and Robust
Reading Mode eliminates distractions
Cons
No Magazines yet
If you have lots of multimedia videos in your collection, and weak WIFI, it will crash your collection
Store is not intuitive
Rear facing speaker muffles the sound
Rating: 7.5/10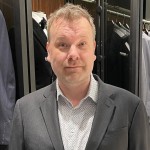 Michael Kozlowski has written about audiobooks and e-readers for the past twelve years. Newspapers and websites such as the CBC, CNET, Engadget, Huffington Post and the New York Times have picked up his articles. He Lives in Vancouver, British Columbia, Canada.