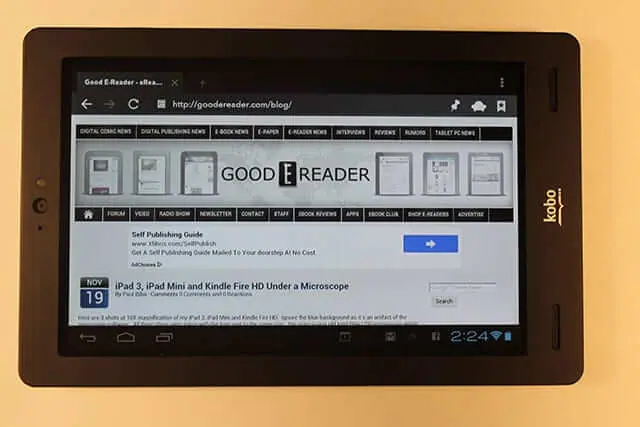 Kobo recently released its second iteration Android Tablet, called the Arc. This was designed primarily to be a dedicated e-reader to give you a full color experience. This is tremendously useful when it comes to reading magazines, newspapers, cookbooks, kid's books, and other content that is best displayed in full color. The Arc brings new features to the table that makes us forget about its first tablet offering, the Vox. How does this device stand up to the Nook HD or Kindle Fire HD? Today we dive into everything that makes this truly unique.
Hardware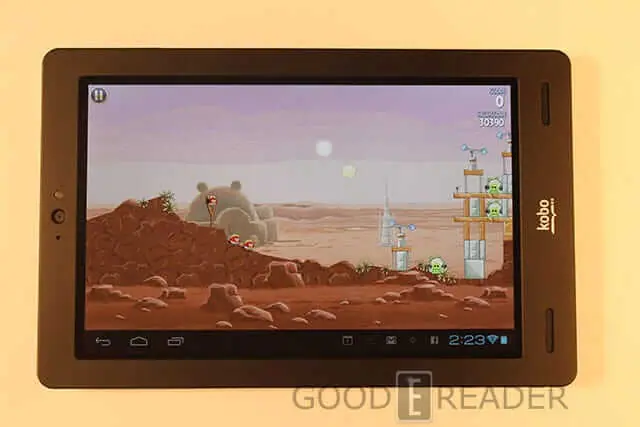 The Kobo Arc features a seven inch HD display with a resolution of 1280×800 pixels and 215 PPI. The screen features IPS screen technology, which is an industry-leading display optimized for 178 degree viewing angles and ultra-durable glass, resistant to damage, scratches, bumps, and drops. This is the same type of screen technology that airline pilots have in their flight instruments. If you figure most airlines are flying above the cloud line and susceptible to lots of sunlight, this tablet excels under direct light where others fail.
Underneath the hood is a Texas Instruments OMAP 4470 1.5 GHZ dual core processor and 1 GB of RAM. There are three different storage options depending on the type of user you are—16, 32, and 64 GB. This is the first device the company has offered that actually does not have expandable memory. There is no support for MicroSD or SD cards, so you want to make sure you buy the best model to suit your needs.
The hardware really makes the Arc shine and makes common tasks tremendously robust. All programs that come bundled on it open very quickly. There is seldom any of the lag or delay that you would find on more budget Android tablets.
Many people ultimately purchase Android tablets to listen to music, audiobooks, or watch videos. It is critically important that the sound quality be solid. The Arc features front facing stereo speakers with SRS technology. This allows you to really boost up the volume levels and configure the bass and treble. When we attended the Kobo launch event in Toronto a few months ago, there were roughly 70 people in the room and it was surprisingly loud. When the SRS mode was engaged during our demonstration, the music and video sound levels were very clear.
Paying particular close attention to sound is something most companies fail to grasp. The Apple iPad has a single mono speaker and the entire Nook line of tablets have speakers on the back. Even the new Nook HD+ only has a single speaker. Amazon has done the best job so far with Dolby Surround Sound and incorporating four speakers on the Kindle Fire HD 7 and 8.9. The Kobo Arc, in terms of sound quality, is the second best we have ever reviewed.
On the sides of the device sits your 3.5 mm headphone jack and volume control options. On the top is your power button, which also puts it into standby mode. There is no dedicated home button and everything is software driven. One of the cool elements of this device is the ability to swap out the different color panels. Kobo has always released e-readers and tablets with a quilted back and when you purchased one, you were stuck with that particular color. With the ARC you have the ability to buy different colors that allow you to swap out the quilted back. Kobo has said that at launch there will be only five different colors available, but the company intends on launching more.
You will get around a solid 10 hours of battery life and the Arc ships with a DC power adapter that is similar to the way you would charge up the Vox. Many users have claimed that once they lose the adapter or want to buy an additional one for traveling or at the cabin, they find it hard to buy one. The unit also does not ship with a Micro USB cable, so you want to make sure you have one handy in order to copy ebooks directly to it or manage your media.
In the end, the Arc is one of the best dedicated reading tablets on the market. It blends hardware and software performance to give you a very distinctive experience.
Software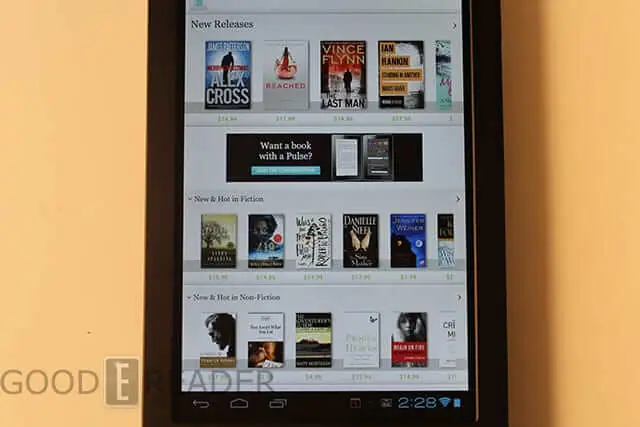 The Kobo ARC comes shipped with Google Android 4.04 and a Jellybean build is currently in the works. Having a modern operating system ensures that you can run virtually any game or app that tickles your fancy.
Kobo did a very positive thing last year by ironing out an agreement with Google to get the devices certified. This is great for customers, because the Arc comes bundled with Google Play, Google Music, Google Video, Google Maps, Gmail, and all the other services. You will have full-on access to over 600,000 apps via the official Android Market. This makes updating and downloading new content a walk in the park. Of course, we always recommend you download our own Good e-Reader App store, which puts a huge focus on ebooks, e-reader, and comic book apps, many of which are not available on Google Play or are geo-restricted.
If you have ever had experience with the Kindle Fire or Nook Tablet, you know that these companies invest a ton of time and money into customizing their own user interfaces. This really makes them stand out in a crowded tablet market and gives you an unique experience. Kobo has developed a distinctive UI that is better than what Amazon does with the Fire. It perfectly blends the vanilla Android experience with the ability to use live wallpapers and widgets.
One of the facets that really stand out is something Kobo calls "Tapestries." They are autonomous folders that do a myriad of cool functions. If you have ever used Android and created your own folders with lots of apps and games, they can get cluttered really fast. Let's say you have a games folder with over 100 games and you might only play a few on the regular basis. Normally, Android sorts everything alphabetically, which means you are often scrolling down to click on the game. Tapestries scan the things you open the most and brings them to the top of the screen. It makes clicking on commonly used programs and apps fairly intuitive.  The most commonly accessed programs' icons are also semi-opaque on the folder itself on your main home screen. You can then visually look at your folders and see these translucent app icons in the background.   Another useful element of Tapestries is being able to use custom widgets within the folders. When I first fired up the Arc I made a new Tapestry that had Press Reader, Marvel, and Zinio. Not only are the apps in there, but I also put in a few widgets that give you a very similar experience to the way Microsoft handles the live tiles in Windows 8. Obviously all widgets behave differently, but it's useful to show you what new content has just been released and what you are currently reading.
The default Tapestries that are shipped with the unit are Reading, Entertainment, and Social. Reading is very unique and obviously has the ubiquitous Kobo store and Reading Life. There is also a new feature called "Taste" which offers you a number of ebooks to try. You select whether you like them or not, and Taste helps in the discovery of new authors and books you would normally be unaware of.
The Kobo store is designed very well. I found the design to be more intuitive than the Barnes and Noble bookstore. Honestly, most of Kobo's e-readers have a very text heavy interface and finding content usually involves diving into four or five sub-menus to find what you really want. The Android version features sweeping panoramic displays and cover art really stands out. If you find a book you like, you can easily download samples and even pin the book to your tapestry. Being able to pin it makes easy access to the book much more effective than opening your library and scrolling around.
The Kobo store has recently added graphic novels, comic books, kids' books, and cookbooks to its ecosystem in the last few weeks. This really makes graphic heavy content look totally amazing on the Arc and in the past you needed an iPad to really get the most out of this type of content.  The overall comic book selection is still fairly lacking and you probably want to download the dedicated Comixology, Marvel, or DC apps for the best selection.
The Arc comes bundled with a ton of apps that might appeal to a wide array of users. 7 Digital, CinemaNow, Google Chrome, PressReader, Facebook, Readability, Rdio, and many Google Services. Really, this is the most complete tablet in terms of great apps. Of course, this is not a closed Android experience like the Kindle Fire or Nook HD. It is VERY easy to load in your own apps, or just install third party app markets.
Reading Experience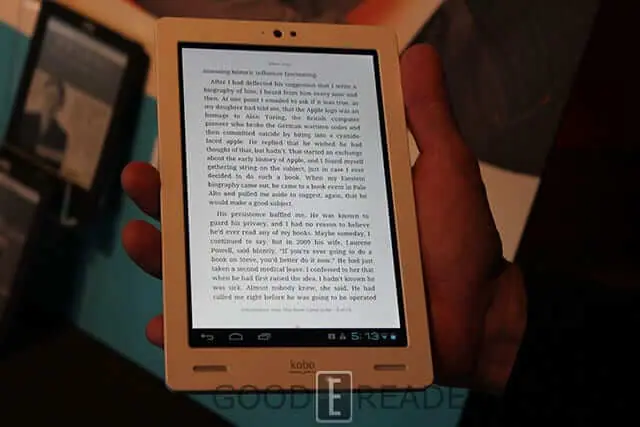 Kobo has the largest ebook ecosystem in the world with over 3.7 million books in its vast library. Unlike the competition, the entire selection of books can be purchased anywhere the world. Amazon and Barnes and Noble limits customer's purchases if they live in countries not officially supported. Speaking of support, Kobo is in more international markets than any other company in the world. It makes traveling and buying content anywhere fairly easy.
The main Kobo reading application allows you to do the same things as most other mainstream apps. You can adjust the line spacing, margins, fonts, font sizes, and even hit the publishers defaults if you made adjustments not up to par. The app will also automatically switch the orientation from landscape and portrait mode. Obviously, comics and graphic novels look WAY better in portrait mode, but landscape is solid for most other things.
One of the main things that makes Kobo stand out from anyone else on the market is Pulse. If you buy a book from Kobo, a little radar icon appears on the bottom of the book. If you click on it you can visit a dedicated screen that shows you how many people have read it, are in the process of reading, and what they thought. People can also leave comments and questions. In the past, Kobo has orchestrated authors answering fans' questions on Pulse. You can think of it as a virtual book club where people can talk about the book, life, universe, and everything.
When you do a long press on a specific word, you can pull up the definition of it. You have built in dictionaries that come bundled on the ARC, but you also pull up the Wikipedia entry and other Google Services. If you select more than one word you can take a note, highlight, or share it on your Facebook Timeline.  One of the cool features is being able to choose what color you want to highlight. By default there are four different colors, which allow you color coordinate concepts.
Kobo Reading Life is something that really stands out from the competition. You can earn X-Box style awards and achievements for reading books. There are around 50 different ones currently in the system with new ones added all the time. You can share your awards with your friends and it adds a new dimension to the traditional reading experience. It might not be for everyone, but is just another facet that makes the company stand out in a cluttered market.
Of course, the great thing about the Arc is that you are not limited to what is bundled on it when you buy it. You can simply download Amazon, Nook, Sony, or any other e-reader app you want from Google Play. This is empowering because if you look the Nook App Market or the Amazon App Store, they seldom have dedicated reading apps from their competition, which locks you into their own walled garden. Kobo has always been software agnostic, which should be appealing to people who want freedom to deal with whoever they want.
Our Thoughts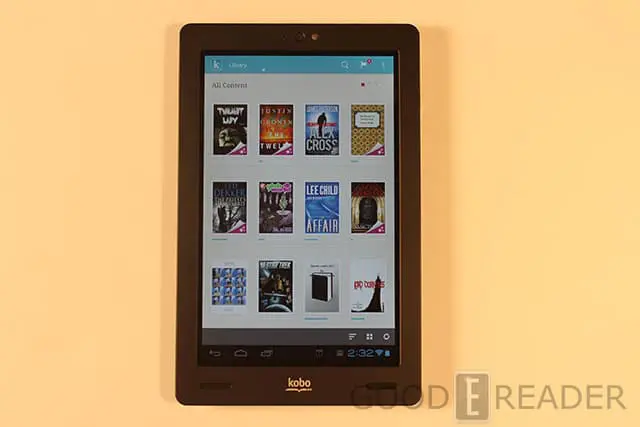 The Kobo Arc is the best tablet the company has ever released. It perfectly blends cutting edge hardware with a very unique Android experience. It runs basically any app or game that you can throw at it, and takes it in stride.
The entire Kobo ecosystem appeals to people living internationally. I am based in Canada and can't even buy a Kindle Fire or Kindle Paperwhite or Nook reader. Even if I were to import it, both companies limit the amount of content I can buy. With the Kindle Fire HD, I can't download magazines, videos, newspapers, and a number of other content. The Nook doesn't even allow you buy ANYTHING unless you have a USA billing address or credit card. Shop e-Readers actually helps customers in this regard by selling USA Visa Cards, along with a billing address. The Kobo ARC will allow you to buy anything and download anything you want, regardless of your geographical location.
I would recommend the Arc to anyone who is thinking about buying a tablet as a dedicated e-reading device and wants a little more. Tablets allow you to do way more than e-ink based readers do, but come with a massive amount of distractions. If you are a first time tablet user or are invested into the Kobo ecosystem, I would not look at any other device this year.
Pros
Excellent Hardware
Android 4.0
Tapestries
Great Store Experience
Wide Array of Bundled Apps
Solid Price
Firmware Automatically Updates
Front Facing Speakers with SRS technology
Google Certified
Cons
No MicroSD or SD
Graphic Novel and Comic Book Selection Lacks
No Rear Facing Camera
Needs a Certain Kind of DC Charger to Power the Unit.
Rating: 9/10
[cincopa AYOAVBrBhh2n]

Michael Kozlowski has been writing about audiobooks and e-readers for the past twelve years. His articles have been picked up by major and local news sources and websites such as the CBC, CNET, Engadget, Huffington Post and the New York Times. He Lives in Vancouver, British Columbia, Canada.