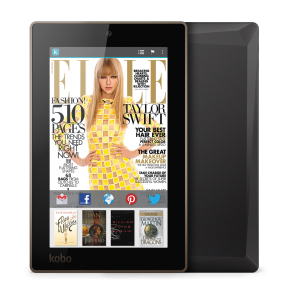 Kobo has just unveiled the brand new Arc 7 e-Reading tablet at an event today in New York City. The Arc 7 is considered the spiritual successor of the Arc Android tablet released last year. This new model actually has lower resolution then the previous iteration but boosts up the hardware and performance. This new device is geared towards a more cost conscientious crowd and the estimated retail price will be $149.99
Hardware
The Kobo Arc 7 features a seven-inch capacitive LCD touchscreen with a resolution of 1024×600 pixels. Kobo had to sacrifice screen quality to drive down the price, but if you are buying this just to read eBooks, magazines, and newspapers, it should be more than sufficient.
The Kobo Arc HD 7 and the Kobo Arc 10 HD all use an Nvidia Tegra 4 quad core processor, but this model uses a budget-conscious MTK 8125 Quad-Core, 1.2 GHz. processor. Still, the processor really shines when compared to the dual-core processor of the original Arc. There are also 1 GB of RAM and 8 GB of internal memory. One of the great things about this model is that users can expand the memory via the Micro SD card up to an additional 32 GB.
This might not be a full HD tablet, but it does have a Micro HDMI Port, so users can watch movies, play games, or display content on a television or projector. It also has a front facing camera, but has a fairly woeful .03 MP, which is pretty well VGA.
There is a single mono speaker for listening to music, audiobooks, or other content. It's good that it's positioned at the very top of the rear chassis, and creeps up on top of the bezel. This allows for clear playback, even when the device lays flat.
The Kobo Arc 7 is a step in the right direction in terms of overall hardware functionality. It might not have stellar resolution compared to the prior model, but it does step up the processor and memory. The company really had to cut costs to produce this model in order to ensure that it could be available for as little as possible. This will likely bring new people into the fold and get them participating in the Kobo ecosystem of content. This unit likely will not appeal to power users or voracious readers, but that is what the Arc 7 HD and Kobo 10 HD are for.
Software
The Kobo Arc 7 features a very modern version of Google Android, with the final device being bundled with 4.2.2. It is also Google Certified, so users will have unfettered access to Google Play and around one million apps.
Some of those apps come bundled on the tablet. Facebook, Twitter, Pinterest, Skype, OfficeSuite Viewer, McAfee, Pocket, Feedly, 7digital, Rdio, TuneIn Radio, Cinema Now, WildTangent (more than 200 games), Google Play, Gmail, YouTube, Google Maps, Street View, Calendar, Contacts, Google+, and Google Chat are all included.
We are not too sure about the main UI yet but the big rumor is that Kobo did away with Tapestries and developed a brand new overlay to Android. I don't know the full story yet because I am only going by the press briefings issued a few days before the event, along with a number of interviews with Kobo executives. I will have a better idea in a few hours upon the conclusion of the Kobo launch event.
Reading Experience
Kobo tablets tend to be more focused on the core reading experience than many of their peers. They bring their vibrant bookstore with over 3.5 million titles and make them available to most major markets in the world.
One of the big unveils of the Kobo event is the inclusion of a brand new digital magazine store that has hundreds of publications from major publishers, such as Conde Nast. They will be made available on a per issue basis, or by subscription. This new program joins other expanded content offerings, such as comics, graphic novels, newspapers, and of course, ebooks.
Kobo has really revised the main UI compared to the prior version of the Arc. The new main bookshelf is comprised mainly of the eBooks users already have loaded on the device or that they have purchased from Kobo. The company still puts a heavy emphasis on EPUB and PDF books, so readers can shop at other retailers and load them in. If users need more proprietary formats, such as CBR and CBZ, they can download apps from Google Play to read other content.
Kobo Collections have also undergone a huge revision with the shelf mirroring a traditional bookshelf. Readers will really get the feel of books neatly stacked beside each other, where only the binding is visible. The virtual binding will name the collection and have an image of the most recently read book. You will be able to not just organize your eBook collection but add videos, music, audiobooks and other essential cool stuff.
In order to read books, readers will use the default Kobo App for Android. There is a fair amount of versatility with over eleven pre-loaded fonts to choose from, and twenty-four different sizes. Readers will also be able to chat with other readers of the same book via Kobo Pulse. For those who like to brag to their friends on how many books they have read or what their most recent title is, they can share those details with Reading Life.
There are a number of features that have crept into this device, which make it fairly compelling. Beyond the Book allows you to click on keywords in a book and go beyond a simple dictionary. You can check out videos, documentaries, related titles and tons of information to really make you understand the people, places and things.
Reading Mode will resonate very well with people who easily get distracted by game updates, Tweets and instant messages. You can turn Reading Mode on, and it will eliminate all pop-ups and notifications, helping with immersion.
Finally, there is a new magazine store that will allow customers to select from hundreds of publishers such as Heart and Conde Nast. More titles are being added every day, and Kobo would not divulge the exact number, because between now and the October launch, things will dramatically change.
Wrap Up
The Kobo Arc 7 is an entry level tablet, designed for people who have never had one before and want to buy into the experience. It will retail for a paltry $149, which makes it accessible to most peoples budgets. I would recommend this for family members who want something reading focused and does not want to shell out hundreds of dollars.
Michael Kozlowski is the Editor in Chief of Good e-Reader. He has been writing about audiobooks and e-readers for the past ten years. His articles have been picked up by major and local news sources and websites such as the CBC, CNET, Engadget, Huffington Post and the New York Times.