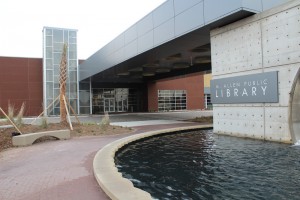 A sad trend is taking place with US chain retailers. As stores close, either due to poor economic conditions or due to the prosperity that drives a newly minted, larger store in a more "upscale" part of town, the landscape has become dotted with obtrusively large empty warehouse-style eyesores. But one Texas town, with the help of some financial backers and a prestigious interior design prize, has changed one empty store into a thing of beauty.
According to website WebUrbanist.com, the town of McAllen, Texas, currently boasts a 123,000-square-foot sprawling public library in what was once a Walmart, making it the largest one-level library in the United States. Created with the help of Meyer, Scherer & Rockcastle, this former industrial dump now boasts more computer labs than most public schools, as well as an art gallery, a restaurant, a bookstore, and more. The circular fountain out front? Just another great feature on this library campus.
The library's site features information on the history of growth that took it from a one-room location in 1932 to the sprawling campus that it is today.
"McAllen Public Library opened for business on November 12, 1932, in a room at the McAllen Chamber of Commerce. The fledgling library grew rapidly, relocating to the First Baptist Church and then to the Archer Park Bandstand to meet space demands. It remained in the basement of the Bandstand for nearly 15 years, until May 28, 1950, the day the Old Main Library (on Main and Fir Streets) opened to the public."
Click HERE to view a video of the transformation that took an abandoned property–one that was a huge drain on the environment and on town morale–and built in its place what might be the most amazing public library in America.