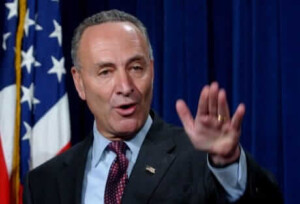 Senator Charles Schumer (D-NY) has spoken out in defense of Apple and the publishers who are currently engaged in court proceedings with the Department of Justice over anti-trust violations. While Sen. Schumer does not necessarily defend the actions of the computer giant of its publishing co-defendants, he does argue that going forward with the lawsuit and any resulting punitive damages could mean "the end of the publishing industry."
According to an article in the Wall Street Journal, Schumer feels that the most hard hit by the investigations' results would be upcoming authors. Arguably, Schumer seems to feel that the publishers will not have the money to invest in debut authors if they are forced to pay out large settlements; he also feels that if Apple is forced to adopt the same pricing model that Amazon initially employed for ebooks, Apple will not be able to sell as many new titles.
The outcome of the lawsuit may very well put Amazon in the position of being on top once again in terms of ebook sales, especially since the retailer can afford to take a loss on key titles in order to entice customers. However, the lawsuit alleges that Apple and five of the Big Six publishers actually engaged in illegal price fixing specifically in order to take down Amazon, and yet, a U.S. Senator wants the suit dropped?
While Schumer seems to be defending those involved in the price fixing scheme, he does raise an interesting point: in order for a market to succeed, there has to be choice. And with a 90% share of the ebook market prior to Apple's attempts to force Amazon to raise its prices on bestselling digital titles, it did seem that Amazon was the only choice out there. But it was the consumers who placed Amazon on that pedestal. So why is the Schumer interfering and suggesting that the DoJ should turn a blind eye?
All along, Apple has maintained that it began the iBookstore simply to meet the needs of consumers and that each of the five publishers investigated by the DoJ had separately decided to switch to a different system of pricing, all of which resulted in Amazon no longer being able to sell bestselling ebooks at $9.99. Essentially, it was all supposedly just one big coincidence.
Is this really about protecting the American reading public from the untouchable monopoly of Amazon as Schumer claims, or is there more at stake? On the surface, the senator's op ed piece seems to merely speak out against allowing Amazon to return to the top tier of ebook sales, as the lawsuit's outcome could produce; the only other argument is that a government official stands in support of anti-trust violations.

Mercy Pilkington is a Senior Editor for Good e-Reader. She is also the CEO and founder of a hybrid publishing and consulting company.